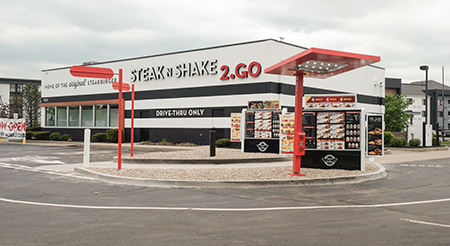 A decade ago, entrepreneur Sardar Biglari was Steak n Shake's savior, righting the Indianapolis chain in the teeth of the Great Recession by imposing relentless discounting.
Today, Biglari, 41, a cocksure executive who scoffs at conventional corporate governance practices, risks being shackled with a different legacy: the man who destroyed the storied chain, which was founded in Normal, Illinois, in 1934 and has been based in Indianapolis since the 1970s.
The outlook is that bad for Steak n Shake, which in the first quarter racked up an $18.9 million operating loss. That's on top of a $10.7 million loss for all of 2018.
Worse yet, customer traffic counts are in a tailspin, sliding 13 percent over the last three years and 7.7 percent in the first quarter.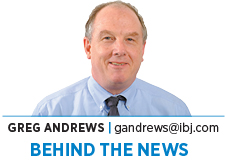 Biglari gained control of Steak n Shake in 2008 and soon folded it into San Antonio-based holding company Biglari Holdings Inc., which also owns the steakhouse-franchising firm Western Sizzlin, an insurance company and Maxim men's magazine. Biglari Holdings also owns a 15 percent stake in Lebanon, Tennessee-based Cracker Barrel Old Country Store Inc.
At the Biglari Holdings annual meeting in New York City on April 25, Biglari told the dozens of shareholders in attendance that a Steak n Shake turnaround will take time, according to accounts from investors who attended the confab.
He acknowledged that he has a finite window to get things figured out—given that Steak n Shake has a $184 million loan scheduled to be paid off in March 2021. The website Reorg.com reported that last summer anxious lenders hired legal counsel amid concerns over the company's declining performance.
The annual meeting, a shareholder-only affair, was a surreal event, with the room filled with investors contemptuous of both Biglari and his doormat board but nevertheless high on the stock because they believe it is way undervalued.
Excluding shares that Biglari Holdings bought back but didn't retire, the company's market value is a mere $211 million. That's barely one-third the value of the company's $610 million in Cracker Barrel stock.
At first glance, Biglari Holdings' ownership of so much Cracker Barrel stock would seem to ensure the restaurant chain will avoid financial calamity, since Biglari Holdings has the financial firepower to rescue Steak n Shake if it is unable to pay off or refinance its debt.
Except that Biglari Holdings doesn't guarantee Steak n Shake's debt. At the meeting, Biglari said he chose not to do so, forgoing the lower interest rate he would have received if he had.
Recovery plan
Investors at the meeting were highly skeptical of both pillars of Biglari's Steak n Shake turnaround strategy—the transfer of the company's approximately 400 company-owned restaurants to single-store franchisees, which he hopes to accomplish over three years, and investing some $40 million to install new milkshake machines.
"He is literally inventing a new milkshake making process—he said at the meeting that this was going to be a patented process—and that is going to speed up service," said a shareholder who attended the meeting but spoke without the approval of his employer.
"The shareholders seemed to think this was ridiculous—and I would tend to agree—to think that Sardar, with all his free time, is going to be able to invent a milkshake process to turn the whole chain around."
To set the stage of the transition to one-off franchisees, Steak n Shake has temporarily closed 60 company-owned restaurants this year, including five in the Indianapolis area, and Biglari said at the meeting there might be more.
That's despite the fact that he said the company has only four one-off franchisees signed up so far—raising the specter that stores will be shuttered for months or years.
It can be a tall order to resuscitate a restaurant in that circumstance, said Steve Delaney, a veteran retail broker with CBRE.
"And if a restaurant is closing temporarily, it means there was kind of a problem at that particular location, so that makes it even more difficult to recapture the customer base," he said.
Shareholders predicted that Steak n Shake will struggle to line up one-off franchisees—in part because the chain is sputtering and in part because the terms are onerous.
While the one-off franchisees don't have to come up with the half-million dollars or more in upfront investment that owners of the chain's 213 traditionally franchised restaurants do, they must turn over 15 percent of sales and 50 percent of profit. And they don't actually own the business or have rights to transfer it.
Governance controversies
By now, shareholders are predisposed not to like Biglari, in part because of a string of controversial moves he orchestrated that have sown distrust and confusion and led many investors to steer clear of the company.
Those moves range from a 2013 deal under which he licensed the "Biglari" name to the company for 20 years to a May 2018 stock restructuring that created two classes of shares and consolidated his control of the company.
The stock restructuring armed Biglari with a new class of shares with no voting power that he can use as currency in acquisitions without diluting his voting power.
The enmity has multiplied as Biglari Holdings' stock has tumbled, with a 58 percent slide in 2018. At the meeting, Biglari's attitude was, essentially, "If you don't like it, sell your stock."
On the investing website Seeking Alpha, a blogger who writes under the handle ValueSeeker64 wrote that Biglari Holdings shareholders "are treated to, perhaps, the worst corporate governance in America. Many managements probably revile their shareholders, but most of them do not publicly delight in doing so."
A sore point at the meeting was the $8.4 million that Biglari Holdings paid a Sardar Biglari-owned company last year to manage its investment arm. Repeated questions seeking an explanation of the expense and a justification for it yielded non-answers from Biglari, such as, "The board has perfect visibility into this."
The Seeking Alpha poster highlighted a range of other dubious expenses, including paying his brother and father as consultants, maintaining an office in Monaco and opening a one-off Biglari Cafe in the Port of Saint-Tropez on the French Riviera, a destination Biglari enjoys visiting.
"Sardar Biglari said at one point that Steak n Shake spends $1 million per year on cherries for milkshakes and that he would love to get rid of that $1 million," according to the post, a comment verified by another shareholder in attendance.
"Three different shareholders pointed out, in conversations, how ridiculous that sentiment is. … Given all [the dubious expenses], shareholders were pointing out that maybe there is a better way to save $1 million rather than eliminating cherries from Steak n Shake's milkshakes."
A board is supposed to be a check on an executive, but shareholders say Biglari's board appears to let Biglari do as he pleases.
At the meeting, investors asked why the board—after a year of dismal stock performance—opted in March to eliminate the $10 million cap on Biglari's compensation for operating the company's businesses.
Biglari earned $900,000 as CEO last year, but the removal could swell his pay in future years. He also is eligible for incentive payments for running the company's investment arm. He didn't collect any incentive payments the past two years but in 2016 received $31.6 million.
At the same time the board eliminated the pay cap, it canceled the Biglari licensing agreement, which would have paid Biglari a windfall of tens of millions of dollars if he were forced out of the company. That provision essentially become a nonissue in 2015, when a controversial tender offer pushed Sardar Biglari's voting control past 50 percent, giving him the power to thwart opposition.
At the annual meeting, company Vice Chairman Phil Cooley, a retired business professor at Trinity University in San Antonio, made no apologies for removing the cap. Challenged by shareholders, he said he believes Biglari's compensation is very generous to shareholders and that the board negotiated a great deal.
Cooley and other directors did not respond to requests for comment from IBJ. The others are San Antonio attorney Kenneth Cooper, retired Rite Aid executive Jim Mastrian and Ruth Person, a former chancellor of Indiana University Kokomo who's now a professor of management at the University of Michigan-Flint.
Biglari, who as a policy does not speak with the media, also did not respond to a request for comment.
Losing its way
Steak n Shake's troubles aren't unique. A restaurant recession has gripped the industry in recent years, spurring a spate of bankruptcies.
But industry observers say Steak n Shake ultimately hurt itself by scrimping on restaurant upgrades when times were good and by its unflinching devotion to low costs, which franchisees say left them so pinched that the dining experience suffered.
A lawsuit filed in April 2018 by a Virginia Beach, Virginia, franchisee charges that Steak n Shake forced it to adhere to such low menu prices that all nine of its restaurants were losing money.
Biglari remains a devotee to low prices. As he wrote in his annual letter to shareholders in February 2018, "We are subscribing to Henry Ford's motto: 'To make money, make quantity.'"
The company did try to push a higher-end offering, the Prime Steakburger, which rolled out in August 2017.
But Steak n Shake soon doubled down on low prices. Last December, it launched a new menu featuring four meals with four items for $4. One choice was a double steakburger with cheese, fries, a cookie and one other side—more fries, coleslaw, applesauce, baked beans, cup of soup or cup of chili.
Other observers say Steak n Shake went awry by overly expanding its menu and losing sight of the importance of superior customer service. As one commenter wrote in response to an IBJ online story, "SnS was never designed to be a Denny's, much less an ultra-cheapo Denny's. Nor was it ever supposed to handle a drive thru with speed like a Taco Bell."
In an email to IBJ, Ron Pratt, who decades ago served as a Steak n Shake district manager, said those complaints are on target.
"I am afraid Steak n Shake is on a failure path," he wrote.•
This story has been updated to note that the Biglari license agreement was canceled in March.
Please enable JavaScript to view this content.