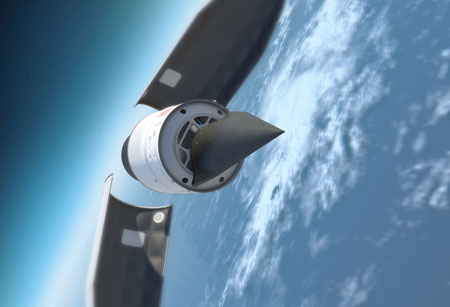 The Naval Surface Warfare Center in Crane is on the forefront of the nation's effort to arm the Army, Navy and Air Force with a new arsenal of hypersonic weapons.
The ultra-fast weapons can travel at least one mile per second and can maneuver through blind spots of missile defense systems—making them effectively invincible.
A senior Navy official at the 3,400-employee government facility in southern Indiana has publicly acknowledged for the first time the pivotal role scientists there have played over the last decade in helping a national team develop one of the military's most important new weapon technologies: hypersonic glide vehicles.
The team is working with dozens of partners—including scientists at Purdue University and the University of Notre Dame—all of whom are racing to establish the United States as the global leader in hypersonic weaponry.
"It is definitely a fast-paced environment that we're in here to address what the Department of Defense states is fielding the hypersonic weapon as their highest technical research and engineering priority," Ben Harkness, Crane's department director for global deterrence, told IBJ. The interview marked the first time the Indiana naval command has spoken with a journalist about its hypersonic-program work.
Naval Surface Warfare Center's work on the Pentagon's Conventional Prompt Strike program—which culminated with a successful landmark test in 2017 of a prototype that flew thousands of miles across the Pacific Ocean—helped persuade Pentagon policymakers last year to adopt a design for use in strategic weapons tailored for launch from air, land and sea.
The pressure is on because the U.S. military is locked in a battle with Russia and China for hypersonic supremacy.
Two types of technologies are at the center of this contest. First is hypersonic boost-glide technology that consists of a glide vehicle, either conventionally or nuclear-armed, launched to the edge of space by a ballistic-missile booster and then set free to fly unpowered and maneuver to a target.
A more ambitious goal, not yet mature enough to consider weaponizing, envisions cruise missiles powered by air-breathing, supersonic-combustion ramjet technologies.
The Pentagon's concerns over advances by China and Russia are propelling a new, five-year, $11.2 billion, Defense Department plan to accelerate development and testing of hypersonic technology.
That investment represents nearly a doubling of U.S. spending on hypersonic research and development.
Intelligence experts estimate that the high-speed weapons could be in the field by the early 2020s.
"We have significantly increased flight testing, as we intend to conduct approximately 40 flight tests over the next few years, to accelerate the delivery of capability to our war-fighters years earlier than previously planned," Michael Griffin, the Pentagon's top weapons development official, told Congress in March.
R&D hotbed
Nearly 100 scientists and other personnel at the Naval Surface Warfare Center are advancing the effort.
The warfare center is a critical component of the U.S. Navy's third-largest installation, a sprawling complex of 900 buildings spread across 62,900 acres about 35 miles southwest of Bloomington in rural Martin County.
Two-thirds of the center's 3,400 employees are scientists, engineers and technicians. They focus on three areas: strategic missions, electronic warfare and expeditionary warfare—military conflicts fought abroad, away from established bases.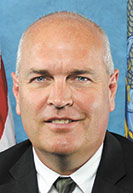 Harkness
Harkness oversees operations associated with Crane's largest customer: the Navy's Washington, D.C.-based Strategic Systems Program, or SSP. For nearly six decades, Crane has provided engineering and technical support to ensure weapon systems on every Navy submarine armed with a nuclear-tipped intercontinental ballistic missile will successfully execute their dreaded mission should the order be given.
In 2008, the Pentagon began developing a hypersonic glide vehicle as part of the Conventional Prompt Strike program.
At that point, the Navy's SSP program office—and Crane by association—was pulled into the project by policymakers who envisioned submarines as a potential launch platform for such a weapon.
The Pentagon's acquisition executive last fall transferred permanent responsibility for the Conventional Prompt Strike program to the Navy—a move that helps ensure a long-term hypersonic role for Crane.
"We've been part of the national hypersonics team," Harkness said. "That team includes industry, academia, other national labs and government leadership, allowing them to lean upon us and the technical capabilities that we have back here at Crane."
Many details of hypersonic projects are cloaked in secrecy; Crane leadership required permission of the Navy SSP office and the Office of the Secretary of Defense to speak with IBJ.
"Over the last couple of years, we've got some expanded roles in the areas of systems engineering," including power systems, microelectronics, logistics and cyber-protection, Harkness said.
"We just believe that, as the program continues to evolve and transition, Crane will continue to provide that level of support in the areas we've evolved into," he said.
Purdue expertise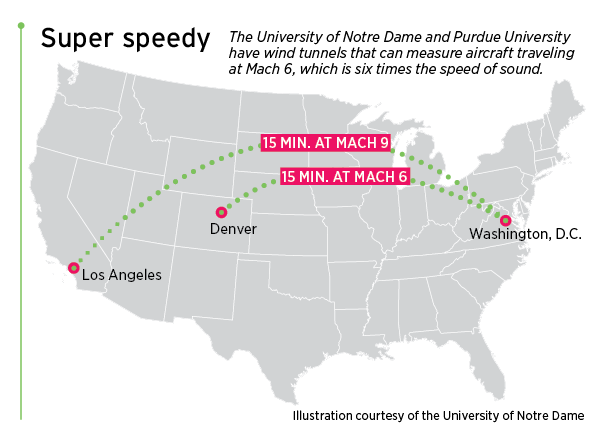 Another key player on the Conventional Prompt Strike national team is Purdue, which has collaborated with both the Naval Surface Warfare Center and Sandia National Laboratories in Albuquerque, New Mexico, and Livermore, California.
Purdue researchers are accomplished across a broad range of fields—including aerodynamics, flight-trajectory control and materials—that are crucial to hypersonics technology, said Dan DeLaurentis, director of the Institute for Global Security and Defense Innovation at Purdue.
DeLaurentis, who is also an aeronautics and astronautics professor, said the hypersonic glide vehicle "is a very multi-disciplinary technical challenge. The vehicle has to be as small as possible but aerodynamically as efficient as possible, and it is a complex system internally because of all the different control, guidance and navigation subsystems on board."
The university boasts a Mach 6 quiet wind tunnel, one of three in the nation, which can analyze the effects of airflow around a subscale prototype traveling at six times the speed of sound. The tunnel's walls are designed and polished to reduce acoustic vibration and wake.
Notre Dame also has gotten into hypersonic technology research in a major way. Last year, it opened its own quiet Mach 6 tunnel, one that's larger than Purdue's.
"These wind speeds are so fast, we're not sure that the materials will even stay together in them, and so you want to test them at these increasing speeds," said Richard Billo, Notre Dame's associate vice president for research and professor of computer science and engineering.
As air moves over wings or fins during hypersonic flight, air density and speed can change dramatically, from a smooth flow to very turbulent—dynamics that can be observed in a wind tunnel and are crucial to understand in designing weapons.
"If, all of a sudden, the aerodynamic properties change in ways that you don't expect or at times that you don't expect," DeLaurentis said, "that can result in catastrophic loss of the vehicle or at least it would cause the vehicle not to have enough range to reach its target."
The Navy and Air Force recently asked Purdue and Notre Dame to team up to develop the next generation of high-mach-number wind tunnels. The schools have reached a memorandum of understanding. Under the plan, Purdue will build a Mach 8 wind tunnel within three years, with Notre Dame following with a Mach 10 tunnel a year or two later.
"Our government sponsors and our Crane partners have made it clear we do not have the luxury of 10 years to get these babies born," DeLaurentis said. "The need is kind of now."
New military era
The Pentagon's focus on hypersonics, and other new research areas, has come as the wars in Iraq and Afghanistan recede and the U.S. military contemplates competition against more advanced forces.
"Indiana has really become a focal point in many respects for hypersonics," said retired Air Force Gen. Herbert "Hawk" Carlisle, head of the National Defense Industrial Association and former head of Air Combat Command.
Other areas of research include energy investments to arm U.S. troops with lasers for combat. Defense analysts say the Pentagon also is developing cyber weapons, as well as technologies to counter threats the Russians and Chinese are mounting against satellite constellations.
This summer, the National Defense Industrial Association will host a three-day conference at Purdue that will be an unprecedented public gathering of top brass and civilian Defense Department officials responsible for setting policy and developing, testing and operating new weapons.
The July 31 to Aug. 2 gathering, which will consist of one day of unclassified briefings and two days of classified events, will include hypersonic technology stakeholders across government and industry.
The event was set in motion with support from senior Pentagon officials after an association board member with an Indiana connection set up a meeting between Purdue University President Mitch Daniels and Carlisle.
"We weren't shopping for places; [Purdue] ended up being the right answer," Carlisle said.
U.S. Rep. Jim Banks, R-Columbia City, said Indiana is in a unique position to claim the mantle for research in this area.
"I want Indiana to be known for our work on hypersonics, to be known as the state throughout the country that is most focused on the hypersonics challenge," Banks said.
A House Armed Services Committee member, he is proposing language in the defense policy and defense spending bills for fiscal 2020 that would create a Joint Hypersonics Transition Office to oversee coordination of government, industry and academic resources.
A draft of the legislation would earmark $85 million to establish the office in a location other than Washington, D.C. Banks said Indiana would be an obvious home.
"We're uniquely positioned because of our university partnerships with Notre Dame and Purdue both providing significant hypersonic testing capabilities and the research that is occurring on those campuses, and Indiana University is a leader in cybersecurity," he said.
"We have incredible work being done in the state in partnership with Crane, which is at the forefront of all of these issues. We have all of the assets in Indiana to address the hypersonics challenge that our nation faces."•
Please enable JavaScript to view this content.