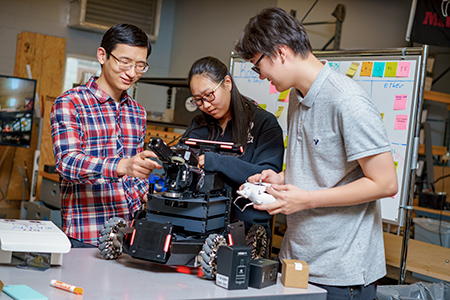 With artificial intelligence disrupting both high-tech and traditional industries, universities are searching for new ways to prepare students for the fast-changing field.
So far, that doesn't mean many AI majors. Instead, schools are looking for ways to incorporate AI courses into existing tech curriculums as well as experiential projects and programs.
A World Economic Forum report predicted AI could create 58 million jobs over the next few years. And the number of posted AI positions doubled from 2015 to 2018, according to a review by job-search engine Indeed.com. Meanwhile, the number of people searching for AI-related jobs has leveled off, even though salaries can start well above $100,000 and grow significantly from there.
Indiana's universities started thinking about how to address that job market three to five years ago by incorporating AI skills in existing programs, and Indiana University has created an artificial intelligence degree. But there's more work to be done, program leaders and professors say.
Here's a look at some of the programs Hoosier universities are offering students to help them prepare:
Indiana University
IU's AI degree is called intelligent systems engineering—and it's the school's first engineering program.
The program combines intensive engineering and computing study, and students pick a concentration from a list that includes bioengineering, computer engineering, cyber-physical systems, and molecular and nanoscale engineering.
The degree is driven by artificial intelligence and teaches students to design and build computerized devices and the systems that work with them. IU also offers a master's degree.
Minje Kim, assistant professor of intelligent systems engineering, said IU introduced the program about three years ago when artificial intelligence was not yet on everyone's lips. "Turns out, it was the right choice," he said.
And in 2017, the school received funding from the National Science Foundation to offer a dual doctorate program in network and data science plus another discipline of the student's choice, such as psychology or political science.
The goal is to train researchers to be experts in more than one discipline, including one that deals with complex networks and systems, to help solve problems, said Luis Rocha, a professor at the IU School of Informatics and Computing who leads the program.
Rose-Hulman Institute of Technology
While Rose-Hulman doesn't yet require students to take AI-specific courses, leaders have recognized many students might want that option, said Michael Wollowski, an associate professor of computer science and software engineering.
He's taught an introduction to artificial intelligence course the last few years that is increasing in popularity, he said. Last year, the school offered four sections to meet demand.
Part of Rose-Hulman's computer software and software engineering department, the course's only prerequisites are a class on data structures and algorithms—and curiosity.
In the course, students investigate how to model and implement intelligent behavior using computers and study the ways machines reason, use knowledge and solve problems. For next fall, 48 students have already signed up.
Once students have completed the course, they can take more advanced classes in swarm intelligence, image recognition and machine learning.
The school has also offered students project-based learning experiences around AI, Wollowski said. He pointed to a recently completed project by four seniors that was among papers presented at the 2019 Association for the Advancement of Artificial Intelligence's Spring Symposium on Autonomous Machines and Human Awareness at Stanford University.
The students developed a human-robot collaboration system that combines human reasoning and knowledge with robots' lack of fatigue within a shared space. The system is designed for small to medium-size manufacturers.
"The idea is, you and the robot sit at the same table, and you assemble something. You solve a problem together," Wollowski said. "The system is designed to learn. The person acts like an instructor; the machine gets better."
Rose-Hulman is currently working to create an artificial intelligence minor, but has no plans to create a major. The university also offers artificial-intelligence-based graduate-level courses.
One problem facing schools as they look to implement more AI course work is hiring professors. It's difficult to find people who are interested and have the expertise to teach artificial intelligence because they're usually poached by the tech industry, Wollowski said.
"Academia needs to address and come up with innovative solutions," he said.
Purdue University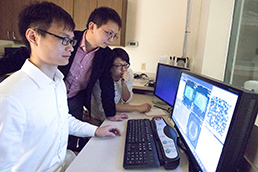 From left, doctoral student Haiguang Wen, assistant professor Zhongming Liu and former graduate student Junxing Shi review MRI data of brain scans to improve artificial intelligence. (Photo courtesy of Purdue University)
Purdue has been taking a campus-wide look at ways to prepare students for careers in AI or careers that will rely on AI, said Jenna Rickus, associate vice provost for teaching and learning.
And because AI and data science are intertwined, Purdue sees its year-old integrated data science initiative as the best path. The initiative is meant to help address "pressing fundamental and socially relevant issues" while also preparing all students for "a data-driven, knowledge economy," according to an April 2018 press release announcing the initiative.
While many Purdue graduates will build or employ AI or work in data science, more will interface with AI and other data science technology within the context of their own disciplines. That's why the new initiative aims to make every student data-fluent.
"Every student, really all of us, are the subject of AI and data science," Rickus said. "We took that really seriously."
Also this year, the College of Engineering launched the Data Mine, a living-learning community that introduces students in majors across campus to data science concepts through research and projects. The pilot program includes 100 students who live in Hillenbrand Hall. Eventually, Purdue hopes to grow the Data Mine to 800 students.
The goal is for more students to learn the data science skills that companies will soon expect them to know.
Purdue also offers courses for students interested in working directly with AI.
The university recently launched a data science major that combines computer science and statistics. And the university also offers AI-specific courses, including an introduction course. The university has a machine intelligence track that runs with its computer science degree and is designed to prepare students for jobs in fields related to analysis of data, including machine learning, artificial intelligence, information retrieval and data mining.
What's still ahead is ensuring students majoring in tech- and data-related subjects are getting an education in ethics surrounding technology and data, Rickus said. Already, the political science and philosophy departments are helping to create those courses.
"That's something that is absolutely a priority for us," she said.•
Please enable JavaScript to view this content.