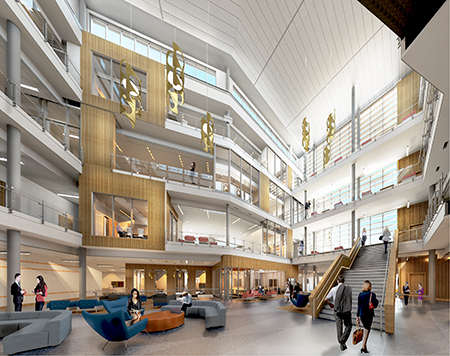 The new building housing Butler University's Andre B. Lacy School of Business won't open until fall. But the 110,000-square-foot structure at the campus's 46th Street and Sunset Avenue entrance already offers an object lesson in how to attract community financial support from unconventional sources.
After all, its chief benefactor and namesake, the late Andre B. Lacy, saw fit to underwrite much of its construction, even though he wasn't a Butler alumnus.
"I think a lot of schools get wrapped up in the idea that the only place to seek support is from alums," said Lacy School Dean Steve Standifird. "If we had done that, we would not have been able to accomplish what we've accomplished.
"If you are doing interesting, exciting stuff, there are people out there who are prepared to support it. And they're not necessarily alums."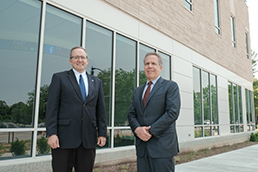 Lacy School Dean Steve Standifird, left, and Butler University President James Danko —standing outside the new building—sought gifts from both alumni and non-alumni to pay for its construction. (IBJ photo/Eric Learned)
The new business building is just one part of the "exciting stuff" that's happened on Butler's campus over the last decade or so. When the business school vacates its current home inside the Holcomb Building, that structure will be heavily renovated, expanded, and used for the university's science programs. Butler has also seen the arrival of the Howard L. Schrott Center for the Arts, a new parking garage, streetscape beautification and new dorms.
Butler was able to amass the financial resources to expand its business school and construct the new building from a range of sources, including wealthy former students. Also giving the business school a huge boost was a $25 million gift from Andre B. Lacy and his wife, Julia.
Andre Lacy, who died in 2017 at age 78 in a motorcycle accident in Africa, served as chairman of the board of the privately held Lacy Diversified Industries in Indianapolis. He also served as a senior adviser for the Butler business program. He said he donated to the school because of its emphasis on real-world experience for students—and, perhaps more tellingly, because of its focus on small and family-owned businesses.
"Andre Lacy had no relationship with Butler, and I don't think any of his children went there," said Keith Faller, a Butler alumnus and trustee. "But he found something there that he believed in. It's hard to put words in his mouth, but I think he felt it was beneficial not just to students but to the Indianapolis business community."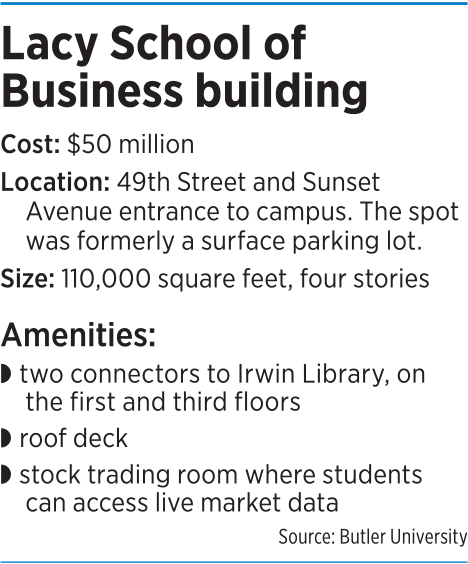 If it hopes to thrive, the school will need to maintain that responsiveness to local needs. Lacy operates in an ecosystem filled with in-state competitors that dwarf it in size. Standifird figures if you can't match them in size, you'd better be more agile and adaptable.
"A big part of that is being more sensitive and responsive to changing market demands," he said. "That is exactly the position we're taking at the School of Business. What we're doing today is trying to understand and respond better to the current market demands of the industry."
Two specialties
A couple of those responses have already paid big dividends. First and foremost are undergraduate and graduate programs in the risk and insurance area. Right now, that area is wide open. Standifird says that, while Butler officials have counted something like 194 sports management degrees available at U.S. business schools, they were able to locate only seven master's degrees in risk and insurance.
"The sports management industry is something like a $100 billion industry," Standifird said. "But the risk and insurance industry is a $5 trillion industry with desperate talent needs. Yet academia has done a surprisingly poor job of helping the industry."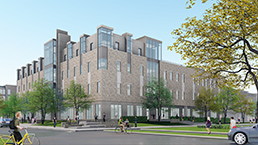 The new building, set to open this fall, sits at Butler University's 46th Street and Sunset Avenue campus entrance. (Rendering courtesy of Butler University)
The industry's loss is Butler's gain. The school's first cohort of candidates for master's in risk and insurance degrees visited campus a couple of weeks ago (there's been an undergraduate risk and insurance degree for seven years).
"I've been involved in a variety of master's programs, and usually when you launch a new one, if you get a dozen good students in your first cohort, that's a good day," Standifird said. "We have 21 students in our first cohort. We exceeded everybody's expectations."
The school has also made a big bet on a market referred to as "closely held businesses." Or to put it another way, large, unlisted, usually family-owned enterprises. These companies can be multibillion-dollar enterprises, but they typically fly under the radar more effectively than a stealth fighter.
And Indiana has lots of them.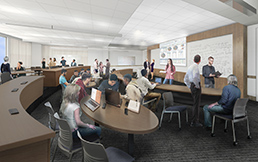 The classrooms in the new Lacy School of Business building will have state-of-the-art technology and flexible furnishings. (Rendering courtesy of Butler University)
Standifird, who's an Indiana native but spent two decades working on the West Coast, was astounded by the number of closely held, multigenerational businesses in his home state—approximately 500,000, employing more than 2.5 million Hoosiers.
"First to second generation is difficult, and second to third generation is almost unheard of," he said. "And you simply don't see fourth-generation businesses. And yet you have a multitude of those in Indiana."
These companies face a variety of issues unique to their status—everything from taxes to how to plan for successions to where to raise capital. It's a special niche that most business schools, which typically cater to publicly held companies, have long neglected. One of the ways the Lacy School addresses the issue is with the Old National Bank Center for Closely Held Business, established in 2014 with a $5 million gift from Evansville-based Old National Bank.
The center, other Lacy departments and the Central Indiana Small Business Development Center (headquartered at the school) act as a sort of clearinghouse and educational center for private firms. In fact, Standifird doesn't object to the idea that it's somewhat like Purdue University's extension services, offering not necessarily degree programs to executives at private companies, but rather advice and focused training.
"One of the things I'm constantly reminding my colleagues of is that they're still students, but in a different form," he said.
Indeed, the future could see a lot of this type of learner. Standifird divides the Lacy student body into three groups: undergrads, graduate students and individuals seeking professional services.
"That third category is the one that's growing fastest," he said.
Nimble and focused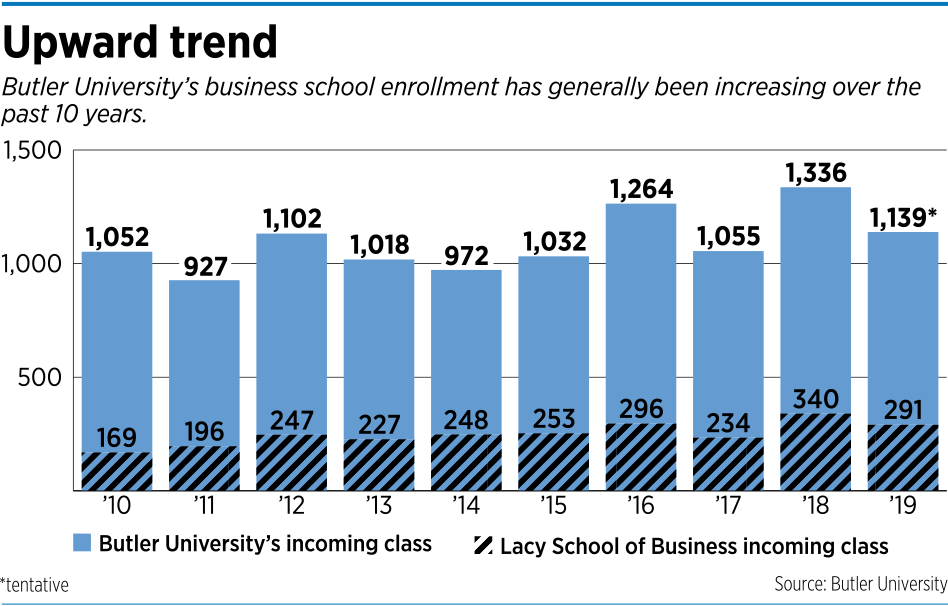 Catering to them, and offering training in underserved fields, seems to have borne fruit. Enrollment at Butler has expanded, and so, too, at the Lacy School. While business school enrollment is largely flat nationwide, it's increased about 20 percent at the undergraduate level during the last five years at Butler.
"Those numbers aren't slowing for us," Standifird said.
Indeed, that's the primary reason for the new building. The program has roughly doubled in size since it moved into Holcomb a little more than a decade ago.
"The new building will create connectivity with the business community," Standifird said. "That's a core design principle, which is a key part of who we are."
He sees the school's development going hand in hand with the larger plan for Butler University.
"One of the reasons this is working for us is because it's seamless," Standifird said. "What we're trying to do is exactly the same thing the president is trying to move the other parts of campus to."
"The Lacy School of Business is doing just what any successful business does—sees a niche and pursues it," said David W. Wantz, president of the Independent Colleges of Indiana. "In Butler's case, their size is an asset because they can be nimble and respond swiftly. That is a differentiator and an advantage."
For his part, Butler University President James Danko loves the idea of being quick on one's feet, but isn't quite as sold on the whole "niche" idea. A veteran of several other business school programs which, during his tenure, became among the best in the nation, he takes a more nuanced view.
"What I have learned in the business school world is that you have to focus some of your strength," Danko said. "Most business schools have to come up with a way to focus their resources, because you can't be everything to everyone. But I don't think we're doing a niche play. I think we're doing a top-25-business-school-in-the-country approach, focused more on undergrad education than anything."
Faller, for his part, said schools that don't aggressively pursue excellence, or find other ways to differentiate themselves from the great gray mass of colleges and universities, could face tough times. Demographic trends predict fewer college-age students in coming years, putting the squeeze on mediocre programs.
"I don't think colleges and universities have any choice," he said. "The best programs will prosper and survive, but we'll also start to see colleges that just can't make it. A college education has to be a ticket to a career."
"All colleges must find ways to meet the needs of the community and be able to move quickly," Wantz said. "You're going to see more partnerships and collaborations as colleges adjust to market demand."•
Please enable JavaScript to view this content.