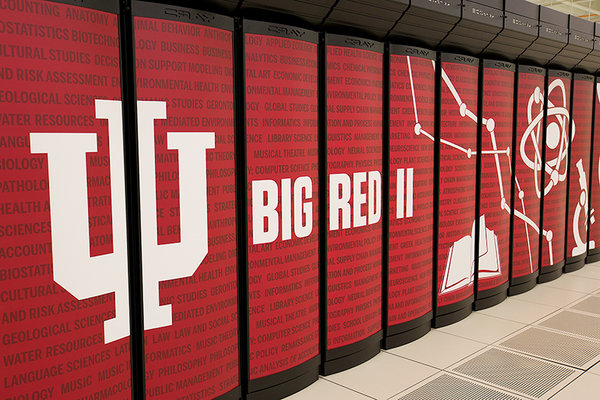 Indiana University announced Friday it has purchased a new supercomputer—dubbed Big Red 200—to support advanced research in artificial intelligence, machine learning, data analytics, and scientific and medical research.
The $9.6 million computer built by Cray Inc. will give IU the nation's fastest university-owned supercomputer, which will let researchers on the school's campuses do complex, simultaneous calculations that are six times faster than the computer system it is replacing.
How fast is Big Red 200?
According to IU, it would take every person in Indiana more than 28 years—performing one calculation per second 24 hours a day, 7 days a week, 365 days a year—to perform the same number of calculations that Big Red 200 can do in just one second.
"One of the distinguishing features of a supercomputer is its ability to do simultaneous calculations—and very, very large quantities of them," Brad Wheeler, IU's vice president for information technology, told IBJ. "It's effective where a particular problem is highly interdependent. You can't solve one part of the problem until you know the answer to another part—and many times it has millions and millions of parts."
IU experts plan to use the supercomputer for weather modeling, robotics, cybersecurity, simulations of the human brain and other complex research. Big Red 200 will also support partnerships between IU Health and researchers at the IU School of Medicine.
Tatiana Foroud, chairwoman of the School of Medicine's Department of Medical and Molecular Genetics, said in a statement the "AI-capable supercomputer will enable breakthrough discoveries across a broad range of research areas including neurodegeneration and the study of Alzheimer disease."
Big Red 200 will become fully operational on Jan. 20, which is IU's bicentennial, and will be housed at the IU Data Center.
The university paid for the computer using revenue from grants and research contracts it receives from the federal government and other sources. Just last year, Wheeler said, IU won $185 million in research grants involving work on the school's high-performance computer systems.
A supercomputer is made up of thousands of connected processors and is used for calculations involving tremendously large datasets. Supercomputer speeds grow exponentially with each new generation of system.
IU purchased its first Big Red supercomputer in 2006, which it then replaced with Big Red II in 2013. The newest version, which has been specially designed for calculations involving artificial intelligence and machine learning, can do calculations 300 times faster than the original Big Red.
"There has been a huge growth in the use of AI in nearly every area of science in recent years," said Fred Cate, IU's vice president for research, in a written statement. "Common to many of these is the application of sophisticated machine-learning techniques to massive amounts of data. Essential to this is enormous computing power specially configured to optimize these kinds of calculations."
Big Red 200 is one of Seattle-based Cray's recently introduced Shasta supercomputers—and the first to be installed at a U.S. university. Larger versions of the Shasta system will be installed in the coming years at a number of federal Department of Energy laboratories as part of what's called the Exascale Computing Project, with the capability of performing a billion times a billion calculations per second.
One of the project's leaders, Rick Stevens, the associate laboratory director at Argonne National Laboratory in Chicago, said in a statement that Big Red 200 "will be an amazing resource for advancing AI, science and engineering and will enable IU to play a pioneering role in the development of applications, methods and software" for Exascale computing.
Please enable JavaScript to view this content.