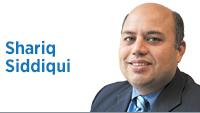 As a scholar of philanthropy and not-for-profits, I have had the opportunity to teach courses across the world. In my classes, I want to expose students to how the field of philanthropy is changing.
A few years ago, I invited a social entrepreneur to talk to my class about his approach to making the world a better place. During his presentation, the individual presented three propositions: (1) What if we could make the world a better place but not rely on fundraising; (2) What if we could change a social problem to a social catalyst for innovation? (3) Aren't we tired of the tried, tested and failed practices of the past and ready to modernize how we make the world a better place?
Like most social-good leaders, this person was inspiring. His message was compelling. I could see in my students' eyes the question, "If he can do this, why aren't we all doing this?"
After all, the world needs help. As we look around, we see both the advantages and challenges of the modern world. The industrial revolution and information revolution have ushered in periods of progress while leaving many behind. Globalization is creating both equity and inequity.
Our communities seem to be suffering from greater inequality. This inequality has caused greater poverty, hunger and emotional and social challenges. It is natural that, as we examine the increasing social problems, the immediate answer is to criticize and reject the past.
Social entrepreneurship is a result of the lack of perceived progress in moving the needle on social good. People want to make the world better. But effectively providing philanthropy and effectively managing not-for-profits is extremely hard.
Further exacerbating this frustration is that since President Reagan, government has become one of the largest funders of the U.S. not-for-profit sector. While bringing in needed funding, the strings attached have co-opted part of the not-for-profit sector to make it government-light. This has greatly reduced these not-for-profits' ability to innovate.
The reality is that even without these challenges, not-for-profits are complex institutions. But within this complexity and difficulty lies the sheer genius of this form of social good. A not-for-profit must develop consensus, adhere to institutional values, deliver on its mission while keeping a diverse group of stakeholder—donors, beneficiaries, board members, staff and regulators—happy.
It is through this consensus-building that a not-for-profit can sustain innovation and social good. It is through this consensus-building that not-for-profits have the ability to receive donations with few strings attached that allows them to take risks and experiment for social good.
But this frustration is compounded by the fact that the majority of not-for-profit boards and philanthropy come from the business world. Their paradigm of success is skewed by their worldview. If we can somehow make the world a better place without raising money, developing consensus among diverse stakeholders and sustain innovation, why not focus on that?
The reality is that social enterprises cannot solve all our challenges. While they are an important part of the social good ecosystem—they have a relatively small role to play.
The most important role will continue to be played by government (requiring taxation). And then the philanthropic sector will play a smaller role but one that's larger than that of social enterprises.
We have to realize that we have to make hard choices to make the world more equitable. This will include taxation to ensure an appropriate role for government. This will also include a realization that we must support not-for-profits and philanthropic enterprises through greater donations of time, talent and money.•
Click here for more Forefront columns.
Please enable JavaScript to view this content.