Tulip Noir Café isn't a strip mall restaurant.

Oh, it may be situated smack-dab in the middle of a strip mall, but Tulip Noir (1224 W. 86th St., 848-5252) is not just another cookie-cutter eatery serving up the same old food. Vegan? There's something for you. Allergic to wheat? Try one of the gluten-free options.

Just perusing the seasonal lunch menu online was a breath of fresh (autumn) air. Sure, the required soup, salad and sandwiches are there, but they go way beyond the ordinary. You had me at grilled peanut butter and Nutella.

So my companion and I arrived with great expectations. We had to wait for a table, but bided our time sampling organic tea at counter seating that later filled with diners. I was amazed by the steady stream of customers that kept pouring into the small café well past 1 p.m.

Perhaps the crowds can be blamed for the uneven service. We've all been there—sitting at a table with a friend, unable to carry on a conversation lest you miss the chance for the eye contact that might lead to more water, a shaker of salt or a missing side dish.

Our server was harried, and we noticed. But the food was solid, which helped.

We started with Minty Zucchini Fritters ($6.50), a side dish pressed into service as an appetizer. Think julienned zucchini mixed with a bit of feta and mint and formed into pancakes. Instead of syrup, we got the next best thing: crème fraiche. It was surprisingly good, and light enough to seem virtuous.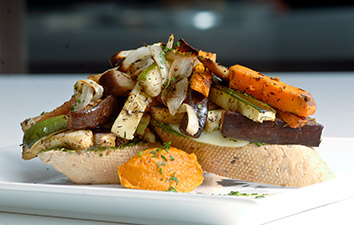 Roasted Veggy sandwich—OK it's not exactly a sandwich— is a Tulip Noir highlight. (IBJ Photo/Robin Jerstad)
Though tempted by the nutty chocolate goodness of a PB&N, I opted for a more healthy option: Turkey Burgers ($9). I asked to 86 the pita that usually surrounds the four flavorful mini burgers, and they arrived instead on a bed of fresh spinach with cucumber and a tangy tzatziki sauce on the side. The promised side of curried spinach never arrived, though, and I was done eating before I could get the server's attention to ask about it.

My friend ordered the Roasted Veggy open-faced sandwich ($9.50). Seasoned spears of zucchini, eggplant, onions and sweet potato were served with provolone cheese and basil pesto atop a whole wheat baguette. Yum.

For dessert, we chose the blueberry crisp ($5.75 naked and $6.75 à la mode), a delightfully sweet-but-not-cloying combination of the namesake fruit and an oatmeal-walnut pastry. Yeah, we sprang for the ice cream, too. You have to live, right?•

—Andrea Muirragui Davis

__________

Second in a monthlong series of 86th and Ditch dining reviews.