With a national unemployment rate of nearly 10 percent eroding its customer base, WellPoint Inc. is cutting at least 30 middle-management employees and reshuffling its corporate organization, according to internal memos obtained by IBJ.

And that's just the beginning.

The cuts are part of a continuing evaluation process aimed at wringing more dollars out of its far-flung operation, according to WellPoint spokeswoman Kristin Binns.

"It's an ongoing exercise: no start, no finish," she said.

That has many of WellPoint's 5,000 Hoosier employees anxious about future changes, according to current and former employees. The company already announced 1,500 U.S. job cuts in January and agreed to sell off its prescription-drug business, which employs 459 at Indianapolis International Airport.

But the company, which employs 42,000, has to make hard choices in an environment that has not been kind to health insurers. From mid-2008 to mid-2009, WellPoint lost nearly 600,000, or 2 percent, of its most profitable customers—those on employer health plans.

And WellPoint executives don't expect employers to start hiring those workers back until 2011.

WellPoint insures more Americans than any of its peers, 34.2 million as of June 30. Its profits fell 4.8 percent, to $1.3 billion, during the first half of the year, compared with the same period last year, mainly due to investment losses.

Health reform could bolster the prospects for WellPoint and other health insurers by pumping more than $450 billion in new money into the industry.

WellPoint CFO Wayne DeVeydt says health insurers must be "extremely efficient" in the future.
But that money won't start flowing until 2013, under proposals pending in the U.S. House and Senate.

In the meantime, WellPoint and its peers have to figure out some way to keep profits up. Cutting costs has been the strategy across the industry, said Dave Shove, an analyst at BMO Capital Markets in New York.

"Everybody's doing it," said Shove, noting that health insurers have been unable to grow their revenue much as job losses have stolen away their customers.

"If there's less business, you need less people to take care of them," he added.

Connecticut-based Aetna Inc. announced 1,000 job cuts in December. The next month, Philadelphia-based Cigna Corp. announced 1,100 job cuts.

At an investor conference in September, WellPoint Chief Financial Officer Wayne DeVeydt hinted that WellPoint might have additional cost-cutting announcements to make when it releases its third-quarter financial information on Oct. 28.

Analysts believe WellPoint's latest cost-cutting is an attempt to meet its profit goals in the short term.

But there are also reasons to hold down costs for the long term as a way to succeed after health insurance reforms take effect.

Health reform would make the health insurance industry significantly more regulated.

The government would no longer allow health insurers to deny coverage to sick people, would force them to base premiums on an entire "community" of people, rather than person by person or company by company, and would cap the percentage of medical bills insurance plans can allow patients to pay out of their own pockets.

Those changes could make health insuran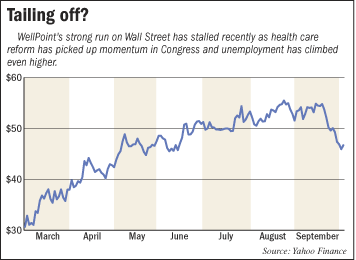 ce, which is already a low-margin business, even more challenging. That will force companies to be even more efficient, which will likely lead to more mergers among health insurers.

"You have to have an extremely efficient [administrative] structure and you have to have very good network discounts with providers. And the only way you get both of those is with scale," DeVeydt said at the investors conference.

After health reform passes, he predicted, "You're going to see a lot more consolidation in this industry, mostly with what I call mid-tier and lower-tier organizations."

The memos, all written Sept. 24, detail a general streamlining of reporting assignments so there are fewer people reporting directly to WellPoint's executive vice presidents—the 10 officers directly below WellPoint CEO Angela Braly.

For example, DeVeydt appointed one person to oversee all financial planning and analysis for the company's health insurance subsidiaries and the corporate office. Previously, multiple people handled those duties.

In DeVeydt's case, the shifts did not immediately result in layoffs, but he did hint that further changes in staffing could come soon.

"Over the next few weeks, I will work with each of my direct reports to finalize their organizational size and structure," he wrote.

Cindy Miller, WellPoint's chief actuarial officer, made similar comments after shifting around reporting assignments.

"Until further notice, all of the staff that currently supports this work will report into [this] organization," she wrote.

In other departments, the organizational shuffling did leave some employees out in the cold.

Joan Kennedy, the key architect of WellPoint's highly touted 360° Health management program, is leaving.

The Human Resources Department will see three people go—one due to retirement—in the areas of diversity, social responsibility and wellness.

Brad Fluegel, who oversees WellPoint's marketing, communications and lobbying, eliminated 22 positions.

Those cuts included Steve Northrup, a vice president of federal affairs, and Marjorie Maginn, a staff vice president of industry and political affairs.

WellPoint decided to kill its Institute of Health Care Knowledge, which it launched with a bit of fanfare just over a year ago. The institute distributed scientific studies about health and health care to WellPoint customers and to the public.

The job cuts don't mean WellPoint isn't hiring anybody. Fluegel's organization has openings, some of which are advertised on Internet job boards.

WellPoint also created a division called corporate strategy development and innovation, and is now looking for a person to lead it.

In addition to the personnel changes, WellPoint is ramping up investment in an effort to put all its insurance subsidiaries on the same computer systems and to allow information from one part of the company to flow easily to other parts.

Internally, the company calls this its North Star strategy.

Company officials are also scouring for process improvements they can make to save time and money, using principles from lean manufacturing and the Toyota Production System, Binns said.

"It's truly an effort for efficiency, and an opportunity to cost out," she said. "That's what customers expect of us."•