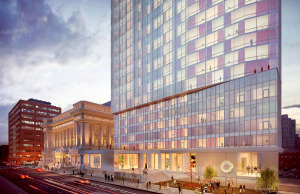 For years, Old City Hall has sat mothballed and gathering dust as civic leaders sought to find it a new purpose.
In late August, more than seven years after a previous effort to redevelop the downtown site fell apart, city leaders announced a new plan for the 113-year-old structure.
Indianapolis-based TWG Development LLC was chosen by Mayor Joe Hogsett's administration to redevelop Old City Hall, 202 N. Alabama St., and a parking lot directly to its north into an art gallery and a 32-story mixed-use tower featuring apartments, a hotel and parking garage.
The $150 million project, known for now as the "Alabama Redevelopment," is still in its infancy, but early plans call for a 387-foot glass tower containing 190 apartments, 24 condominiums, 150 hotel rooms and 8,000 square feet of retail and hospitality space.
Arguably the biggest challenge will come with the reuse of Old City Hall, which was built from 1909 to 1910 and is clad in Indiana limestone. A portion of the building is expected to be restored and used as an art gallery to accompany the hotel, while the rest is to be used as community or office space.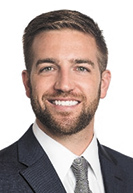 J.B. Curry, president of development for TWG, said properly preserving and restoring the building is a top priority. The Classic Revival structure served as the seat of local government until the City-County Building opened in 1962. Since then, Old City Hall's various uses have included serving as home to the Indiana State Museum and then temporarily to the Indianapolis Public Library.
The biggest jobs for TWG in the revamp, Curry said, will be removing concrete from the window frames and installing new windows, rewiring electrical systems and repairing deteriorating plasterwork. The company plans to retain original light fixtures and the stone flooring.
"We feel like we're starting from a great spot with Old City Hall," Curry said, noting that TWG crews only recently gained access to the building to begin devising a preservation strategy. He said it's too early to know exactly what challenges might arise, aside from addressing years of deferred maintenance.
"We can see quite a few [original fixtures] already," he said. "We think it's important as we move north to connect the historic structure to the modern additions. That's a huge opportunity—how we blend and incorporate Old City Hall with the new structure. A huge part of the project, simply put, is to get that connectivity right."
So far, not much is known about what the interior of the building will look like, as Curry said no renderings or preliminary designs have been finalized.
TWG plans to work closely with Atlanta-based architectural firm Smallwood and locally based Studio Axis throughout the design process. It also plans to work with a historical consultant.
"We're embarking on a journey on developing both an existing landmark and the next landmark on Alabama Street," Curry said. "We've already started that process with our initial concept plans, and now we're moving forward with more details and seeking input so we can get this right."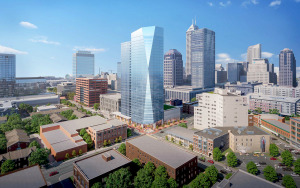 Tower plans
The current design for the tower next to Old City Hall is strikingly similar to the one TWG submitted last year in response to a City Market request for proposals, Curry acknowledged. The TWG plan wasn't chosen for that project, and a similar design appeared in the Old City Hall proposal. Both proposed buildings are 32 stories and clad entirely in glass and steel, with the same sloping design on their front corner.
"While we think it's appropriate, it is still a conceptual design phase of the building, certainly subject to adjustments and change," he said. "That's where we are in the process now, which is seeking input on that."
The 150-room boutique hotel are proposed to take up floors six through 13 of the 32-story tower, while a lobby, restaurant and curated retail space occupy the ground floor. The apartments and condos are to occupy floors 14 to 26 and floors 27 to 30, respectively. The garage will be on levels two to five. The city is involved in the design process, with TWG working "hand-in-hand" with city architects and staff with the Department of Metropolitan Development, Curry said.
Next month, the project will go before the Indianapolis Historic Preservation Commission for a preliminary review, in which TWG will solicit feedback on its design; no vote will be taken during the meeting. The design must be approved by the commission because it sits in a historic district.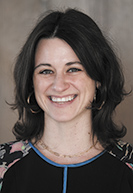 The historic designation "is obviously critical to this effort and gives us a lot more comfort with the idea of a private owner, because we know we'll still have this oversight," said Deputy Mayor of Development Scarlett Andrews. "The building's actually in quite good shape, so I think a lot of those historic elements are really well-protected and are able to be fully restored."
An extensive, 196-page analysis released in September 2021 determined it would cost $4.2 million to address a laundry list of deferred maintenance, such as facade repairs, roof upgrades and mechanical system replacements, at Old City Hall.
The same study also indicated it would take $36 million to $55 million to convert the building into a "gray box"—a real estate term used to describe a building that would require infrastructure and extensive tenant improvements such as flooring and painting to be completed.
TWG expects to spend less on its work inside the building because some infrastructure already exists, particularly since the firm plans to preserve much of the structure as-is and lean into its historic architecture as it works to incorporate the art gallery, Curry said. An interior design plan for the building is expected to be completed by the end of January.
Preliminary estimates peg TWG's costs for the renovation of Old City Hall at about $20 million.
Building the tower is expected to cost more than $100 million. At nearly 400 feet, it will be among the tallest buildings downtown—within a stone's throw of the 48-story Salesforce Tower, the tallest building in the state. The next tallest in terms of floors are the Regions Tower and OneAmerica Tower at 36 stories, followed by the 34-story JW Marriott.
How we got here
The plan for the art space inside Old City Hall in many ways reflects the previous attempt to redevelop the site in 2015 during Greg Ballard's second term as mayor. That project called for a conversion of Old City Hall into a 21c Museum Hotels-branded hotel and art gallery. But that deal fell apart after the Louisville-based hotelier failed to meet financing deadlines set by the Hogsett administration.
While the city put out a request for information soliciting other ideas in early 2017, none meshed with the city's aspirations for the site.
Last October, the city issued a request for proposals for the 0.65-acre parking lot immediately north of Old City Hall. At least five developers put in bids. The city later modified the RFP to include Old City Hall after several developers incorporated the building into their pitches.
"We were pleasantly surprised that developers were not only willing to understand the highest and best use of that parking lot but [were] really intrigued by the opportunity to potentially [pair] that with City Hall, as well," Andrews said.
The new project also includes a partnership with 21c Museum Hotels, but both city and TWG officials have emphasized that the hotelier is in a different financial place than it was in 2015, and that the new proposal is entirely separate from the last project. In this case, 21c will only manage the hotel and oversee curation of the art gallery, which is expected to feature an extensive collection of local artwork.
Curry said TWG doesn't have a finalized agreement with 21c, but negotiations are continuing to progress, with the hotelier "excited" about its involvement. This would be the chain's ninth hotel.
"21c Museum Hotels is excited to see this development continue its course and looks forward to working alongside Indianapolis-based developer TWG and the city of Indianapolis on the proposed hotel project," the hotelier said in written remarks following the announcement.
Other considerations
According to documents obtained by IBJ, TWG's design beat out bids from several other companies, including Buckingham Cos., Chase Development, Flaherty & Collins Properties, Gershman Partners and KennMar.
The $217 million concept put forth by Buckingham was anchored by a 15-story residential tower containing 280 units and a hotel—largely based in Old City Hall—with 151 rooms. The development also would have featured a 288-space garage, 8,300 square feet of ground-level retail and either a destination art gallery or restaurant in the existing building. It also would have featured a rooftop amenity.
Chase Development principal Dan Jacobs suggested a five- to seven-story building containing 150 apartments and up to 20,000 square feet of retail space. The apartments, he said, could have used technology from Indianapolis-based modular building firm Volumod. Jacobs did not include a proposed purchase price for the site, nor did he suggest a potential development cost in his letter.
Like TWG, Flaherty & Collins' response to the city's request proposed a towering hotel and apartment building on the parking lot site, with a 160-room hotel and 300 apartments. The $250 million proposal would have featured 36 stories, with a 400-space parking garage and 5,000 square feet of ground-level retail. Old City Hall would have been repurposed into public gathering space, along with a restaurant and event space.
Local firms Gershman and Citimark, whose roster of projects includes redeveloping the Gold Building and the adjacent City Market East, proposed a singular use for the Alabama Street site: a $120 million, ritzy, 175-room hotel with a Chicago-based Aparium Hotel Group LLC brand. The bid also suggested redeveloping Old City Hall into "the cultural epicenter of downtown Indianapolis, bringing together music, film, art, education, community gathering and culinary experiences in a single location." It offered few specifics.
KennMar, which developed the downtown Hotel Indy project, suggested the creation of a five-star hotel for the Alabama Street site, consisting of 252 rooms along with 25 condominiums and a 288-space parking garage. Its project didn't note potential uses for Old City Hall, other than to say it would work with the city on ownership and management of the property.
Moving forward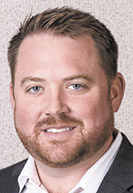 Construction on the TWG project won't start until at least late next year, Curry said, as the firm must still secure financing. TWG CEO Tony Knoble previously told IBJ he wouldn't be surprised if the price climbs to $180 million or more.
To help finance the TWG project, a proposal for a single-site tax-increment-financing district will go before the Metropolitan Development Commission this month and then to the Indianapolis City-County Council.
But in addition to the more than $15 million in developer-backed TIF bonds being considered, the city's Andrews said, TWG will likely pursue federal historic tax credits from the National Park Service.
Those credits, Andrews said, would add a layer of additional requirements to ensure the building is preserved from a design standpoint, but they could also extend the construction timeline.
Curry expects financing to be shored up by mid-2024, but it's too soon to say what lenders might ask TWG to contribute in equity or how interest rates will level out in that time. But he said the company has no plans to back away from the project or look for alternative funding sources.
"We've already actively started those [finance] discussions and received … positive feedback, which will continue as we work through designs," he said. "This development will be a TWG-owned property."•
Please enable JavaScript to view this content.