As Bohanon and Curott finish up yet another semester at Ball State, we are keenly aware of the rising cost of college education. The U.S. Department of Education's website is filled with data documenting its dramatic increase over the last two decades. We just came across some additional data that spans an even longer time frame.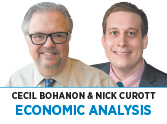 On an alumni chat group of Bohanon's alma mater—a private Midwestern liberal arts college that we won't identify—a fellow graduate posted a page from the 1902 World Almanac. It listed the costs of attending a number of post-secondary institutions of the time, including the aforementioned alma mater. Yearly tuition was $39, room and board $150, and books were estimated at $10, for a grand total of $199. The posting alumna duly noted that: "It's all relative, I know—but still very interesting." Yes, it is!
Adjusting the bill for inflation, the total comes to $5,954 in today's dollars. The college's current website lists tuition, room, board and books at $36,875 for 2019-2020. The 1902 prices are a real bargain by today's standards.
However, there is another way of looking at college costs that paints a somewhat different picture. In 1902, average wages were 22 cents an hour. So, an average American worker made $440 a year, assuming a 2,000-hour work year. A year's college cost about 45% of the average worker's annual wages.
The latest BLS data indicate average U.S. wages are $28.29 an hour. So, today, an average American worker makes $56,580 a year, assuming a 2,000-hour work year. A year's college at the same school costs about 65% of the average worker's annual wages in 2019.
By both measures, college is more expensive now. It is six times more expensive by the inflation measure. However, because real wages have risen over the last 117 years, it's only about 1.44 times higher by the average-wage measure.
None of this includes financial aid or discounts—which are prominent at private colleges. No one except a 2.3-GPA student from a very rich family pays full fare at private colleges today. We don't know the extent of financial aid in 1902. Also note that the percentage of high school graduates that go on to some form of post-secondary education is around 70% today. In 1902, it was below 2%. A better-educated public? Probably. But the cost has been rising for some time.•
__________
Bohanon and Curott are professors of economics at Ball State University. Send comments to [email protected]
Please enable JavaScript to view this content.