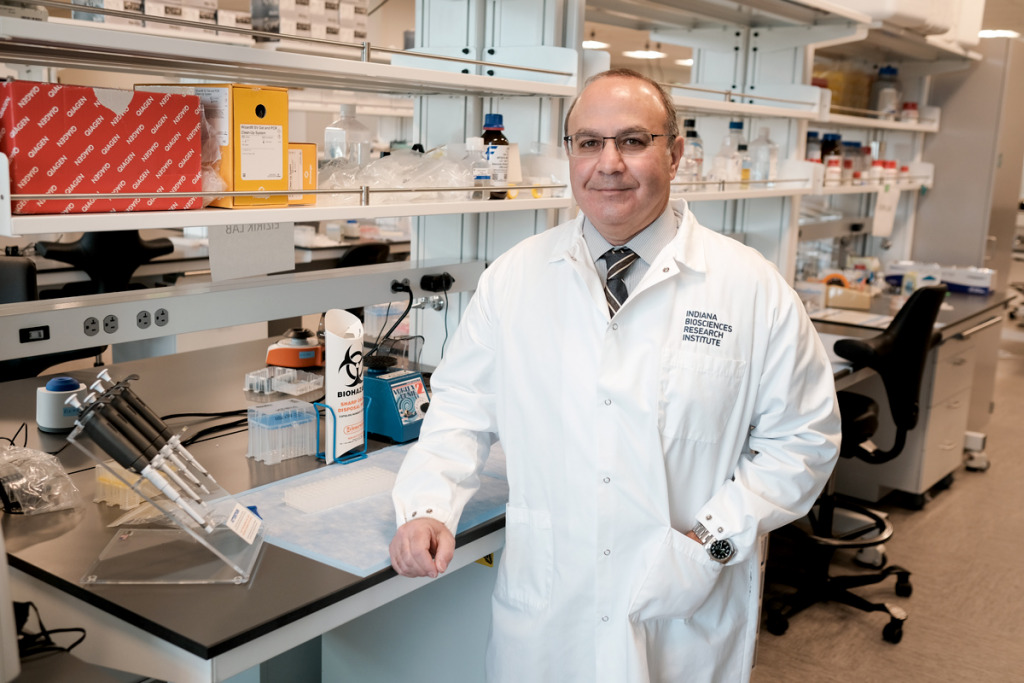 For an organization that has been around less than a decade, the Indiana Biosciences Research Institute has had more than its share of fits and starts.
The not-for-profit launched in 2013 as a way to bridge the gap between research universities and industry in life sciences, with the aim of helping companies develop new technology while assisting academic researchers who wanted to take their work into the marketplace.
With powerful corporate backing, it raised more than $150 million in funding in the first three years, enough to hire dozens of scientists.
The goal was to help produce new technology in a range of disease areas, from diabetes to cardiovascular disease, and act as an incubator for biotech startups. In the process, it would boost Indiana's reputation as a life sciences powerhouse.
But these days, the report card looks decidedly mixed.
The institute, just 7 years old, is already on its third CEO, following the departure in 2018 of the previous top executive, Rainer Fischer, who abruptly stepped down after just 18 months in the top job, citing health reasons, and left the organization shortly afterward.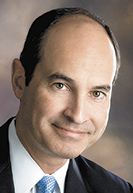 The institute has so far generated only a trickle of sponsored research—less than $1 million a year—while burning through tens of millions of dollars in salaries, laboratory equipment, office furniture and other overhead. Last year, it posted a loss of $2.4 million—up from $1.3 million a year earlier.
"I think it's fair to say that the results to date have been uneven," said Bill Stephan, a board member and Indiana University's vice president of government relations and economic engagement.
But there are strong hints the institute is now pushing to turn things around and juice up its effort to become a major catalyst in a state rich with life sciences players.
This month, the institute named eight new board members, including senior leaders from three major research universities (Purdue University, Indiana University School of Medicine and the University of Notre Dame), three major Indiana companies (Eli Lilly and Co., Elanco Animal Health and Corteva Agrisciences) and state government.
Those board members will join six current members from industry and academia. Two others stepped down.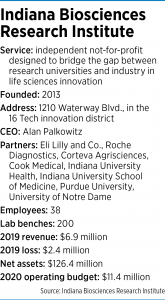 "The board we're transitioning to is now one which I think is really going to be very strategically aligned on where we want to go and how we want to impact and measure our success," said Alan Palkowitz, a research chemist hired in September as IBRI's third president and CEO.
Palkowitz, 57, who retired from Eli Lilly in 2017 as vice president and longtime leader of the drugmaker's discovery chemistry group, is taking on the job at a critical time. Increasingly, big life sciences companies are seeking to collaborate with partners to help them with a multitude of research projects and products, from medicinal agents to drug-delivery devices.
Some drugmakers have outsourced much of the time-consuming job of pre-clinical testing, in which experimental drugs are examined for safety and feasibility in laboratory animals. Others have budgeted billions of dollars to buy young biotechs with promising technologies as a way of boosting their pipelines.
What Palkowitz wants to do now is strike up more of those partnerships. In the process, he wants to attract top scientists—a daunting proposal, as life sciences researchers are in high demand all over the United States, including larger, more established research institutes in California, Massachusetts and other high-tech states that have built huge laboratory systems over the decades.
What Palkowitz doesn't want to do is duplicate what industry researchers are already doing. He wants to find ways to complement, not replicate, research.
"I think if you look at trends in biomedical research—things that are happening within pharma, within the academic world—there is a growing co-dependency on these communities to work together in unique ways," he said. "I think it's reflective of the complexity of disease, where it's very hard for any one institute or any one group to tackle these problems alone."
He added: "I think we're really at a point of changing our strategy, so that we can be more of an integral partner to take on some of these complex problems."
New home
Two months ago, the institute moved its labs and offices into 16 Tech, a 60-acre innovation district under development on the near-west side that aims to become a hub for entrepreneurship and scientific breakthroughs. IBRI is the anchor tenant in the first building, which opened this year.
On a recent day, Palkowitz gave a mini-tour of the new space, 68,000 square feet spread out over two floors. The institute's set-up includes several large, contemporary, open lab spaces, designed by Indianapolis-based BSA LifeStructures. Overall, the building has enough space for 200 research stations.
The goal of the open workstations, with dozens of benches lined up in a single room, is to eliminate barriers and foster team science—both inside the building and with other scientific organizations around Indiana—including Lilly, Cook Medical, Roche Diagnostics and research universities.
The labs are equipped with chemical reactors, imaging systems and other analytical equipment. Much of the work is basic science, trying to unlock new molecular information on how cells work, regenerate and fight disease. Some of the imaging systems can go all the way down to a single cell.
These days, however, most of the benches are unoccupied as the pandemic has pushed most scientists to work from home on their projects whenever possible.
At one lab station, Whitney Bullock, a postdoctoral fellow at the IU medical school, was working on a project to develop an antibody to inhibit bone loss in elderly people.
As part of the early research, she peered into a bowl to see whether purple gel had stained a protein, a procedure that would help her measure the protein's size. She had generated a synthetic protein based on a natural protein called notum that occurs in the body.
"So, we expected that the protein would be a certain size, and this is telling us [it] is the size that we expected," Bullock said. "We always need to verify."
'Hard work'
Antibodies are a big topic around the institute, whether they are used against the flu or another disease. One of the key divisions of IBRI, called Pharmaceutical Biotechnology Center, is focused heavily on generating and creating antibodies.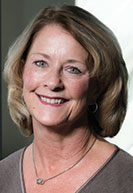 Another focus area is diabetes, and a team of researchers is studying the molecular basis of diabetes and its complications. Yet, for all the talk of improving health and building partnerships to tackle such challenges, Indiana has remained behind the pack. The state ranks ninth-highest for rate of diabetes, and in the bottom 10 for overall health.
Some life sciences veterans say what IBRI is trying to do is anything but a slam dunk.
"It's really hard work," said Patty Martin, CEO of BioCrossroads, an Indianapolis-based group that promotes and invests in the sector. "It's a hard lift, to put something together that's intended to not only do its own primary research and discovery work, but to connect industry and academia."
Martin, who joined the IBRI board two years ago, said she has been pleased to see all the interaction that's been happening, both behind the scenes and in public, including a collaboration on diabetes research between Lilly, the IU School of Medicine and IBRI. "I think [this] will very shortly bear fruit," she said.
'The big idea'
Despite the high-profile players, the institute has maintained a fairly low profile outside of research circles.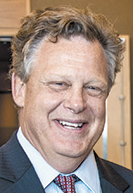 The idea was hatched when executives from Lilly, Roche, Dow AgroSciences, Indiana University Health and Cook Medical got together and decided Indiana needed to do more with its life sciences research assets around the state.
"They really wanted to create a place in the middle, which could work with both industry as well as academic institutions, to bring together talent to accelerate research and development and next-generation innovation," said David Broecker, a former Lilly executive who later helped found or run at least four startups. "So that was the big idea."
The focus was on diabetes, cardio-metabolic disease and nutrition—big unmet needs in Indiana and many other states. In 2014, the IBRI board tapped Broecker to run the institute as its first CEO, after it had raised its first $50 million, with the mission of raising more money and building IBRI.
In 2016, the institute scored a huge win when two major institutions announced they would donate a total of $100 million. The Lilly Endowment, one of the nation's largest private philanthropic foundations, donated $80 million and the Lilly Foundation, an arm of Eli Lilly and Co., donated $20 million.
Broecker began organizing the institute, hiring the first few dozen researchers, and forming a scientific advisory board.
"What I like to say is, we went from concept to at least proof of concept," said Broecker, who left in 2017 and is now chief innovation and collaboration officer at the Purdue Research Foundation.
In 2018, the institute won an additional $5 million from the Lilly Foundation. The same year, the Indiana State Budget Committee gave the IBRI's comprehensive plan its blessing, a move that will allow it to request $20 million from the Indiana Economic Development Corp. once it hits certain milestones.
All told, IBRI had an endowment of $134.3 million at the end of 2019.
Meanwhile, the board began a worldwide search for a chief scientific officer to oversee its research efforts. It found a proven talent in Fischer, who had served 19 years as senior executive director of the Fraunhofer Institute for Molecular Biology and Applied Ecology in Aachen, Germany.
During his time there, Fischer grew the institute from 40 to 680 employees, raised with his team almost 1 billion euro in extramural research funding ($1.2 billion in U.S. dollars) and established collaborations in more than 25 countries.
Just a few months later, IBRI named Fischer CEO in addition to chief scientific officer, succeeding Broecker, who had stepped down to found Zorian Medical, an Indianapolis-based medical-device startup.
But after less than two years as CEO, Fischer suddenly stepped down from both roles in April 2019, explaining that he had been recently diagnosed with diabetes and didn't have the energy to oversee a growing operation. He took on a lesser position as senior executive for innovation and discovery. But he has since left IBRI altogether. He served as a President's Fellow in the Life Sciences at Purdue University. He did not respond to several emails from IBJ. A Purdue spokesman said Fischer is still on the faculty as a visiting scholar.
While Fischer served as CEO, IBRI built up a workforce of nearly 40 people, including administrators. But all that overhead cost the young organization millions of dollars a year. At least 12 senior officials pulled down six-figure compensation packages, including Fischer, who earned $787,753 a year.
In the meantime, the big dreams of winning millions of dollars in sponsored research seemed like a fantasy. In 2019, in its sixth year, the organization rang up just $693,780 for research services and collaboration. Over the years, IBRI officials have been tight-lipped about specific research projects, citing confidentiality with outside partners.
Finding a leader
The top position at IBRI remained unoccupied for 17 months; no one was charting a strategic vision or making critical decisions.
Palkowitz, after retiring from Lilly, took a faculty job in 2018 at the IU School of Medicine as senior research professor of medicine in the Division of Clinical Pharmacology. The medical school had been looking for someone to oversee its Precision Health Initiative, an ambitious, $120 million effort focused on understanding the factors that contribute to an individual's health and curing diseases that are now untreatable.
Palkowitz, who has a doctorate in synthetic organic chemistry from the Massachusetts Institute of Technology, took on that challenge. And as if that weren't enough to keep him busy, he soon applied for and received a $36 million grant from the National Institutes of Health to establish a Center for Drug Discovery and Alzheimer's Disease. The grant, to be paid over five years, is designed to help the IU School of Medicine launch a drug discovery center in partnership with the Purdue Institute for Drug Discovery.
That early success marked Palkowitz as someone who could get things done, despite his low-key, mild-mannered appearance.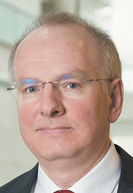 "Alan is humble, collaborative, extraordinarily successful—a person who has [been] a wonderful addition to the School of Medicine," said Dr. Jay Hess, the school's dean.
Hess, who recently joined the IBRI board, said he and other board members quickly realized Palkowitz could be the right person to take over leadership of the institute. Hess approached Palkowitz and got the ball rolling.
"I talked to Alan; I talked with the board," Hess said. "And, of course, he went through the interview process and everything worked out beautifully."
Palkowitz agreed to take the position, splitting his time 80% with IBRI and 20% with the School of Medicine. He said he wouldn't have been interested in taking over IBRI just a year or two earlier, right after leaving Lilly.
"But having the experience at IU for a couple years, it really began to open my eyes in terms of what's possible by blending academic science with elements of industry," he said. "It just came together in a very synergistic way in my mind, and it was very attractive to me. And I really saw opportunities to do some very unique things."
IU's Stephan said he's encouraged after having several conversations with Palkowitz and watching him settle in.
"I'm much more optimistic, given the fact that he is now at the helm," Stephan said. "And I think he's going to be a very strong and capable leader."
Striving for momentum
Palkowitz said a major component of winning over doubters is to have IBRI research build one success after another, then to tell those stories loudly.
That isn't to say IBRI has had no early success. One of its researchers, Michael Pugia, created two technologies that will help diagnose infections and other diseases from a single cell with more accuracy. That technology was recently spun off into a startup based in South Bend called BioMEMS.
But if IBRI is to make a bigger mark, it will have to produce some remarkable research.
"I'd love to see IBRI grow to be recognized as a world-class research institute that is recognized for very strong science and accomplishment," Palkowitz said, "and it's really a place that investigators will want to come work at, but also want to partner with our scientists."
He added he would like to see the institute have a huge impact on human health.
Possibly, he said, it also could shape new ways of thinking—maybe examining existing drugs and finding other uses for them as researchers understand patient data better and translate that to new clinical care.
"Now, it's just up to us and our team and our board," he said, "to bring that to fruition."•
Please enable JavaScript to view this content.