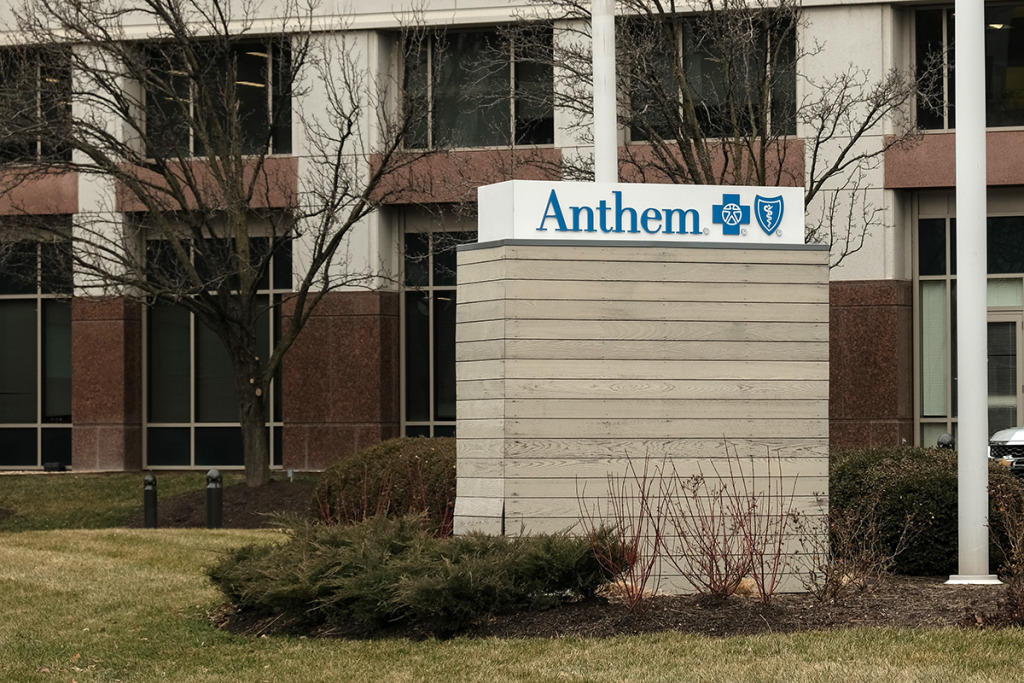 Even for a company as big as Anthem Inc., the nation's largest marketer of Blue Cross Blue Shield insurance, paying a half-billion-dollar settlement might seem like a painful way to resolve litigation.
But some investment analysts and health care observers say changes to Blue Cross Blue Shield rules that are stipulated in the settlement are so favorable to Indianapolis-based Anthem's growth prospects that they view the deal as a huge win for the company.
The settlement, struck last fall and awaiting final approval in an Alabama federal court, resolves lawsuits filed in 2012 by insurance customers alleging the Chicago-based Blue Cross Blue Shield Association and the nation's 36 Blue Cross and Blue Shield insurers violated antitrust laws through practices that limited competition and caused higher prices. The total settlement is $2.7 billion, with Anthem shouldering $594 million.
Anthem, the exclusive Blue Cross Blue Shield licensee in Indiana and 13 other states, already is by far the largest Blues insurer, with triple the revenue of the No. 2 player, Chicago-based Health Care Service Corp., and it is the only multistate Blue that's publicly traded—giving it easy access to capital that other Blues insurers, many of which are not-for-profit or owned by policyholders, don't enjoy.
That strong footing should come in handy after the settlement does away with protections that bar Blues insurers from invading one another's territories. The deal also eliminates a cap preventing Blues insurers from generating more than one-third of their revenue from non-Blues business. In addition, it clears the way for national employers to request bids from more than one Blues insurer. Currently, only the Blues insurer for the employer's headquarters state can compete.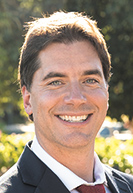 Investment analysts and health care observers say the new landscape could allow Anthem to add lucrative national accounts and to move into additional states with policies sold under the Blue Cross Blue Shield name—the top brand in health insurance.
"If I was a director or CEO of a small Blue plan and this settlement now gives Anthem the opportunity to compete with us, I'd be very scared," said Bill Bednar, principal and consulting actuary at Axene Health Partners in Southern California.
"In my opinion, it removes a big obstacle for Anthem to grow. The opportunity to grow is very much there."
Anthem spokesman Tony Felts issued a statement saying the plaintiffs deny the allegations but agreed to settle "because it allows us to remain focused on the goal we've had for more than 80 years: leading in the transformation of health care by fulfilling the commitments we've made to consumers, communities and our health care system."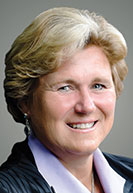 Two analysts asked about the impact of the settlement on Anthem during the company's third-quarter conference call in late October, but CEO Gail Boudreaux was coy.
"I really don't see this changing our stated strategy, and I think that we are very excited about the growth prospects we have across Anthem," she said on the call.
Powerful brand
The Blue Cross Blue Shield name is so ubiquitous that many health care consumers probably don't realize it is merely a trademark used by the three dozen Blue Cross Blue Shield licensees.
About 107 million people—one in three Americans—have Blue Cross Blue Shield coverage, according to the Blue Cross Blue Shield Association. That gargantuan market share stems in part from the Blues' pioneering role in developing health insurance. Few Americans had such coverage when Blue Cross launched in 1929 to provide prepaid hospital care. A year later, Blue Shield launched in 1930 to provide reimbursement for physician services. The two Blues merged in 1982.
In a Securities and Exchange Commission filing, Anthem says, "We believe our exclusive right to market products under the most recognized brand in the industry, BCBS, in our most significant markets provides us with greater brand recognition over competitive product offerings."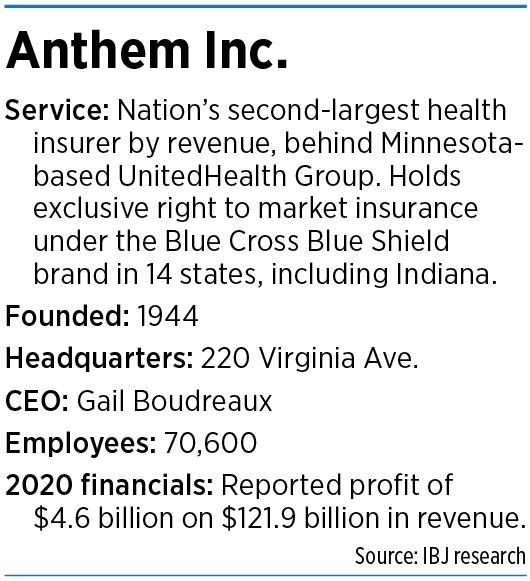 Yet its relationship with the association has sometimes been strained—most notably when it diverged in the 1980s and early 1990s from the standard Blue Cross Blue Shield playbook of just selling health insurance and doing so in a single state.
Anthem executives at the time said the company's diversification and move into other states was a matter of survival after it sputtered in the 1980s.
"We were in one line of business—traditional health insurance—and we were pretty much doing it the same way it had been done for 40 years," then-CEO L. Ben Lytle told IBJ in 1991.
"It had steadily been losing market share for a decade, and a lot of its business was auto and steel, which were going through a rapid contraction. The company had a terrible service reputation at that point and just wasn't looking toward the future."
Tensions between Anthem and the association came to light after the Indianapolis company spun off its insurance brokerage subsidiary, Acordia, in a $49 million initial public offering in 1992.
The association in response threatened to strip Anthem of the right to use the Blues brand, according to regulatory filings related to the offering, though it never did so. In one filing, Anthem said it had "engaged in certain actions which the staff of the BCBSA object to, including transforming itself into a for-profit enterprise [and] transferring customers, brokerage and administrative business" to Acordia.
An even bolder move came in 2001, when Anthem itself went public in a $1.7 billion initial public offering. As part of the transaction, Anthem con-verted from being policyholder-owned to investor-owned.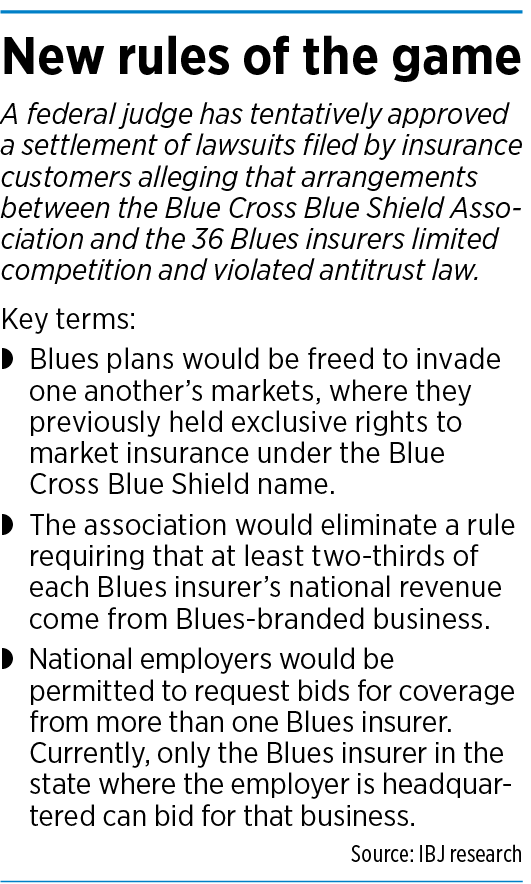 Growing pains
Anthem grew explosively in the 1990s and early 2000s by snapping up other Blues plans. Its biggest deal came in 2003 when it acquired California-based WellPoint Health Networks, a similarly acquisition-minded Blues consolidator, for $16.4 billion.
But that strategy soon began to stall amid increasing opposition to the conversion of not-for-profit Blues companies to for-profit status—a move that typically was a precursor to being acquired by Anthem. From 2003 to 2007, regulators in Kansas, Maryland and Washington blocked for-profit conversions, and Blues insurers in two other states, New Jersey and North Carolina, backed away from conversions because of the cool response of regulators.
Anthem's next big acquisition play came in 2015 when the company agreed to buy Connecticut-based Cigna for $54 billion. But Anthem gave up the deal two years later after a federal judge sided with the Department of Justice's conclusion that the megamerger violated antitrust law.
In a testy letter to Anthem in mid-2015, before the two companies had signed a merger agreement, Cigna Chairman Isaiah Harris and CEO David Cordani argued that "Anthem's lack of a growth strategy [and] complications related to your membership in the Blue Cross Blue Shield Association" were significant impediments to a deal.
"We have serious questions about how the combined company would comply with the intricate rules and constraints administered by the BCBSA," the letter said.
Bloomberg News reported in 2016 that the then-pending deal would have knocked Anthem's Blues revenue below the two-thirds threshold, potentially prompting the Blue Cross Blue Shield Association to order the company to pay a $3 billion noncompliance fee.
Stepped-up competition
Analysts and health care observers say eliminating the two-thirds requirement and loosening the rules that limit competition among Blues insurers give Anthem new muscle to play hardball with rivals—if it chooses to go that route.
For example, Bednar said, if Anthem wanted to buy a Blues insurer in another state, it could lord over the target company that Anthem might launch its own operations there.
"It's the attitude of, 'Merge with us or you are going to be our competitor,'" he said.
Scott Fidel, an analyst at Stephens, added in a report that the settlement might provide "competitive momentum" to larger insurers, "mostly at the expense of single-state Blues … and also catalyze more cross-border M&A between Blues and non-Blues."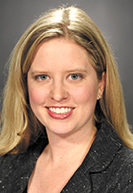 But not everyone is expecting a drastic change to the competitive landscape.
Julie Utterback, a senior equity analyst at Morningstar in Chicago, said the antitrust settlement is "mildly positive" for Anthem, positioning it to better compete for national employer accounts.
But she doesn't foresee Anthem charging into the markets of other Blues plans and building a presence from scratch. That's a tough way to build market share, she said, given the need for scale in order to negotiate the lowest possible reimbursement rates from health care providers.
And acquisitions of smaller Blues plans would be more likely if they were under financial strain, which isn't the case, said James Sung, a director in New York for the rating agency S&P Global.
"A lot of the Blue Cross Blue Shield plans across the country are financially strong. There is not a big push to sell them," he said. "The ones that are left have been able to be successful on a stand-alone basis."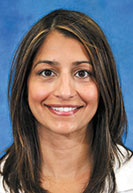 But Bednar said Anthem would be able to use its strong performance in existing markets to subsidize startup operations.
"I could see Anthem, with deeper pockets, accept losses for a couple of years to get market share, then get more aggressive in negotiations," he said.
Gloria Sachdev, CEO of Employers' Forum of Indiana, said she'd like to see another Blues plan come into Indiana to compete with Anthem, though she doubts that will happen, given that most other Blues are small, regional players.
Anthem is the undisputed king of the Indiana market, with 66% of the large group market, according to the Kaiser Family Foundation. Sachdev, whose group is concerned about high health care costs in the state, said she doesn't want Anthem's growth initiatives elsewhere to push costs even higher here.
"We will have to keep an eye on Anthem's premiums in Indiana to [ensure] they do not increase as they offer more competitive rates to gain market share in other states," she said in an email.•
Please enable JavaScript to view this content.