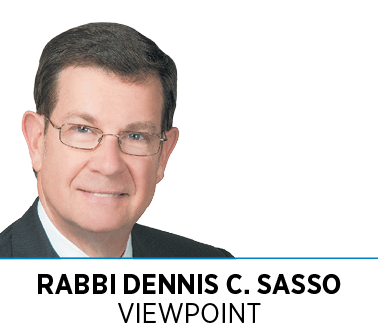 Writing to the Jews of Newport, Rhode Island, in 1790, George Washington assured them America would be a nation that "gives to bigotry no sanction, to persecution no assistance."
Recent events have sadly shown that our first president's aspirations are yet to bear fruit. Antisemitism has found fertile soil in the United States. The attacks of Jews in Monsey, Manhattan, Brooklyn, Jersey City, and earlier, in Poway and Pittsburgh, have resuscitated concerns that antisemitism, the longest hatred, is back with crass impunity after decades of being considered taboo in our society.
Antisemitism is not just the oldest hatred, it is the symptomatic hatred. Where there is antisemitism, there you will find other prejudices. We are living through a political climate that legitimizes a language of racial, ethnic and religious bigotry. Social media and the internet facilitate the proliferation of hateful ideologies that feed into antisemitism.
Anti-Jewish hatred has three major strands: religious, racial and political.
While the term antisemitism was coined in 1873 in Germany, hatred of Jews is of ancient vintage. It began as religious anti-Judaism in the early church, with the dangerous charge of deicide (the murder of God) and a theology displacing the Jews as a covenant people. During the Middle Ages, Jews were persecuted, murdered and pushed to the margins of society, as libelous accusations were leveled against them.
In the 19th century, a new strain of antisemitism arose. Religious prejudice was given "scientific" racial justification, laying the foundations for the Nazi catastrophe. Jews were deemed a polluting agent of Aryan blood and a culture that needed to be excised.
Since the Second Vatican Council (1965), the Catholic Church and, subsequently, mainline Protestant denominations have made meaningful efforts to correct religious antisemitism. Yet, another form of anti-Jewish hatred has emerged as "political antisemitism" or "anti-Zionism"—the demonization and delegitimization of the State of Israel, and, often, opposition to its very existence.
Various other factors account for the resurgence of antisemitism, among them:
◗ A fading memory of the Holocaust and skepticism about its historicity.
◗ Vanishing memory of the Black-Jewish alliance during the Civil Rights era, exacerbated by Louis Farrakhan's diatribes against Jews and Judaism.
◗ The resurgence of white nationalism and right-wing supremacist ideologies.
◗ A political left that views Jews not as a minority, but as part of the privileged white majority.
There is an endemic, pervasive anti-Judaism that surfaces all too easily in times of fear and uncertainty. Antisemites hate Jews for being capitalists and for being socialists, for being Zionists and for being internationalists, for being clannish and for breaking social barriers. Ironically, there is antisemitism even where there are no Jews.
In the face of recent acts of antisemitism, let us not just condemn the actions, sympathize and grieve with the victims. Let us affirm with resolve, integrity and joyful spirits our unique and diverse identities. And let us partner with our neighbors of all faiths and backgrounds to make the world safe for all peoples, and to make America a nation that "gives to bigotry no sanction, to persecution no assistance."•
__________
Sasso is rabbi at Congregation Beth-El Zedeck.
Please enable JavaScript to view this content.