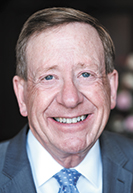 The latest in a series of art installations in Carmel's roundabouts has reinvigorated the debate over the city's public art—and whether residents should have a direct say in its procurement.
The Carmel City Council formed the seven-member Carmel Public Art Advisory Committee in 2018, but it can only recommend locations for art, not what is purchased. Mayor Jim Brainard has final say on both counts.
Carmel has spent more than $4.1 million on 43 sculptures, statues, murals and other public art pieces since 2005—some of which have drawn criticism on social media and elsewhere.
Now, the city is in the middle of erecting its 11th and most-expensive roundabout installation—the $435,000, 28-foot "Homage to Hoagy" at City Center Drive and 3rd Avenue SW.
The work by Anderson-based artist Arlon Bayliss will depict celestial objects coming out of a gramophone and will feature two interactive kiosks playing songs written by Hoosier native Hoagy Carmichael.
City Councilor Sue Finkam said it's time to give residents greater input. She plans to propose an ordinance that would replace the advisory board with a community commission that would review and make recommendations on public art from the very start.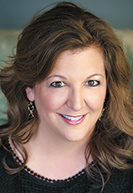 "It was very apparent that people really wanted to know in advance what's coming to their neighborhood," Finkam said. "I want them to take a bigger role in acquisition and selection.
"This is not to stop the acquisition or placement of public art. It's to make that process more public and get more input from members that live in our districts."
Finkam said she still needs to hash out details of the commission before submitting the proposal to the council.
"It's a delicate balance to try to have council and community input, while also letting the administration design and budget for public art," she said.
Brainard, Carmel's seven-term mayor, didn't support creating the Public Art Advisory Committee. He said he felt its narrow focus would frustrate members, which proved to be the case.
He said he supports a commission with broader review, as long as it's convened with the understanding that he is the final decision-maker.
"We don't run the police, we don't run the fire department and we don't determine water quality by committee," Brainard said. "You apply human judgment, and every four years, you stand before voters and they determine whether you've done a good job or not."
Brainard said his policy is to rely on consultants and internal staff with experience in landscape architecture.
"When we design a bridge, a road, we're using professionals. Professional consultants," he said. "Art is no different."
'A sensible understanding'
Brian Patterson, who recently stepped down as the first chairman of the art advisory committee, had never considered taking an active role in government until 2017, when workers installed three sports-themed sculptures on roundabouts on Hazel Dell Parkway, not far from his home.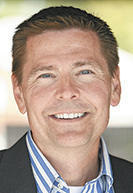 Jeff Worrell, then a city councilor for Carmel's southeast district, said Patterson wasn't the only neighbor to call with questions about the works by Sarasota, Florida-based artist Jorge Blanco.
"People were used to seeing urns, greenery and shrubbery in some of the other roundabouts, so they assumed that was what those other roundabouts were being prepped for," said Worrell, now an at-large councilor.
Patterson said his phone call mushroomed into more than he ever expected.
"I just wanted a sensible understanding of the purchasing and planning for public art," he said. "I never expected any of this to become a committee, and maybe a little bit of a thorn in the side of the mayor."
In early 2018, Worrell took the concerns he heard from Patterson and others and wrote an ordinance to create the Carmel Public Art Advisory Committee. In February of that year, the City Council voted 5-1 to form the committee, with Finkam absent. Ron Carter was the lone no vote.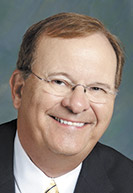 Carter recently told IBJ he thought the committee was a "knee-jerk reaction to a few people being vocal on social media."
"People's taste in art varies dramatically," he said. "There are some people who like Elvis Presley on velvet; there are some people who buy Picassos. What we're really looking at here is a person who sits back, a citizen who says, 'We're not spending money on something I like, so I've got to look into this.'"
The committee has voted unanimously in most cases to support projects as proposed. Even so, Patterson chose to resign when his first term ended this month, exasperated that the administration presented projects and their locations as foregone conclusions.
"This is probably a little sour grapes here, but almost every recommendation we gave back to the mayor on placement or other issues—I don't know if ignored is too strong of a word—but they weren't adhered to," Patterson said. "We found it awkward, at best."
Brainard said many of those installations were already in progress by the time they reached the committee. He said some designs were already 95% done, and it didn't make sense to spend additional taxpayer dollars to amend those installations.
"There was already money being spent to prepare the sites," Brainard said. "It was already down the road."
Patterson said the administration's reluctance to change locations resulted in installations that feel out of place.
As an example, he said the committee was split on Santa Fe, New Mexico-based artist Kevin Box's "Stone Paper Scissors," a representation of a classic children's game.
Patterson said committee members who voted against the administration's proposed location at East 126th Street and Gray Road thought the art would be more appropriate for at the West 126th Street and Shelborne Road roundabout, near West Clay Elementary School.
Now, Patterson said, the too-small sculpture at the originally proposed intersection is dwarfed by the intersection it occupies.
Substantial expense
Carmel spent more than a half million dollars to buy and install the sports-themed Jorge Blanco sculptures Patterson questioned. But by far its largest expenditure, 45% of its public-art spending since 2005, has been in the work of New Jersey-based J. Seward Johnson, whose folksy bronze statues are scattered through Carmel's Arts & Design District. The city has paid a total of $1.86 million for 21 Seward statues, some of which have been in storage for more than a year as their final destination in Midtown undergoes construction.
Brainard said Carmel uses a rotating cast of art and architecture professionals to help make decisions about sourcing and placing art. Individuals and companies who have acted as consultants include: Evan Lurie, gallery director for the Evan Lurie Gallery in downtown Carmel; Indianapolis-based engineering firm American Structurepoint; Stephen Sturtz, president and senior principal designer for Carmel-based Pedcor Design Group; Indianapolis-based Rundell Ernstberger Associates; internal staff; and more.
Steve Mannheimer, a professor of media arts and science at IUPUI, said he favors an inclusive selection process for public art. Mannheimer served as a consultant in the 1980s and 1990s for public art projects orchestrated by the Indiana Gas Co. and the Pacers Foundation.
"In the work that I did as a public and civic art manager, I was acutely aware that the process can be as important as the product," Mannheimer said. "The simplest thing to do is to have an open competition or an invited competition."
Mannheimer told the cautionary tale of an Indianapolis public art purchase gone awry as an example of what happens when local residents aren't consulted.
In 1975, the Indianapolis Sesquicentennial Commission used about $40,000 in federal and local funds to purchase artist Mark di Suvero's "Snowplow."
Though experts lauded the abstract work resembling a snowplow and tire, its unveiling near the Indiana Convention Center split locals. Some laughed. Others were irate.
Because of the backlash, the city moved "Snowplow" several times before selling it to the Indianapolis Museum of Art in 1993 for $120,000.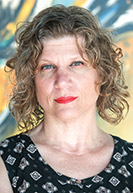 However, Julia Muney Moore, director of public art for the Arts Council of Indianapolis, said Carmel is not alone in putting decision-making in the hands of government officials.
"Every city, town and county gets to decide what level of transparency works for them. It's a matter of, 'What's the regulatory environment?' 'What's the funding?' and, 'Who feels the need to consult the community?'" Moore said. "Some people feel that need, and some people don't feel that need."
Americans for the Arts, a Washington, D.C.-based not-for-profit dedicated to advancing the arts, recommends local governments issue requests for qualifications to identify artists interested in creating public art and learn about their training and previous work.
At the same time, the group warns against bringing too many people to the table.
"No matter if a city has a weak public art policy or a strong public art ordinance, the involvement of the public should be limited," the guide reads. "Too many irons in the fire can lead to 'art by committee' with the artist frantically trying to accommodate everyone's ideas while his/her own get lost in the shuffle."•
Please enable JavaScript to view this content.