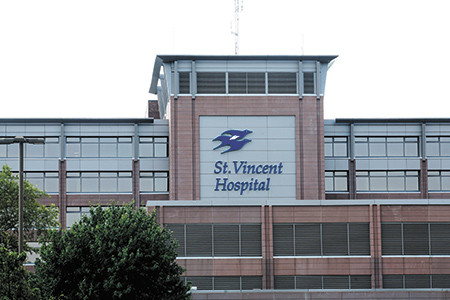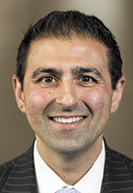 Jonathan Nalli, CEO of Ascension St. Vincent, the largest health system in central Indiana by number of beds, will leave his position April 28, corporate parent St. Louis-based Ascension  announced Thursday.
In a one-page press release, Ascension said that Nalli "will be transitioning out of his role" and that it was "grateful to Jonathan for his contributions." It did not give any details of Nalli's departure.
An Ascension spokeswoman told IBJ no other members of the leadership team are leaving, but did not respond to questions about the circumstances of Nalli's departure. Nalli could not immediately be reached for comment.
Ascension, the nation's largest Catholic hospital system, did not name a successor. It said in the announcement it "will be working through a thoughtful transition plan."
Nalli, 48, was named CEO in 2014 of the 22-hospital Indiana system. He had previously worked at Community Health Systems, based in Franklin, Tennessee, for 15 years, leaving in 2014 as CEO of Porter Regional Hospital in Valparaiso.
"Under Jonathan's servant leadership, our Indiana ministry has grown in services and access while delivering industry-leading care in areas such as cardiovascular, women's health, pediatrics, neurosciences, cancer care, orthopedics, bariatrics, trauma and employer-based health care solutions," Tim Adams, Ascension's senior vice president and regional operating officer, said in written remarks.
Under Nalli's tenure as CEO, Ascension St. Vincent has dramatically overhauled operations. It built three major construction projects worth a total of $325 million at its flagship West 86th Street health care campus, representing one of the largest capital investments in decades.
The new projects are a brain and spine hospital, a new women's hospital, and a new parking garage.
The 49-year-old campus is also home to a Level 1 trauma center, one of only three organ-transplant centers in Indiana, and a 625-bed main hospital. It serves patients from all 92 counties and surrounding states.
But Ascension St. Vincent has also shut down numerous facilities in recent years. It is closing a critical-care hospital in Bedford and 11 immediate-care walk-in centers around the state. Last year, it also closed five tiny "neighborhood hospitals" that Nalli had opened with huge ceremony starting in 2017 that he said would offer patients more convenience.
In recent years, the hospital system also has batted down repeated rumors that it might move some or all of the campus' functions to a new site about a mile away, near 96th Street and Spring Mill Road in Carmel, where it has purchased more than 30 acres. The site remains largely undeveloped.
In central Indiana, Ascension St. Vincent has 1,984 average staffed beds, putting it ahead of Indiana University Health, which has 1,766 average staffed beds, according to an IBJ review of records.
Its central Indiana operations include hospitals in Indianapolis, Carmel, Fishers and Anderson, along with St. Vincent Heart Center and St. Vincent Stress Center.
Nalli holds an MBA from Drexel University in Philadelphia, and his bachelor's of health sciences from the University of Kentucky.
Please enable JavaScript to view this content.