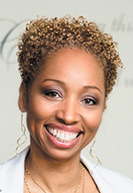 Ericka Young and her husband had already established a three-month emergency fund, but after the pandemic arrived, the couple wanted more of a cushion.
So, since May, the Fishers residents have been working to build up a six-month reserve to weather what may come.
Young is a financial coach who owns her own business, Indianapolis-based Tailor-Made Budgets, and many of her coaching clients are of the same mindset.
"If I had to guess, I'd say upward of 60% to 70% of my clients are doing more savings," she said. "They're not getting fancy; they're not investing it anywhere."
High levels of uncertainty, along with other pandemic-related factors, have pushed U.S. commercial bank deposits to record highs since the beginning of the year, jumping 19%, to $15.8 trillion, by Oct. 21. By comparison, deposits grew only 6% during all of 2019.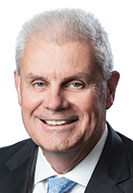 The trend is showing up locally as well.
"In my career, I've never seen anything like this," said The National Bank of Indianapolis' CEO, Mark Bruin, who has been in banking for more than 35 years. "People and businesses are being very conservative in their spending."
The bank held $2 billion in deposits as of June 30, up from $1.7 billion a year earlier. As of Sept. 30, Bruin said, deposits stood at $2.2 billion.
Although piles of cash might sound like a good thing, the situation for banks is more nuanced.
"It's definitely a mixed blessing," Bruin said. "There's good and bad about it."
Banks need deposits because they use that cash to make loans—and the interest borrowers pay on those loans represents a significant source of revenue.
But when deposits grow faster than loan demand, as is currently the case, banks are left with an excess of cash and not much they can do with it.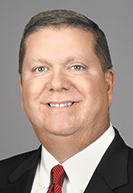 "It's good to have robust deposit growth, as long as it doesn't outpace loan demand," said Dan Hampton, the central Indiana regional president at Michigan City-based Horizon Bank.
"We always want to be able to deploy the resources we have on the deposit side."
Horizon Bank's deposits stood at $694 million as of Sept. 30, up from $680 million on June 30 and $573 million one year before that.
With the exception of the loans it made through the federal Paycheck Protection Program, Hampton said, Horizon Bank saw loan demand drop when the pandemic began. Commercial lending activity began to improve in July and August.
If clients aren't inclined to borrow money right now, there's not much banks can do, said John M. Kennedy, CEO and board chairman at Greenfield Banking Co.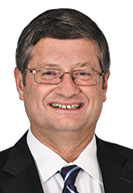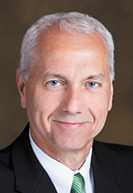 "People have to be ready to buy that truck, buy equipment, buy that printing press, whatever," Kennedy said. "It's a businessperson's decision or a homeowner's decision. We [as bankers] can't go and say, 'Hey, listen, you need to do this.'"
The imbalance between deposits and loan demand is creating "a little pickle" for banks at the moment, Kennedy said.
Banks also make money through investing, but that option is not attractive now because interest rates are so low, dragging down returns.
"Banks have all this money and no place to put it and get the return they need," said Indianapolis banking attorney John Tanselle, a partner at the law firm Smith Admundsen LLC. "The investment portfolios aren't giving [banks] the return that a loan would give."
So the influx of deposits might make it harder for banks to turn a profit right now, observers say. It is also likely to reduce the already-low interest rates customers earn on savings and money-market accounts and certificates of deposit.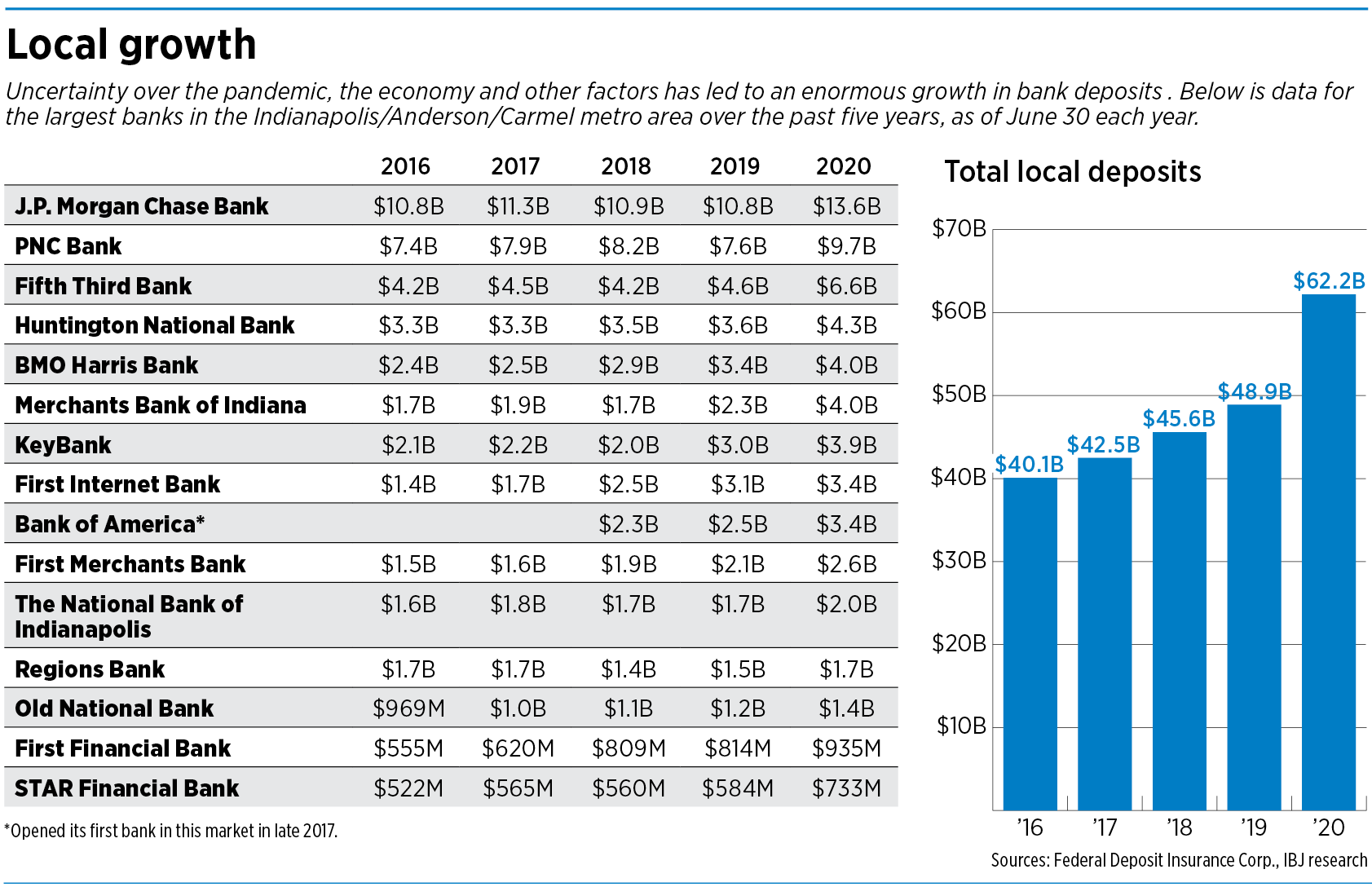 Until the pandemic hit, Bruin said, banks in the Indianapolis market were competing for customer deposits. But since deposits have begun flooding in, "there's really no reason to pay an above-market rate for deposits right now."
Banking observers say all the unknowns caused by the pandemic are driving consumers into savings mode, undeterred by the low rates.
"If you're uncertain as a business owner or an individual about what the future holds in store for you, you're less likely to invest or go out to eat," said Reza Houston, assistant professor of finance at Ball State University's Miller College of Business.
That uncertainty also meant that many who could afford to do so banked their federal coronavirus stimulus checks rather than spending the $1,200, Houston said.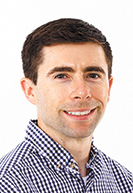 The pandemic has also driven businesses to save their cash.
The PPP program, which was designed to support small businesses, distributed $525 billion in loans nationwide. And the borrowers haven't spent it all yet.
"Candidly, there is a certain amount of PPP loan funds that are still sitting on bank balance sheets. Companies just haven't spent them down," The National Bank of Indianapolis' Bruin said. "Our assumption is that some of those funds are still going to be here well into next year."
At the same time that smaller companies were securing PPP loans, larger companies were drawing down their lines of credit, then stashing that cash in the bank.
"You had large companies, small companies and individuals all flooding the banks with deposits at the same time," said Scott Siefers, a New York City-based senior research analyst at Minneapolis-based investment bank Piper Sandler Cos. "This has been an incredible phenomenon ever since the end of March."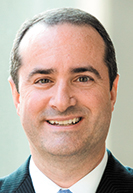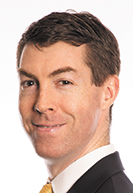 At this point, there's little consensus as to when deposits might return to more normal levels.
"While we expect deposit balances to decline over time and cash balances to normalize, the pace of that deposit attrition will be dependent upon the shape and speed of the economic recovery," Fifth Third Bank Regional President Mike Ash said in an email.
If Congress approves another round of economic stimulus, banks might see another increase in deposits, depending on the size and scope of the relief.
"People, myself included, are somewhat hesitant to call a turn," Siefers said. "All this uncertainty has persisted far longerthan we would have anticipated."•
Please enable JavaScript to view this content.