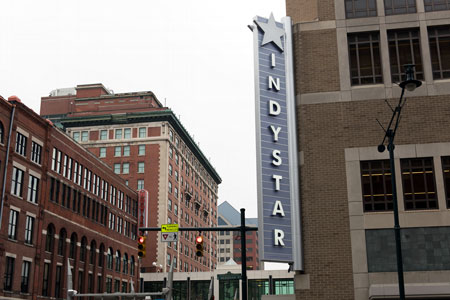 Two months after GateHouse Media bought the Florida Times-Union in Jacksonville in 2017, CEO Kirk Davis paid the newspaper a visit and—according to a staffer at the gathering—said he liked what the daily was doing.
But three weeks later, "we lost 20% of our newsroom to layoffs," said Andrew Pantazi, a Times-Union reporter and co-chairman of the newspaper's union. And that was just the start.
"In less than two years since the acquisition," he said, "our newsroom staff has been halved, from 60 to 30."
Pantazi—and newspaper experts—now fear the same fate will befall Gannett Co.-owned newspapers, including The Indianapolis Star, where the newsroom is already 75% smaller than it was 20 years ago.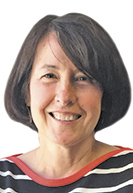 On Aug. 5, GateHouse—a New York-based chain backed by an investment firm—announced a deal to buy Gannett for $1.4 billion. The deal is expected to close by year's end.
After that deal and one other close, GateHouse will own nine Indiana newspapers.
From Gannett, it will acquire the Evansville Courier & Press, Lafayette Journal & Courier, Muncie Star Press, Richmond Palladium-Item and The Star. And in a deal announced in January, it will acquire from Mishawaka-based Schurz Communications the South Bend Tribune, Bloomington Herald-Times, Martinsville Reporter and Mooresville Decatur-Times.
GateHouse's acquisition spree comes at a troubling time for the newspaper industry.
According to a study by the University of North Carolina, the United States has lost almost 1,800 local newspapers since 2004, as advertising has moved online and free sources of information have become more prevalent.
Newsroom employment fell by a quarter from 2008 to 2018, according to Pew Research, and layoffs have continued this year.
As more readers go online for news, many newspapers have seen print circulation plummet. The Star's Monday-Saturday circulation—print and digital combined—dropped from 206,000 to less than 80,000 in the last decade. In the same span, its Sunday circulation fell from nearly 297,000 to just more than 120,000.
It's difficult to tell, industry experts said, whether GateHouse is part of the industry's problems or whether deals like the one with Gannett are an opportunity to forge solutions.
The Times-Union's Pantazi has made up his mind.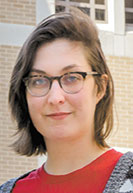 "GateHouse is about to become a newspaper company the size of which this nation has never seen," said Pantazi, who has been with the paper almost seven years. "And it's really bad news for journalism in this country."
GateHouse publishes 156 daily newspapers and 464 non-daily community newspapers, reaching more than 22 million people weekly.
After the Gannett acquisition, it will have 250 daily newspapers and hundreds more weekly and community newspapers in its stable. The new firm, which will operate under the Gannett moniker, will own publications in 47 states, reaching more than 145 million unique visitors a month.
GateHouse officials declined to comment for this story. Star officials referred questions to Gannett. And Gannett officials did not return a call seeking comment.
'Cut, cut, cut'
In a joint news release, executives from the companies touted the deal as an opportunity to cut up to $300 million in annual overhead costs within two years—including $115 million from newspaper operations—while ramping up digital efforts.
But GateHouse officials have not provided details about where they will cut and how those reductions will affect local newsrooms.
"We really need over the coming months to finalize our plans, and importantly discuss them with our employees before we get too into the details with the public," said Michael Reed, CEO of GateHouse parent New Media Investment Group, during an Aug. 6 conference call.
The lack of specifics has heightened skepticism that GateHouse plans to grow profitability other than by slashing costs.
"Their objectives have been to cut, cut, cut, with no long-term plan to grow or succeed," Pantazi said. "Anytime two big companies like this come together and no one is talking about revenue growth, there's reason for concern."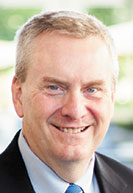 Observers expect GateHouse to first train its ax on support staffs.
"What we're going to see is GateHouse trying to find efficiencies. They're going to take aim at back-office functions, including human resources, IT, business operations, accounting and possibly advertising," said Tim Franklin, senior associate dean and professor at Northwestern University's Medill School of Journalism and former editor of The Indianapolis Star. "Making these cuts buys them some runway as the new business of journalism works itself out."
GateHouse, like Gannett, already has centralized design hubs, meaning newspapers from across the country are laid out in one regional or national location. It's a key way newspapers have cut costs in recent years. Franklin expects to see cuts in those design departments once the acquisition is complete.
"That $300 million is a big number," he said. "I expect them to look at a number of things, including vendors like software, newsprint and other providers. But it's hard to get to $300 million in cuts without some newsroom cuts."
Another former Star editor agreed and, like Pantazi, questioned GateHouse's commitment to quality news.
"Frankly, in my view, GateHouse has not had a sterling reputation in journalism," said Dennis Ryerson, Star editor from 2003-2012. "It's hard for me to see how this [merger] is going to enhance the journalism."
Axing editors?
Pantazi predicted that it won't take long for GateHouse to start layoffs in the Gannett newspapers, which include USA Today, The Courier-Journal in Louisville, Cincinnati Enquirer and Detroit Free Press, in addition to the Star.
"I think they're going to cut editors," he said. "They want content providers. They see reporters and photographers as producing something they can sell. They think editors provide no value."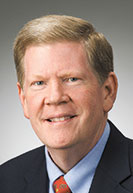 And he fears the impact of those types of cuts.
"I'm afraid of the type of journalism malpractice this company is going to cause through its cost-cutting practices," he said. "Fewer editors means more mistakes. It's as simple as that."
Pantazi also worries that GateHouse will make other cuts that will harm the journalistic content of its newspapers.
For instance, he said, the company will likely eliminate some presses, consolidating printing in fewer locations. "That means tighter and earlier deadlines, which means less timely news and more mistakes," he said.
"GateHouse is not a newspaper company," Pantazi added. "GateHouse at its core is not in this business because it cares about journalism, covering the news and serving the readers of a community. GateHouse only cares about making a profit for its shareholders. And while I understand that, there's also a public service element to journalism."
Industry experts said they expect GateHouse to use centralized teams of reporters to work across all its newspapers in such areas as investigations. Some say that approach could hurt local journalism.
"It's so important for journalists to be closely tied into the communities where they work," said Mary Beth Schneider, a veteran journalist who worked at The Star from 1979-2013.
Schneider, one of The Star's top political reporters for years, said it's a frightening prospect to have a "gigantic corporation" calling the journalistic shots from afar.
"You have to be concerned that they will want conformity," she said. "Will they insist the news at all their publications is covered in a certain way? If they're making uniform decisions on what to cover and what not to cover across all their markets—as many as they have—I see that as a real issue."
'Buckling down'
Star news staffers already worn thin by years of Gannett layoffs are bracing themselves. Schneider said The Star employees she knows are "anxious."
"We are all buckling down. We are prepared to assert our rights and protect our members," said Emily Hopkins, a Star reporter and president of the Indianapolis NewsGuild, which represents 55 Star employees.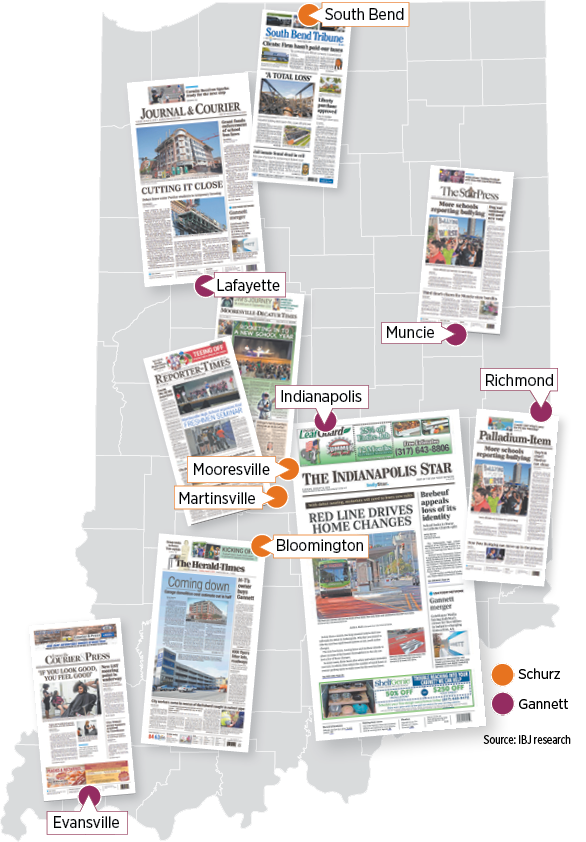 Neither Hopkins nor any other union official has had contact with GateHouse officials yet. But Hopkins predicted that, after the company makes cuts on the business side, it will take a hard look at the news department "to cut even more."
In 2000, The Star newsroom had about 285 employees, said Franklin, who was then the paper's editor. Including editors and managers, The Star now has about 70 news employees.
"Cuts would have a negative impact on our community coverage and our overall quality," Hopkins said. "One less journalist or one less photographer is one less person to hold government and business leaders accountable for their actions. When we lose journalism, we lose an essential piece of our community."
Franklin, who also served stints as editor of the Orlando Sentinel and of the Baltimore Sun, agreed.
"The newspaper industry is pivoting from being supported by advertising revenue to reader-generated revenue," he said.
"As the industry makes that pivot, newspapers need to be a part of people's lives and communities so they are willing to make an investment in that newspaper," he said. "If [GateHouse officials] cut too deeply, they're going to lose relevance in the lives of their readers—the very source from which newspapers are trying to generate more revenue."
Staff morale "will be a real issue," said Franklin, who witnessed acquisitions at both the Indianapolis and Baltimore newspapers while leading each of those newsrooms.
"These transactions … create real uncertainties that impact lives personally and professionally," he said. "There are going to be some sleepless nights for these folks."
The key is to keep the journalists focused on the work, he said. "Fortunately, journalists tend to be pretty outwardly focused people."
Some hope
Still, Franklin isn't as down on GateHouse as are some in the industry. "There are lots of smart folks at GateHouse, and they have people capable of some really good journalism. I do think they are working on a plan for the future. Whether that will work out or not, time will tell."
GateHouse officials said in their investor conference call that the combined company's scale—in terms of revenue and reach—could help it negotiate better deals with advertisers, software companies, and even with Google and Facebook, which have for years exploited stories produced by news organizations without significantly compensating them.
"We'll have more than $1 billion of revenue in this company and will be combining two really strong digital teams that can help bring these two businesses together and improve the digital product mix and the opportunity we have to grow digital," New Media's Reed said.
Robert Schmuhl, professor emeritus of American studies and journalism at the University of Notre Dame, is also hopeful the GateHouse acquisitions won't be as bad as some predict.
And he has reason to be optimistic.
"It has been clear that the South Bend Tribune has retained its focus on local news after the [GateHouse] purchase," he said.
But he admitted he sees "a lot of recurring bylines" in the Tribune these days.
"I think they are trying to do the best they can to cover everything with the staff they have," Schmuhl said of his hometown newspaper. "I think everybody is trying to cope with the reduced resources in the newspaper industry. This is the result of a very tumultuous time for this business."•
Sorell Grow contributed to this story.
Please enable JavaScript to view this content.