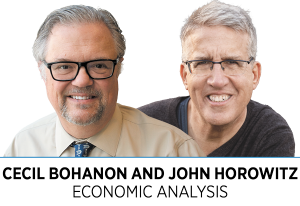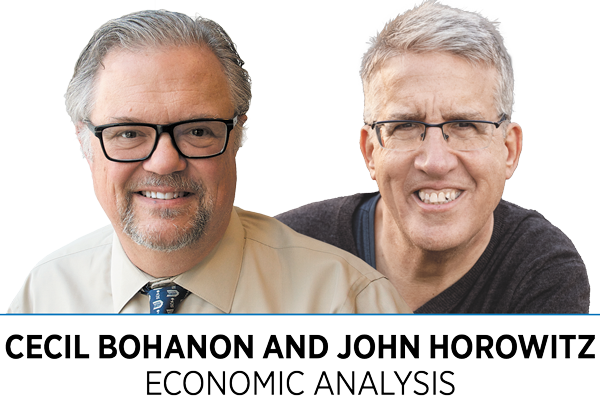 A recent Rasmussen poll asked a representative sample of adult voters: "Over the next few years, how likely is it that the United States will enter a 1930s-like Depression?" To our surprise, 57% indicated they thought it was very or somewhat likely, while 32% thought it was not very likely or not at all likely.
The response was uniform across gender and race: males split 58% likely and 33% not likely; females 56% likely and 29% not likely; whites 57% likely and 31% not likely; Blacks 55% likely and 32% not likely. Young people between the ages of 18-39 were more pessimistic (59% likely and 26% not likely) than people over 65 (40% likely and 50% unlikely). Similar to most issues today, there was a sharp partisan divide, with self-identified Republicans splitting 72% likely and 21% unlikely. Self-identified Democrats split 47% likely and 41% unlikely.
Why are we surprised? The length and severity of the 1930s depression are unmatched both before and since. During the Great Depression, real price-adjusted Gross Domestic Product (GDP) fell every year, for four years, from 1929 to 1933 and by a cumulative 26.3%.
In contrast, post-1950 economic downturns have typically lasted for one year or less and entailed less than a 1% decline in real GDP. Even the severe downturns of 2009 and 2020 generated real GDP declines of under 3%.
The length and severity of rising unemployment rate in the 1930s depression are also unmatched. The unemployment rate rose each year from 3.5% in 1929 to a record 25.59% in May 1933. In no post-1950 downturn did the annual unemployment rate exceed 10% except in 1982 when it was 10.2%.
Of course, few alive today personally remember the 1930s, so some of the pessimism may be that we don't remember how difficult the 1930s were. On the other hand, in the last few years, we have had some of the greatest political turmoil since the Civil War, a once-in-a-century worldwide pandemic, a land war that risks turning nuclear, inflation at a record 40-year high, real federal government debt at the highest level since World War II, and a cratering stock market. These concerns are likely contributing to the pessimistic outlook.
As economists, we think that while current efforts to tame inflation may well generate a recession, it is extremely unlikely that this will morph into anything like the Great Depression. At least, we hope not, but we could be wrong.•
__________
Bohanon and Horowitz are professors of economics at Ball State University. Send comments to ibjedit@ibj.com.
Please enable JavaScript to view this content.