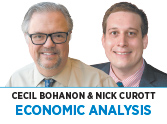 The world is boycotting Russian goods and services. Bartenders are pouring Russian vodka down the drain. Others are refusing to sell to Russia. Mastercard, VISA and Apple Card have suspended their Russian services. As we write, the United States and Europe are considering a boycott of Russian energy.
Why do these actions matter?
There are two ways a country can obtain a good or service. Both require it to use its scarce domestic resources—notably its land, labor and capital—to that end. How, for example, can Sweden obtain 100,000 metric tons of green coffee beans? On one hand, Sweden can produce the green coffee beans in Sweden. Swedish resources could be directed toward erecting heated greenhouses outside Stockholm to cultivate and harvest them.
Alternatively, Sweden can produce something else, such as ball bearings, sell them to foreigners, and use the proceeds to buy green coffee beans from El Salvador. The question is, which method uses fewer Swedish resources? To get green coffee, it is cheaper for Sweden to produce ball bearings and trade than to produce green coffee in Sweden.
Now suppose Sweden's borders and ports are closed so that Sweden is excluded from trading with the rest of the world. Its economy would go into a tailspin because Sweden would be forced to frantically redirect some of its resources toward replacing the cheaper goods and services formerly obtained from foreign sources with more expensive domestic production. Although greenhouse owners poised to switch into coffee bean production might make a fortune from the embargo, it is patently obvious the average Sweden is much poorer from it. And to our point, the Swedish military is weakened because it effectively has fewer real resources to draw on.
So, will a boycott of Russia weaken its economy enough to forestall a Russian military victory? We don't know. Dictatorships are quite adept at extracting resources from their citizens under difficult circumstances. They can impose austerity measures in the name of patriotism. They can control their citizens' access to information. We Westerners might be shocked by the outrageous claims the Russian government makes about the war. But our outrage is likely irrelevant: The question is, how is it playing in Smolensk?
But perhaps the economic pain imposed by the sanctions will rouse Russian citizens both inside and outside the government to end Putin's murderous regime. Although hardly a panacea, it might be the best we can hope for.•
__________
Bohanon and Curott are professors of economics at Ball State University. Send comments to ibjedit@ibj.com.
Please enable JavaScript to view this content.