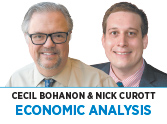 We've made this point before at Thanksgiving. It is worth making again. Plymouth Plantation, home of the Pilgrims of Thanksgiving fame, was founded in 1620 under a system of communal property rights.
It was hoped, as its Gov. Bradford wrote in his diary: "that the taking away of property … would make them happy and flourishing."
But it didn't quite work out that way. As Bradford reported: "… the young men that were most able and fit for labor and service did repine [i.e. complain] that they should spend their time and strength to work for other mens [sic] wives and children, without any recompense."
Very little food was produced, and the Pilgrims almost starved. Or, as the governor reported, "All ther [sic] victuals were spent … [and they] led a miserable life."
So, in the spring of 1623, the colonists "began to think how they might raise as much corn as they could … that they might not still thus languish in misery." The solution? They "gave way that they should set corn every man for his own particular [private] use … And so assigned to every family a parcel of land, according to the proportion of their number for that end."
This "made all hands very industrious." Bradford went on to note: "The women now went willingly into the field and took their little ones with them to set corn, which before … to have compelled would have been thought great tyranny and oppression."
You see, under private property, if you sow and reap 100 bushels of corn—you keep 100 bushels of corn. Under common property, if you sow and reap 100 bushels of corn—it goes to communal warehouses and you are lucky to get one bushel of corn. No PhD necessary to conclude that more corn gets produced under the system of private property. And no one has to force anyone to go out in the field to "set corn."
OK, private property might be productive. But is private property consistent with social justice?
As economists, we can't really answer that question in any scientific way. However, as citizens, we agree with our fellow economist the late Walter Williams: "… let me offer you my definition of social justice: I keep what I earn and you keep what you earn. Do you disagree? Well, then, tell me how much of what I earn belongs to you—and why."
Works for us. Happy Thanksgiving!•
__________
Bohanon and Curott are professors of economics at Ball State University. Send comments to ibjedit@ibj.com.
Please enable JavaScript to view this content.