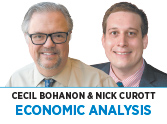 Pundit H.L. Mencken once defined a certain brand of American Puritanism as "the haunting fear that someone, somewhere, may be happy."
Some of our economic colleagues seem to suffer from a similar malady: "The haunting fear that someone, somewhere, may be making an excess profit."
Professor Isabella Weber of the University of Massachusetts Amherst argues the "critical factor" driving up prices and causing inflation is rising corporate profits generated by COVID-induced bottlenecks. In her view, big corporations "use supply problems as an opportunity to increase prices and scoop windfall profits."
She then argues that policymakers should consider "strategic price controls" as a tool to combat inflation and restrain profits.
Of course, Weber is correct to note that COVID has and will disrupt production, causing spot shortages in certain markets. This has and will lead to price increases in those markets. Moreover, those in possession of stocks of goods in short supply make above-normal profits as a result. But it is precisely those above-normal profits that direct resources toward alleviating those shortages.
Price ceilings are self-defeating because they short-circuit the very process that mitigates the initial supply disruption.
In addition to providing the necessary incentive to increase production of goods in short supply, letting the price mechanism operate freely also ensures that goods go to their highest-valued and best uses.
Inevitably, state-directed price ceilings require government agencies to assign scarce resources among competing uses. History shows that such distant agencies have neither the information nor incentive to allocate the goods in an efficient manner as required for a complex and dynamic economy. This is why Nobel-prize winner Paul Krugman, an economist hardly allergic to activist and redistributionist government, opined that "price controls would just screw up" economic adjustments.
The U.S. government adopted price controls in the 1970s in an attempt to cure inflation. Price controls didn't prevent inflation, but they did create shortages, most memorably long gas lines. Price ceilings do not address the root of inflation, which is excessive creation of new money. As Milton Friedman famously argued, "sustained inflation is always and everywhere a monetary phenomenon" and its cure lies at the doorstep of the monetary authority: the Federal Reserve.
In short, "profit restraint" is a feeble response to inflation. Profits and losses that arise from changing economic conditions are an integral part of a functioning market economy. Trying to regulate them is counterproductive.•
__________
Bohanon and Curott are professors of economics at Ball State University. Send comments to ibjedit@ibj.com.
Please enable JavaScript to view this content.