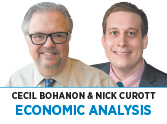 With more than 20 candidates for president and perhaps more in the offing, lots of wacky policy proposals to redistribute income are bound to emerge. As free-market economists, we are always skeptical of these proposals. As political economists, however, we recognize that using government to redistribute income to favored groups is as old as the Republic. During the Great Depression of the 1930s, there were numerous such proposals, but none as influential as the Townsend Plan.
Dr. Francis Townsend was a 66-year-old retired medical doctor in Pasadena, California, in 1933. This was at the depth of the Depression and the nation was looking for ways out. Townsend proposed the following plan: Have the federal government give every person over age 60 a monthly check for $200. The scheme would be financed by a "small" 2% tax on all cash transactions. The oldsters had to agree not to work and to spend all the cash within the month. According to Townsend, the oldsters' both leaving the labor market and agreeing to spend would generate an economic boom that would revive the economy.
Sound crazy? Yep, it was. Two-hundred dollars in July 1934 is the equivalent of around $4,000 today. The plan would cost $29 billion in an economy with a total income of $46 billion. The 2% transaction tax wouldn't even come close to covering the bill. Yet the Townsend Plan catalyzed a national movement with 2.2 million members and more than 7,000 local clubs. Public opinion polls of the time indicated that a majority of Americans favored the plan.
With FDR in office, Townsendites wrenched up pressure to adopt the plan. However, to Townsend and his supporters' chagrin, the New Deal eventually adopted a toned-down old-age pension plan: aka our current Social Security system. The $10-$85 monthly payments it made to retirees after they had paid Social Security taxes looked moderate and frugal compared to the Townsend plan.
But Townsend and his followers did not go away. They continued to lobby for more generous Social Security payments well into the Eisenhower administration. Congress did make the system more generous, which is part of the root of our Social Security crisis. Townsend died in 1960, but his clubs continued until the late 1970s.
Ideas, good or bad, have influence. We suspect a national old-age pension plan would have been unthinkable in 1915 or 1885. Townsend made the unthinkable possible: for better or worse.•
__________
Bohanon and Curott are professors of economics at Ball State University. Send comments to ibjedit@ibj.com.
Please enable JavaScript to view this content.