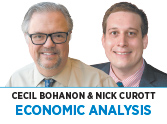 Elon Musk is in our estimation neither hero nor villain. Rather, he's just a really rich dude who got that way from a combination of innovating and rent-seeking. We find it implausible, in fact risible, that the future of our republic turns on what Musk does with Twitter.
As economists, our opinion on the so-called culture wars is mostly irrelevant. However, social communications networks predate Twitter. What we can contribute to the discussion are some general economic observations about all social communications networks: from the platforms of corporate giants like Facebook and TikTok, to a local neighborhood association's newsletter.
First, all communications networks must recover their costs of operation. Ongoing access to resources is necessary for any broadcast, publication or communications network to be viable. Resources must come from subscribers, donors or advertisers. It is unsurprising that many communications networks are for-profit enterprises.
Second, in a free country, there can and will be competing communications networks. No one can demand access to an existing network, nor insist others be compelled to pay for a new network. But one is free to enter—on their own dime.
Third, all communications networks will be moderated—and the owners of the network get to decide how that moderation works.
A Roman Catholic publication need not run a pro-abortion article. A social media website can exclude content it deems undesirable. No individual platform is required to treat all perspectives equally. But in a free country, the state cannot prohibit any perspective, regardless of how vile, from propagating its perspective. There are well-established legal exceptions to government interference with free speech. They apply equally to all communications networks.
Finally and perhaps most important, if competition among communications networks is secure, the truth tends to prevail. In 1972, the incumbent president of the USA won a landslide, carrying 49 out of 50 states. Two years later, he resigned from office with an approval rating of 24%. This was in large measure because newspapers and other media were able to publish evidence showing the president had covered up facts about illegal campaign activity run by his operatives.
In 2004, a prominent journalist claimed that a sitting president had evaded the draft. Much of the evidence was discredited. The journalist and his employer parted ways in 2006; he had been with the organization 44 years.
The antidote to bad speech is more speech. That is the key to our republic.•
__________
Bohanon and Curott are professors of economics at Ball State University. Send comments to ibjedit@ibj.com.
Please enable JavaScript to view this content.