Americans dodged a bullet last week when the Trump administration announced it would hold off on imposing a 100% tariff on all imported European wine.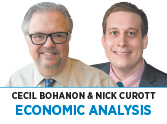 The American wine industry—including importers, distributors, wine stores, restaurants and consumers of foreign wines—is reeling from a 25% tariff imposed back in October. The threatened 100% tariff, which has been temporarily shelved amid ongoing trade negotiations, would cripple the entire industry. The problem is that no one knows if, or when, the proposed 100% tariff might resurface. It is also uncertain whether the existing 25% tariff will be repealed. The current plight of the wine industry is instructive, because it illustrates a fatal flaw in the conduct of American trade policy.
Good economic policies are predictable. Often, the predictability is more important than the particulars of the policy itself. In order to make a profit, businesses need reliable estimates of costs to gauge the desirability of new investment. American enterprise flourishes precisely because of the backdrop of the rule of law under which it operates. This means laws and policies consist of rules that are specified in advance and apply equally to everyone. They are not the arbitrary dictate of whoever happens to be in charge.
The Trump administration's trade policies violate this principle. Arbitrary tariffs have been imposed suddenly and unpredictably—on steel and aluminum, on Chinese goods, on European wine, and so on. Each time, American firms reliant on imports of foreign goods bear the brunt of the costs. Moreover, it is hard to predict what tariffs will be levied in the future, and what American industries will be affected. Business investment is down across the country because of this uncertainty, hampering economic growth.
The newly passed United States–Mexico–Canada Agreement does nothing to constrain the discretionary authority of the president to impose tariffs. Constitutionally, tariffs are to be determined by Congress. However, in Section 232 of the Trade Expansion Act of 1962, Congress granted the president authority to impose tariffs on vague national security grounds. This authority has been used by the current administration with impunity.
The proposed Bicameral Congressional Trade Authority Act, sponsored by Sens. Pat Toomey, R–Penn., and Mark Warner, D–Va., gives Congress 60 days to review and vote on Section 232 tariffs. Such a clawback of presidential power is no panacea, but it is a step in the right direction for establishing a rules-based American trade policy.•
________
Bohanon and Curott are professors of economics at Ball State University. Send comments to [email protected]
Please enable JavaScript to view this content.