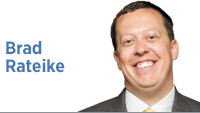 The first home my wife and I owned together was a condo just north of Broad Ripple. At our closing, I asked the seller if he could tell us anything about the building.
He was surprisingly unhelpful, except to say he "thought" the president of the NCAA lived in the unit directly above. I said, "Mark Emmert lives upstairs?" To which he responded, "Yeah, I think the guy who lives upstairs is named Mark."
I took the keys from this guy and realized it would not be difficult to surpass that kind of "neighborly engagement" in a building containing only eight condos. I was, however, at least minimally intrigued at having a "celebrity" as a neighbor, whatever that could/would mean.
It turns out that being a "celebrity" was the last thing that defined Mark Emmert's existence as our neighbor and eventual friend. He and his wife, DeLaine, are just "normal" people—who happen to have a long list of fascinating friendships and amazing life experiences, both in Indianapolis and around the world. They are a team, in a job and place that requires a strong one.
It might not be realistic for anyone who has ever heard of a "student athlete" to expect the person in charge of college athletics to automatically and instantly build consensus with a member board that could, at any time, be made up of the most conservative or liberal institutions of higher education in the United States, Canada and Puerto Rico. It requires a high level of diplomacy, even when negotiating with unreasonable parties.
Regardless of the external pressures, you never saw the Emmerts sweat. Asking, "How is your week going?" in the elevator is a different experience when you know the person you are asking just flew back from Washington, D.C., after being grilled by members of the U.S. Senate on antitrust issues. Around the neighborhood, it did not matter.
The Emmerts dropped off a bottle of wine at our door the night we moved into the building. A kind gesture, to be sure, and the beginning of many bottles of wine and conversation over the next seven years. Being a good neighbor is difficult to fake, and they were great neighbors. Mark spoke to us like we were the most important people he had ever met, and we knew we were not in the top 50 most "important" people he had spoken to that day. Class. All class.
Indianapolis is fortunate to have the NCAA headquarters here for many reasons. Most of us focus on the events we are able to attend and the local economic stimulation that accompanies those events, but we do not always take into account the level of "talent" and character the organization has brought to our city. Through Mark and DeLaine, my wife and I have had the great fortune to meet many of them, and we continue to be impressed at their level of professionalism and grace under fire.
No experience or level of education is required to have an opinion on college athletics. There is no shortage there, but there is a void of the absolute "right" answers on how the institution should run, because those answers do not exist. They might never exist. However, they are important answers to seek, and I am confident that our city and state will benefit as the next NCAA president (and spouse) seek them, along with the rest of their talented team of professionals.
Thank you for your leadership and friendship, Mark and DeLaine. It was our pleasure to live downstairs from you.•
__________
Rateike is founder and owner of BAR Communications and served as director of cabinet communications for President Donald Trump. Send comments to ibjedit@ibj.com.

Click here for more Forefront columns.
Please enable JavaScript to view this content.