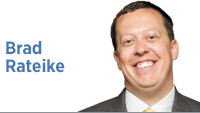 "Good meeting" is a phrase I generally dislike but candidly cannot avoid in my professional life. Obviously, there are good meetings that produce measurable outcomes and results, but often this phrase is generically used by a colleague as they buy a quick second to collect their thoughts as they try to spin a conversation that might or might not have been that impressive.
In other instances, I have seen it used as a diplomatic setup for elaborating on a scenario that is anything but "good." The idea being that, if you can't say anything nice … well, you know.
Either way, I hear few phrases in the business world that are more vanilla.
I once worked with a client in another state who was attempting to fight legislation that would hurt the client's company. As the local lobbyist was educating the client about the legislators they were going to meet, she simply said of one legislator, "She gives a good meeting." She said that legislator had made a career of being a delightful person to talk with, but she could not necessarily be depended on to pick a side on an issue and stick with it.
A few hours later, my client confirmed this scouting report. The client had been warmly welcomed to the legislator's office, made to feel comfortable, offered something cold to drink, and given ample time to tell the company's story and explain the issue. The legislator listened intently, demonstrated empathy, asked intelligent questions and asked directly what she could do to help the situation.
Even when she artfully tap-danced around taking a supportive position on the bill, she enthusiastically stated her interest in my client's plans for future investment in the state. As she walked my client out, she said thanks for doing business in the state and asked if she could follow up with any questions. The client believed she was truly interested. The client said she was delightful.
Objectively speaking, on the surface, this appears to rate at least an 8.5 or 9 out of 10 on the good-meeting scale, even though my client did not get a firm commitment.
In many industries, the road to "losing" can be paved with good meetings. A lobbyist friend once said, "Giving me a back massage while voting against my issue only gives me new reasons to be tense." It is the results that matter.
Good meetings can run out the clock and kill important initiatives, but they are so tempting because they align with our natural desire to go along to get along and to have news sugarcoated. A good meeting keeps you optimistic. And that is why we sometimes pursue "good meetings" that might not yield the right results instead of risking receiving unvarnished truth or an unknown answer from straight shooters for whom couth has no place.
My client had experienced this before in other states. In this scenario, our legislator friend lived up to her reputation. We had multiple conversations with her over the course of several weeks—all of them delightful. On the final day, we watched the roll call vote on our bill. When this legislator was called upon, she asked to explain her vote and gave a very impassioned speech about the importance of civil discourse on an issue. Then she voted against us.
Not missing a beat, my client calmly turned toward to the lobbyist and said, "She does give a good meeting."•
__________
Rateike is founder and owner of BAR Communications and served as director of cabinet communications for President Donald Trump. Send comments to ibjedit@ibj.com.

Click here for more Forefront columns.
Please enable JavaScript to view this content.