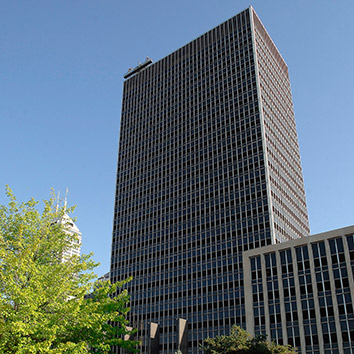 Indianapolis' goal of fully eliminating pandemic-related restrictions by Independence Day isn't set in stone, local officials said Tuesday.
The city's positivity rate, new confirmed cases, emergency department visits, hospital admissions and deaths have fallen dramatically from highs earlier in the pandemic, but the Marion County's vaccination rate remains stubbornly lower than the rates in surrounding counties.
Indianapolis Mayor Joe Hogsett and Marion County Public Health Department Director Virginia Caine announced the July 4 goal in a news conference May 19. Most of the remaining restrictions involve capacity at cultural, entertainment and tourism sites, fitness centers, libraries, bars and restaurants, and sporting events.
Asked Tuesday if the city would drop the last of its coronavirus restrictions by July 4, Caine said, "We are continuing to evaluate that and monitor our data."
"[It's] not for sure, yes," she confirmed, speaking at a biweekly city-county COVID-19 update.
At 39%, Marion County has the lowest vaccination rate of eight central Indiana counties. More than 50% of people living in Boone, Hamilton, Hendricks and Hancock counties had gotten vaccinated as of June 13, according to data distributed by the Marion County Health Department.
In May, the county vaccinated 125,000 people, Caine said, with 75,000 being local residents.
The vaccination rate isn't the only number the health department is using to make a decision on lifting restrictions.
"I'm looking at, 'Wow, our hospitalizations are so low.' Two, we're not having [many] deaths. Three, we're not seeing a lot of people come into the emergency rooms for COVID-19," Caine said. "We're trying to look at what's happening across the country, other countries, what their experience has been and what their numbers have looked like when they've reopened in order for us to make a final decision."
She and Hogsett emphasized the vaccine's safety and health benefits for the vaccine-hesitant. Vaccinated residents make up less than 1% of the positive COVID-19 tests in Indiana and inoculated people that do get the virus are 100 times less likely to be hospitalized than those who haven't gotten the shot, Hogsett said.The vaccine is also effective against the highly transmissible Delta variant of the coronavirus, especially for those who are fully vaccinated.
"Ultimately, making this decision to lift restrictions, it's more complicated than looking at one metric in a vacuum, so [we're] just not comfortable right today making that decision," Caine said.
"We're going to revisit all the data, and learn what we've learned from other communities, and hopefully we'll have a positive decision the July 4 weekend, but we've still got two more weeks for, you know, trying to knock it out of the park with our vaccinations," she added.
The City-County Council approved the area's most recent health order on June 7, ending Indy's mask mandate and loosening restrictions, but retaining some other restrictions.
The health department might not need to go back to the council in July to drop the remaining restrictions, said Paul Babcock, CEO of Health & Hospital Corp., because it would put Indianapolis in line with the rest of Indiana.
Please enable JavaScript to view this content.