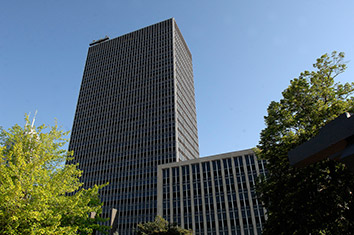 Indianapolis' mask mandate will end Tuesday for fully vaccinated residents as part of the City-County Council's ratification of a new public health order Monday evening.
The Democratic-majority council passed the measure 19-5, along party lines, with Republicans opposed because the order didn't fully lift all pandemic restrictions.
In addition to lifting the mask mandate, Monday's order also loosens capacity restrictions in Marion County as follows:
Religious services and funerals, as well as community pools, can open to 100% capacity.
Cultural, entertainment and tourism sites, fitness centers, libraries, and indoor service at bars and restaurants can open to 75% capacity. Bars and restaurants must continue 6-foot distancing between parties.
Indoor sporting events can open to 50% capacity, to match outdoor events.
Large gatherings will be able to accommodate 500 people, up from 50 people. Organizers for larger events will have to submit a risk-mitigation plan a week in advance and receive approval before the event.
Personal service businesses will no longer need to require appointments, but will still have to maintain 6-foot social distancing between clients.
Dance floors can open at music venues, but with 6-foot social distancing marked on floors.
Children will be able to stay at youth and young adult camps overnight, and campers younger than 7 won't need to mask.
"Last month, the CDC released new guidance for fully vaccinated individuals that makes it clear: the COVID-19 vaccine is highly effective," said Marion County Public Health Department Director Dr. Virginia Caine. "… Those of our residents who have chosen to receive the COVID-19 vaccine can now safely remove their masks in most public settings. This is truly a milestone for the Indianapolis community."
Vaccinated people will still be required to wear masks in hospitals and on public transportation.
While under the order, unvaccinated residents are still required to mask, but the city won't be able to differentiate between those who've gotten the shot and those who haven't. A new state law bars local governments from creating or requiring inoculation passports or cards.
"Why not just remove the mask mandate for everyone when it's not possible to enforce who is vaccinated?" asked Councilor Michael-Paul Hart, a Republican.
Caine said she believed most people will follow the rules even without enforcement.
"I think that there are noble people and responsible people, citizens in Indianapolis, who will take these recommendations very seriously," Caine said. "And it may not be so much concern for themselves, but they're concerned about their loved ones, they're concerned about their colleagues, they may be concerned about seniors in this community."
Caine added that the the order is also meant to protect children younger than 12, for whom no vaccine has yet been approved.
The health department plans to recommend that Marion County fully reopen when the vaccination rate hits 50% and new daily cases fall below 100, Caine said. The department is using the 50% vaccination rate because it believes it will be high enough to achieve herd immunity when combined with other factors.
The health department estimates that herd immunity for the county would require about 80% of the population to have protection from the coronavirus. The Indiana University School of Public Health found that about 30% of residents have already contracted COVID-19, which confers immunity for at least three months, Caine said. Those 30% combined with a 50% vaccination rate would provide the required 80%, Caine said.
Caine and Mayor Joe Hogsett have said they hope to hit the 50% rate and reopen the city by July 4.
About 36% of Marion County residents were fully vaccinated as of Monday, and 41% had gotten at least one of their two shots, according to the health department's COVID-19 dashboard. The department recorded a seven-day average of 114 new COVID-19 cases on Sunday.
In a statement issued after the meeting, the five Republican council members accused Hogsett and council Democrats of ignoring science.
"It is beyond absurd that Democrat leaders have decided to keep burdensome capacity restrictions on Indianapolis business while most cities in the state and nation are dropping these restrictions," they said. "As of this weekend, Chicago will be more open than Indianapolis. The mayor and council Democrats need to explain to residents and businesses why science has reached Chicago but not our capital city. It is time to allow Indianapolis to thrive and compete once again."
The statement was signed by Brian Mowery, Paul Annee, Josh Bain, Mike Dilk and Hart.
Chicago, which is set to fully reopen Friday, has a higher vaccination rate and fewer COVID cases than Indianapolis. More than 41% of the city's population was fully vaccinated and 51% partially vaccinated as of Monday, according to the city's COVID-19 dashboard. The city recorded a seven-day average of 91 new cases daily, as of last Thursday.
Please enable JavaScript to view this content.