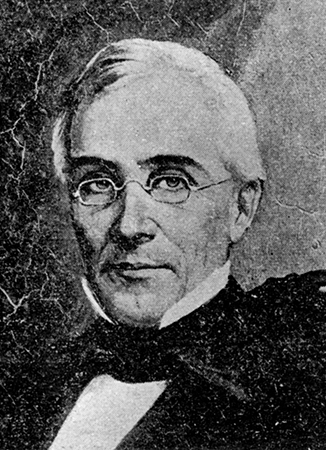 "Shall we dig canals and build railroads to transport the products of our rich soil to markets, and leave the intellect of the rising generation undeveloped and undisciplined?" So wrote Caleb Mills, the single most important advocate and architect of Indiana's system of public education, in 1846. At a time when COVID-19 is straining public budgets, Mills' life and words are as timely as ever.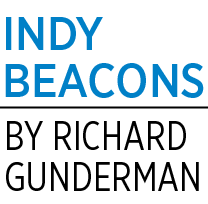 Born in New Hampshire in 1806, the son of a farmer, Mills received a first-rate education at Dartmouth College, followed by studies at Andover Theological Seminary, gaining ordination as a Presbyterian minister. In 1833, Mills answered an ad from Crawfordsville for a teacher who could also pastor a church, promising that the successful candidate would "do more to benefit the country than three ordinary missionaries."
Mills became the first faculty member at what would become Wabash College, initially teaching all the classes. At the time, tuition was $5 per term, for which students received instruction five days per week. On the sixth, Mills went to his church outside of town to tend to his congregation. Money clearly wasn't Mills' primary motivation.
Education in Indiana was in sorry shape. Said one observer, "The state of common education is truly alarming. Only about one child in eight between five and fifteen years is able to read." Recognizing that the future of the state hinged on education, Mills in 1846 turned his attention to improving the educational system.
That year, he penned the first of six annual addresses directed to the General Assembly, later published in the Indiana State Journal, which he signed "One of the People." Mills argued for free education for all Indiana's children, to be supported by a system of statewide taxation, arguing that such a system would soon pay for itself by enhancing the state's economic fortunes.
Merely building schoolhouses and hiring teachers would not be enough. He argued that an effective statewide system of education would require local school committees, district school superintendents, school libraries stocked with books and colleges to train teachers.
Mills' efforts were highly successful. In 1847, he helped to persuade legislators to call a statewide education convention, sponsor a successful 1848 statewide referendum and an 1849 school law, and in 1851 to establish "a general and uniform system of common schools, wherein tuition shall be without charge and equally open to all."
From 1854 to 1857, Mills won election as the state's second superintendent of public instruction, and he also served as one of the founders of the Indiana State Teachers Association. Thereafter, he returned to serve on the faculty of Wabash, where he taught Greek and supervised the college library. He died in 1879.
Mills' words offer guidance and inspiration to contemporary education advocates. He wrote, "There is but one way to secure good schools, and that is to pay for them. There is but one method to induce the youth to frequent them, and that is to make them what they ought to be." In other words, the best form of educational advocacy is educational excellence.
Mills went on to write, "Let every pious man and good citizen give his countenance, patronage, and influence to the enterprise of elevating common schools to the highest point of improvement and then they will be good enough for every one and prove rich blessings to all."
Summing up Mills' contribution, Charles Moores, who published a book about Indiana's public schools in 1905, said, "The success of Caleb Mills lies in the way he organized the forces of civilization. He enlisted those who loved learning in one great reform movement before which all opposition dissipated. It is one of the greatest feats of constructive statesmanship in the history of our state."
Mills deserves the thanks of every Indiana schoolchild, past, present and future.•
__________
Indy Beacons celebrates the history of Indianapolis in the year leading up to its 2021 bicentennial. Gunderman is chancellor's professor at Indiana University.
Please enable JavaScript to view this content.