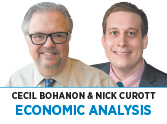 Humpty-Dumpty sat on a wall; Humpty-Dumpty had a great fall. The children's nursery rhyme is a good description of our economy today. The COVID-19 virus has certainly knocked the economy off the wall and broken it into pieces. And it is unclear how it will be put back together again.
Epic levels of unemployment and declines in GDP take time to repair, even if we get good news such as better remedies or an effective vaccine. There are at least two reasons why.
First, COVID increases the costs of producing goods and services. Wherever people work or congregate—from barbershops to meat plants, from public festivals to sit-down restaurants—social distancing norms are likely to persist. We think of our favorite restaurant that offers great seats for our local Fourth of July fireworks display. What if, by the Fourth, the restaurant is still compelled to limit seating to half the usual customers? What does that do to its business model? Its workers' productivity?
Second, no one really knows what consumers' preferences are going to be post-crisis, but we can be sure they will be different. Many previously viable ways of doing business will be discarded. Figuring out those new ways to do things will take time.
For example, what if, by the Fourth of July, our favorite restaurant is free to allow full capacity, but customers don't show up? What does that do to its business model? Its workers?
That's the bad news, but now for a more hopeful perspective. Entrepreneurs figure out ways to lower costs and improve product quality. Both our nation and state have a rich heritage of entrepreneurship. But that, of course, assumes entrepreneurs can capture the bulk of the profits they glean from cost-saving or value-enhancing innovations. And it assumes that regulations and red tape don't unnecessarily raise their costs.
Good entrepreneurship is best directed at finding ways to lower costs and enhance value—not toward lobbying government for sweetheart deals, bailouts, special favors and subsidies. Heaven save us from federal, state and local economic planners who want to lure scarce entrepreneurial talent toward their anointed visions of social betterment, national autonomy or whatever.
So, as in the nursery rhyme, it's not going to be "all the King's horses and all the King's men" who put Humpty together again. Get them out of the way and let entrepreneurs, directed by price and profit signals, do their job.•
__________
Bohanon and Curott are professors of economics at Ball State University. Send comments to ibjedit@ibj.com.
Please enable JavaScript to view this content.