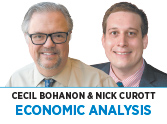 As longtime viewers of both "Wheel of Fortune" and "Jeopardy," we think these two uniquely American shows give insights into at least three American sensibilities.
First, we Americans like it when all the competitors do OK. And not just in the sense that they all go away with prizes and money, but that they also leave the game with their dignity intact. We feel bad for the "Wheel" contestant who calls a letter already on the board or the "Jeopardy" contestant who ends with a negative score and is banished from the final round.
Yet, we Americans also admire, respect and hold in awe the truly talented competitors who win runaway games. James Holzhauer, a 2019 "Jeopardy" contestant, had a 32-game winning streak and took home nearly $2.5 million. He is now a household name and veritable rock star. He wasn't disliked by his competitors or the public. Rather, he was admired, and the show's ratings soared. Americans don't resent a winner—even if he takes all the spoils—as long as the rules are transparent and fair.
These two sensibilities—democratic inclusion and admiration for excellence—are in obvious tension with each other. The more whiz kids on game shows, the more other contestants don't do OK. Of course, not everyone makes for a good contestant. Both "Wheel" and "Jeopardy" carefully screen potential contenders for their poise, knowledge base, general intelligence and affability.
Although only a few students end up being suited for a nationally televised game show, we hope our education system helps all our kids get at least some of these "game show skills." We want them all to be able to compete in some corner of the economy where they can do OK.
Too often, we fail at this goal and the failure is a source of collective grief. The question of how to do better is rightly and perpetually at the center of the national agenda. Yet this sensibility does not mean vilifying those who do exceptionally well. We want both inclusion and excellence.
And, finally, to the third sensibility. We Americans expect game show contestants to be good sports. And inevitably they are. "Wheel of Fortune" contestants cheer for one another. "Jeopardy" contestants shake hands, even hug, at the end of the game. Grumbling because of an unlucky spin on the wheel, or a questionable referee call on "Jeopardy" is simply not tolerated.
Inclusion, excellence and good sportsmanship—a tall order—but ideals worth our best efforts!•
__________
Bohanon and Curott are professors of economics at Ball State University. Send comments to ibjedit@ibj.com.
Please enable JavaScript to view this content.