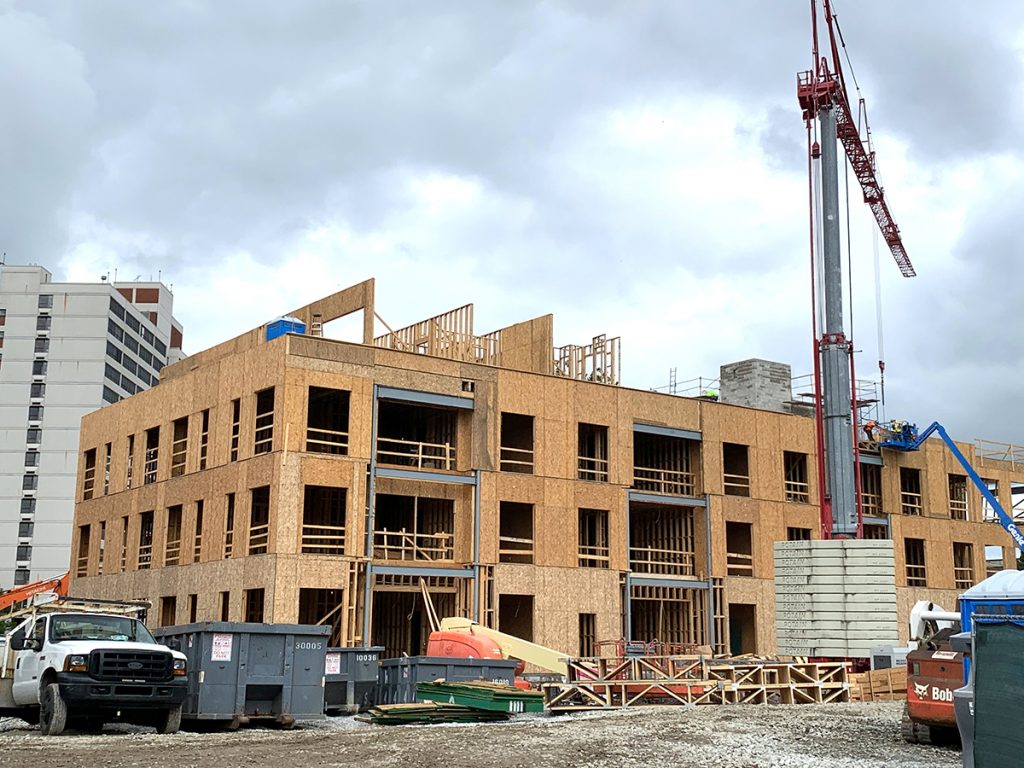 After years of revisions and delays, the developer behind a $40 million residential project in downtown's Chatham Arch neighborhood says it is on track to be completed by late 2021.
Paul Vezolles, a North Carolina-based developer, told IBJ the high-end Chatham Park project at 855 N. East St.—which will include up to 55 condominiums, seven single-family homes, four duplexes and 2,200 square feet of retail space—is well under way after starting in late 2019.
Its underground parking garage is already finished, and wood framing for the two four-story condominium buildings is nearly done. Work on the duplexes and at least a few single-family homes is expected to commence by October, the developer said.
The condos and retail space are expected to be finished by March 2021, with the single-family homes finished by the end of that year, Vezolles said. Tenants have not yet been signed for the retail space.
Condos are expected to include one- to three-bedroom units, although there has been some interest among prospective buyers in combining multiple units to create larger penthouses.
The single-family homes will include a mix of speculative homes and build-to-suit residences, Vezolles said.
"The schedule will not be tied to the presence of a particular buyer, necessarily," he said. "If somebody wants a particular house and if our construction schedule can accommodate it, we will endeavor to make sure that we build that house first. But we're just going to build all of them as quickly as we can."
Vezolles said Chatham Park was affected "some" by the coronavirus pandemic, "but our worst fears and concerns were not realized."
The most significant impact so far has been the eleventh-hour departure of an HVAC contractor that said it couldn't do the work due to the pandemic.
"We've had no other issues with any other contractors, but we were as a result forced to find an alternative contractor," he said. "And we were forced to have to pay a lot more … for the HVAC installation."
Vezolles said the project's general contractor, Indianapolis-based Brandt Construction Inc., is considering legal routes for compensation from the firm, but added he does not know where those efforts stand.
Chatham Park has been in the works since mid-2016, but a lengthy legal dispute between Vezolles and an adjacent property owner caused extensive delays. The project finally got the green light in December 2018, after the Indiana Supreme Court rejected to hear an appeal to a lower court's decision.
David Pflugh, a Chatham Arch resident and local attorney who lives near the project, was one of several residents who initially opposed the concept when it was first proposed in 2016 because a rezoning for the project expanded possible uses at the site.
But the development won approval from the Indianapolis Historic Preservation Commission in 2017 after Vezolles changed the design to address local concerns, clearing a path for it to move forward.
Pflugh sued Vezolles, the IHPC and Downtown Zoning Assistance Inc. in 2017, taking issue with the East Street property being rezoned to a D-8 "dwelling district" designation, with variances that permit commercial space on the property. Previously, the site had been zoned SU-7, which only allowed for charitable, philanthropic and not-for-profit use.
The two courts that heard the case—Marion Superior Court and the Court of Appeals of Indiana—ruled Pflugh lacked standing in the matter.
The development was earmarked for a 2019 completion before the legal battle.
"It's a joy to see this thing coming out of the ground," Vezolles said. "The lawsuit cost us a lot of money and time."
Vezolles, a former Indianapolis resident who splits his time between the city and North Carolina, said he is considering other development opportunities in the area.
"I am absolutely interested in continuing to do other projects," in the city, he said. "Perhaps even in an IHPC district."
Chicago-based Booth Hansen is the architect on the project.
Please enable JavaScript to view this content.