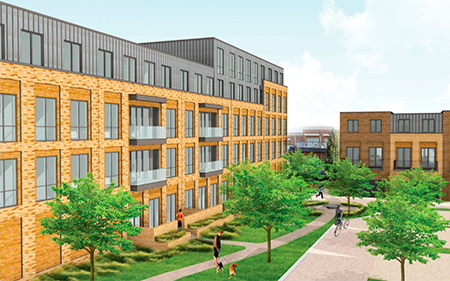 The nearly two-acre site in historic Chatham Arch downtown doesn't look like much—a vacant building last occupied by a charter school, with surrounding land that doubles as a dog park.
But the property is shaping up to be pivotal in terms of what residents of one of Indianapolis' most-desirable neighborhoods consider to be acceptable development.
Indianapolis native Paul Vezolles, who now resides in Charlotte, North Carolina, owns the land at 855 N. East St. and wants to demolish the 16,000-square-foot, one-story structure on the site to make way for a mix of apartments, town houses and single-family homes.
His plans so far are receiving a chilly reception from Chatham Arch residents who want the Indianapolis Historic Preservation Commission to reject the development on the grounds that it's too large for the surrounding area.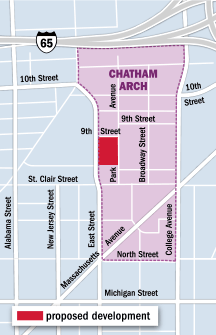 On Nov. 29, members of the Chatham Arch Neighborhood Association voted to oppose the project.
"It's the last major piece of property in our historic residential core," association President Sally Spiers said. "This is historic Chatham Arch, and this is our residential core. It doesn't fit."
The neighborhood that straddles Massachusetts Avenue is one of the city's oldest, dating to the mid-19th century, and includes numerous historic homes. Its boundaries extend from North Street to Interstate 65 to the north and from East Street to College Avenue to the east.
Yet Chatham Arch isn't immune to large, multifamily development. Adjacent to its eastern border, Wisconsin-based Hendricks Commercial Properties is preparing a $260 million redevelopment of the former Coca-Cola bottling plant site along Massachusetts and College avenues.
Hendricks is buying the land from Indianapolis Public Schools and wants to build 400 residential units, 200,000 square feet of retail, 200,000 square feet of office space, a cinema and a 120-room West Elm hotel on the 11-acre site.
At the north end of the neighborhood, locally based Milhaus Development LLC is building 69 for-sale flats and town homes as part of its Park 10 project on East 10th Street between Park Avenue and Broadway Street. Milhaus expects to finish the project next summer.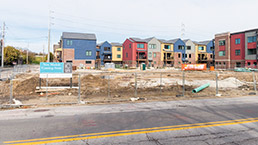 Milhaus Development is building 69 for-sale flats and town homes as part of its Park 10 project on East 10th Street. The developer expects to finish the project next summer. (IBJ photo/Eric Learned)
Park 10 and its 69 units are bigger than the 48 units and six single-family homes Vezolles is proposing on East Street. But Spiers argues that Milhaus' project is on the "fringe" of the neighborhood and not the core, where a Chatham Arch and Massachusetts Avenue preservation plan has more restrictive guidelines.
They indicate that new development on the property may be higher-density residential, such as town houses, along East Street but with no commercial space. Lower-density single-family homes and duplexes along Park Street are appropriate to blend in with the existing mix of new and historic homes and duplexes, the guidelines say.
Vezolles is proposing a five-story apartment building with 2,100 square feet of retail wrapping East and Ninth streets, at the northwest corner of the property. Town houses would be built at the south end and on Park, along with the six single-family homes. He also is proposing 63 underground parking spaces for the apartments.
Residents maintain five stories is too tall, despite the preservation plan's call for higher density on East Street and the presence of the 15-story Richard G. Lugar Tower to the west.
Clay Miller told IHPC in early November, when Vezolles presented his plans during a preliminary review, that residents are excited to see development on the site—just not this one.
"There is no five-story [structure] in the residential core," he said. "Even the three-story town homes will loom over the historic homes."
But neighborhood developer Larry Jones, who owns the commercial property just north of the site, supports the project and said the preservation plan is only a guideline and is not "set in stone."
"The density is right," he said. "Taller buildings actually benefit neighborhoods."
Vezolles bought the property in 2009 from the former Day Nursery Association for almost $828,000. The Todd Academy private school later occupied the building and served as a placeholder until Vezolles could put together a redevelopment plan.
Meanwhile, Chatham Arch residents forged an arrangement with Vezolles to use the site as a dog park in exchange for maintaining the property.
Vezolles didn't return phone calls from IBJ seeking comment on his plans. But he told IHPC members during the preliminary review that the project will improve the neighborhood's quality of life.
"I've been in love with this neighborhood since before it was a historic district and have known it intimately since the 1970s," he said. "I've always wanted to do something tactfully to improve the fabric of the neighborhood."
Vezolles countered arguments that the project is too dense for the area by citing statistics that show Chatham Arch was much more populous a century ago than it is today—20,000 people per square mile then compared to 6,000 today.
He also said the five-story apartment building accounts for just 14 percent of the entire development. The project would be built in two phases: the apartment building and town homes first, followed by construction of the six single-family homes.•
Please enable JavaScript to view this content.