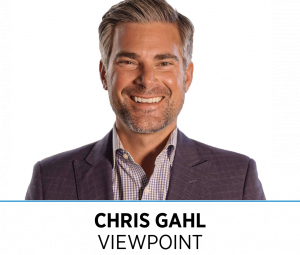 There's not a city in the nation who doesn't want to be in Indianapolis' high-profile, championship shoes right now. Over the last 30 days, the epicenter of the basketball universe has been in Indy.
March was the ultimate shot-in-the-arm to remedy how a city can rally civic pride, boost its brand, all while recovering from this pandemic more quickly than any city in the U.S. The NCAA entrusting Indy with this unique opportunity will shape our city for generations to come.
Proof of Indy's resiliency, the public-private partnership model and pure creativity has been center court.
A headline in The New York Times aptly read "March Madness Brings Vibrant Art and Energy to Indianapolis." NBC Nightly News delivered to its primetime audience "Indianapolis is alive with basketball."
Sports Illustrated was on the ground, observing, "As the country emerges slowly from its COVID-19 cave, this city is lighting the path of hope and optimism, a microcosm of an inflection point for the nation."
More than 200 hours of nationally televised games included 500 commercial breaks showed off Indy's skyline. The sweet-sounding word "Indianapolis" was spoken and written more than one million times. Social media produced millions of positive impressions, photos of visitors having fun, safely, in Indy.
This was a major marketing booster shot for Indy's brand. The promotion also comes at a perfect time, as consumers think about getting outside and traveling again.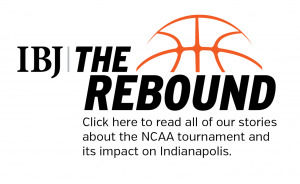 What visitors saw and heard was full of hope and optimism.
Empty windows were beautified by a roster of diverse, local artists via the Arts Council of Indianapolis. With assists by the Indianapolis Cultural Trail and GangGang, public spaces were activated with more than 250 performances by local musicians, dance and spoken word artists. Visitors stopped to watch as Downtown Indy programmed nightly shows illuminating Monument Circle.
Inside the Artsgarden's Media Hub, 2,000 visiting media came to gather content while interacting with our Indy Advocates, media-trained volunteers who ensured "Hoosier Hospitality" was more than a catchphrase.
The Lilly Endowment's positive footprints can be seen across our city and they palmed and dunked the basketball this time around too, granting $900,000 towards curating a vibrant downtown to welcome visitors and help Indy bounce back. A page from Indy's public-private partnership playbook produced another win.
Both ends of Market Street—Governor Eric Holcomb and Mayor Joe Hogsett—teamed up to ensure a safe arena was in place. The Capital Improvement Board activated Indy's existing "bubble," skywalks connecting team hotels into the Indiana Convention Center & Lucas Oil Stadium.
So, did Team Indy—with the Indiana Sports Corp as our point guard—win this highly complex, highly publicized game?
While it's in our DNA to swat away praise, Indy just hit a last-second buzzer beater in triple overtime from half court against the number one team in the nation in front of the world.
After 12 months of social unrest and anxiety, this is the epitome of hope and optimism.
C-suite execs from across the U.S. will leave Indy with the idea to bounce back with future conventions and events. Our message was clear: "If Indy can host March Madness in its entirety amidst a pandemic, we are confident we can host your convention or event."
The 2,300 student-athletes will depart with a positive impression of Indy, helping attract them back post-graduation as residents or visitors.
An abnormal amount of national media coverage will keep Indy top-of-mind, effusive praise for a city celebrating its bicentennial.
Many point to the 1987 Pan American Games, and more recently the 2012 Super Bowl, as pivotal moments in Indy's now 200-yearlong history. Without question, March 2021 is forever cemented on the timeline.
Indy is the clear top seed in the recovery bracket as cities across the U.S. emerge from this nasty five-letter-word virus.
And yet, we didn't arrive here by accident.
More than 200 years of innovation, teamwork and creativity uniquely positioned Indy for this moment. A deliberately designed downtown for events. A portfolio that includes the most high-profile sporting events in the nation. The oldest sports commission in the U.S. The top convention city in America. Indy's longstanding public-private partnership model.
Simply put, Indy was made for this moment. A month-long moment that will benefit Indy for years to come.
Gahl is senior vice president of marketing and communications for Visit Indy.
Please enable JavaScript to view this content.