How do we achieve unity after such a divisive election?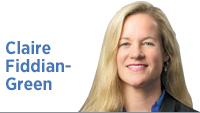 This year's deeply contentious election season is almost behind us, but the divisions within our country are not. Many races, from the national to the local, demonstrated there is a thin margin between our two major political parties, with strongly held and widely divergent views on both sides of the aisle. As the vote counts clearly demonstrate, we are a nation divided.
And yet, we are also one country, and each of us is an American. And we Americans face many challenges.
We remain mired in a global pandemic that has had devasting health, economic and social consequences. Nationwide, too many people are living in or on the brink of poverty. Poor educational outcomes—especially for Black and Latino students as well as students from low-income households—plague the U.S. and hinder our global competitiveness.
To make headway against these common enemies, we must stand united.
That's why, as we move past the elections, we should all make a concerted effort to bridge the political and other divides that threaten to tear us apart. We can start by focusing on our similarities, rather than dwelling on our differences.
America is a melting pot, yet we all share in the value of our democracy. After a close election, it is tempting to call into question our system of government. But instead, we must recognize that our democracy is one of the few assets that all Americans share. Regardless of political views, geography, race, ethnicity, religion, income or gender, our votes all count the same. We should embrace democracy as a unifying force and come together to address the complex challenges facing our country.
One remarkable historical figure provides a powerful example of how to recognize each other's humanity, set aside differences and focus on building a shared future. Nelson Mandela was imprisoned for 27 years because of his struggle to end South Africa's brutally repressive system of apartheid. Upon his release from prison, Mandela called for a quick and orderly transition from white-minority rule to a democratic system of government.
As reflected in his autobiography, "Long Walk to Freedom," Mandela did not gloss over the details of the past, but neither did he harbor anger or resentment. He underscored his belief in "the essential humanity even of those who had kept me behind bars" and the critical need to focus on addressing systemic issues rather than focusing on the actions of individuals, however reprehensible. In addition, he took pains to communicate repeatedly that "we should concentrate on building a better future for all" people of South Africa—regardless of race or other characteristics.
During the one televised debate he held with then-South African President F.W. de Klerk, Mandela concluded by remarking that, despite the significant differences between the two men and their parties, they shared "a common loyalty, a common love, to [our] common country." During his tenure as the first democratically elected president of South Africa, Mandela upheld this focus on uniting the country, recognizing that divisiveness would only stymie progress and inflict harm on the very individuals who most needed their country's help.
This year's election is almost behind us. While we can acknowledge our differences, we must now concentrate on our shared desire for a strong and vibrant country in which all Americans have opportunities to thrive. Let's unite as a nation, roll up our sleeves, and get to work.•
__________
Fiddian-Green is president and CEO of the Richard M. Fairbanks Foundation, whose mission is to advance the vitality of Indianapolis and the well-being of its people. Send comments to ibjedit@ibj.com.

Click here for more Forefront columns.
Please enable JavaScript to view this content.