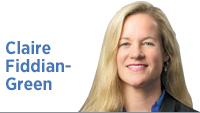 The latest employer workforce survey from the Indiana Chamber of Commerce finds that Indiana employers are struggling to find the talent they need. Almost 75% of employers say the supply of applicants does not meet their needs, compared with 50% in 2020.
As employers seek applicants for open positions ranging from early-childhood educators to health care professionals, we must ensure we are maximizing efforts to help connect people with available jobs and provide upskilling to align the available labor pool with the needs of employers. But while we (appropriately) focus on short-term solutions, we cannot lose sight of the longer-term need to grow the number of Hoosiers who enroll in and successfully graduate from college.
Indiana's Commission for Higher Education regularly produces informative reports about Indiana students and their education outcomes. For example, we know that Hoosier adults with a bachelor's degree earn $1 million more in their career lifetime than adults with only a high school diploma. We also know that enrollment in both two- and four-year-degree programs offered by Indiana's public colleges and universities has been steadily declining—down from about 273,000 students in fall 2015 to about 246,000 in fall 2020. While we don't yet have fall 2021 enrollment figures, we know that college enrollment fell 3.5% nationwide in spring 2021, the largest one-year decline in a decade. It's likely this decline will extend into the fall, given the ongoing impact of COVID-19.
Application rates for the Free Application for Federal Student Aid, a requirement for students seeking financial aid, are one indicator of college enrollment trends. Indiana's FAFSA completion rate in 2021 was just shy of 53%, a 5% decline from the prior year.
Also worrisome is the growing postsecondary enrollment gap by gender. A recent Wall Street Journal analysis finds that—for the 2020-2021 academic year—women accounted for 59.5% of U.S. college students, and men accounted for 40.5%. CHE's 2021 Indiana College Equity Report also highlights a gender gap: The college-going rate for women in Indiana is 65%; for men, it is 51%.
Why should these downward trends raise alarm bells? Because—driven in part by automation and the rise of artificial intelligence—the jobs that fuel central Indiana's economy will increasingly require a workforce with some form of postsecondary education. Just 38% of Hoosier adults 25 years and older have an associate's degree or higher. (Nationwide, that figure is 42%).
The recent decline in college enrollment rates translates into a smaller pool of talent from which employers can draw when it comes to filling the highly skilled jobs of tomorrow. The gender gap means fewer men will qualify for these jobs.
What can we do to reverse declining college enrollment rates in Indiana? Two practical thing parents and other adults can do: First, talk to high school students about the importance of a postsecondary education. Let them know their career prospects and earnings potential are far greater with a college degree.
Second, make sure students complete the FAFSA (studentaid.gov), which is a critical step in qualifying for both state and federal financial aid. The 2021 FAFSA became available on Oct. 1, and students should apply as soon as possible.
Helping connect people to today's jobs is critical for our economic vitality. But we must also ensure we increase the number of Hoosiers with college degrees who can qualify for the jobs of tomorrow.•
__________
Fiddian-Green is president and CEO of the Richard M. Fairbanks Foundation, whose mission is to advance the vitality of Indianapolis and the well-being of its people. Send comments to ibjedit@ibj.com.

Click here for more Forefront columns.
Please enable JavaScript to view this content.