Today, the specialized assignment-tracking software developed by Ben Motz, co-founder and chief research officer of Boost, is being marketed as a killer app for kids trying to stay organized in college (and, soon, K-12).
However, Motz admits – he simply wouldn't have needed the high-tech concierge when he was in school.
"As an undergrad, I would never have imagined that something like Boost would ever be necessary," Motz said. "Partly because I had dramatically fewer assignments than students nowadays."
Times, to put it mildly, have changed.
"To put it in perspective, I might have had a single course that had a midterm and a final, and that's it," he recalled. "But today's average freshman taking introductory courses might have something like 150 assignments in a semester, with multiple assignments due on any individual day."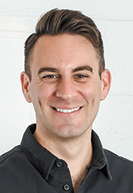 Plenty of students lose track of all that work. Some even drop out of school because they can't keep up. So, Motz started researching a way to help kids turn in their assignments on time. This led to Indiana University's assistance in turning the concept into a company and, finally, the addition of an unlikely business partner, serial entrepreneur and former Indiana gubernatorial candidate Josh Owens.
In its current state, Boost is essentially a phone app that sweeps up information about students' class assignments and uses it to nag them (in a friendly way) to get stuff done on time. For instance, sending push notification reminders about paper and research-project deadlines, along with personalized notes of encouragement.
Motz, a research scientist in IU's Department of Psychological and Brain Sciences, started tinkering with the idea (in concert with eLearning Design and Services), back in the fall of 2018. He wanted to test the theory that one could extract data from web-based learning management systems (IU uses one called Canvas) to create an online tool that helped students turn in their work.
"We had this funny hypothesis that there'd be an opportunity to do behavioral interventions with students based on data from Canvas," Motz said. "We thought we could help students succeed by triggering notifications and interventions. The lowest-hanging fruit was reminding them about assignments they hadn't submitted."
The app's first iteration back in 2018 included six instructors on four IU campuses, plus 130 student volunteers. In spring of 2019, the beta pilot expanded to 700 instructors and 2,000 students.
The results were impressive, with the number of students submitting assignments on time increasing 6%, overall course grades increasing 4%, and students passing classes increasing 3%. All using a system that didn't require lengthy, onerous input from teachers. It just mined what it needed from Canvas.
"What we found was that it was magnificently helpful," Motz said. "Students liked it, and the faculty liked that they didn't have to be cheerleaders for their deadlines."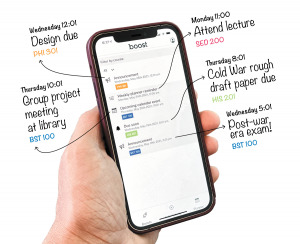 IU creative advertising major Kelsie Edwards started using the system just a couple of weeks ago, to help her with the myriad deadlines associated with an advertising campaign she was developing. Though she already considers herself an organized person "for the most part," she said Boost was extremely helpful in riding herd on the project's many facets.
"Boost has actually helped me create a better schedule to do my work," Edwards said. "Last week, my group and I were overwhelmed with schoolwork. If it wasn't for Boost, we would have missed a quiz that was due at midnight."
Enter Owens
It wasn't long before Motz, sensing they were onto something highly marketable, approached Jason Whitney, vice president of venture development at Indiana University. Whitney runs the IU Angel Network, helping turn IU research into companies by, among other things, matching them with in-state angel investors and providing advice on how to proceed.
"Ben reached out to us to ask for help, and that's how Josh got engaged," Whitney said. He helped introduce Motz to serial entrepreneur Josh Owens in May 2020.
"I met Josh through a different engagement and knew he had a background in technology and education and scaling startups," Whitney recalled. "So, we connected the two of them."
A great deal of serendipity swirled around that company-making linkup. Owens, an experienced entrepreneur who has taught at both Butler University and IU Bloomington, was just coming off a run for the Indiana governorship as the office's first openly gay candidate. He'd also recently stepped down as CEO of SupplyKick, an Amazon navigation and marketing system that had grown under his tutelage to more than $40 million in annual sales.
Ready for a break, he was preparing for an extended sabbatical in Italy, where his boyfriend was to play the lead in a production of "West Side Story." But then the pandemic hit, and Owens found himself more-or-less stuck in Indiana. It was at this point that Whitney, on behalf of the IU Angel Network, approached him about Boost.
"I was looking for what that next adventure would be for me," Owens said. "Not only did Ben and I click immediately and I understood his passion for the research and the app, but I was on the faculty at Butler University for five years and taught down at IU as well, and I knew firsthand what it looks like to try to build these learning management systems."
And so a company was born, with Motz as co-founder and chief research officer, and Owens as co-founder and CEO. In addition to helping assemble Boost's brain trust, Whitney and the IU Angel Network also helped drum up $110,000 in seed money.
But before any of this happened, Boost had already expanded across the entire IU statewide system, and into a select group of non-IU institutions as well.
"We did everything backwards," Motz said. "We started by building research credibility for what this thing could do, then found that we needed to commercialize it, because it was too beneficial to just keep as a research platform."
In effect, by the time Boost became a company in 2020, much of the hardest part of product development had already been accomplished. The "only" things left were raising capital and marketing the app to a wider audience.
"I've worked in a number of startups, and I've led a couple of them, and this has been one of the most straightforward, relatively speaking, and enjoyable processes for launching a company," Owens said.
'Hyper-condensed' pace
Boost has already signed up its first paying customers, a cadre of universities that will roll out the app this fall. The firm is also fast-tracking the product into K-12 programs, and will test it this fall in five to 10 school systems. How much it costs varies with the number of students a university serves. Most can typically buy Boost for south of $10,000, which allows the buyer to provide it as a "free" app to its entire student body. K-12 schools in the testing program are, understandably, charged much less.
"They pay a really, in the grand scheme of the education technology market, a very low cost to be able to offer the app to their students," Owens said. "All students are then able to download it in both the Android and Apple app stores free of charge."
The company also did a seed round of funding last December/January. Boost isn't profitable yet, but Owens said its rate of cash burn is extremely modest—in part because its "offices" consist of space in a coworking facility called The Mill in Bloomington.
"A lot of these things happen typically over a two- to three-year period for a startup," Owens said. "We've kind of hyper-condensed all that into the last three or four months. We've been very lucky and fortunate that all of this has come together."
If all goes well and Boost catches on, Owens and Motz prophesied, the company could face an interesting decision in a few years.
"I think the way that we use data is really unique and really attractive to a lot of companies that are looking at that space," Owens said. "So I think it's entirely possible that, within the next five years, we could be merged with a larger education technology company that's looking to offer a suite of solutions for students."
In other words, they might follow the classic entrepreneurial tactic of creating a business, buffing it up and selling it to a larger concern for plenty of cash. But there's also another scenario on the table. The first version of Boost collects data primarily on student assignments. But who says that has to be the end? What other extremely useful data about academics could it collect and mobilize to ease a student's passage through academia?
And what might that data, collected from potentially thousands of institutions from the graduate level to kindergarten, be worth?
"There are so many ways that we can make that journey more fulfilling, and richer, and safer for students," Owens said. "Boost has a unique opportunity to insert itself into that, and really become a large, leading voice in what that educational journey looks like for students."•
Please enable JavaScript to view this content.