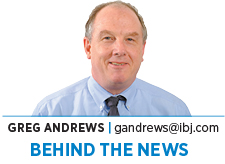 At Company XYZ, we are completely committed to having a diverse and inclusive workforce. Really. We aren't just saying that.
That, in a nutshell, is the tone many Indiana public companies, and their counterparts across the country, are adopting this spring in their annual reports and proxy statements filed with the Securities and Exchange Commission.
It's the first batch of annual filings since the death of George Floyd last May triggered a reckoning over race and equality that has swept through all corners of society, including corporate America.
It's a rare company that hasn't added diversity-related verbiage. For example, Indianapolis-based shopping center owner Simon Property Group offers up this rather clunky pledge: "Our aim is to implement a sustainable diversity and inclusion strategy in the coming years that is aligned with our values and guiding operating principles, including an internal policy, targeted solutions for employees and an annual process of assessment, action and evaluation led by our human resources department."
Columbus-based diesel-engine maker Cummins Inc. is more succinct: "Diversity, equity and inclusion at all levels of the company are critical to our ability to innovate, to win in the marketplace and to create sustainable success."
Cummins is among a handful of Hoosier companies trotting out specific diversity data. It notes, for instance, that four of its 12 directors are female and four of 12 are ethnically diverse. In addition, the company says 50% of its executive team is female.
Indianapolis-based health insurer Anthem Inc. says 76% of its U.S. workforce is female and 48% is ethnically diverse.
While annual filings continue to roll in, the undisputed king of disclosure so far is Indianapolis-based drugmaker Eli Lilly and Co., whose proxy statement includes an intricate graphic showing the representation of various minorities in its U.S. workforce, as well as the representation of women in its U.S. and global workforces, and the representation of women and minorities in management.
Lilly says that, since 2017, it has made a push to boost Black, Latino and Asian representation in leadership roles. Since then, women in management have increased from 41% to 46% and minorities in management have climbed from 16% to 22%.
In a joint letter to shareholders in the Lilly proxy statement, CEO David Ricks and Lead Independent Director Juan Luciano write, "Lilly's core values of integrity, excellence, and respect for people and our dedication to diversity and inclusion are critical components of how we do business.
"We take a holistic approach because we're a stronger company when we have a workforce of top talent from different backgrounds—people who are respected, valued, welcomed, and heard. To fulfill our purpose, we must look at challenges from multiple viewpoints and understand the diverse experiences of the patients who depend on us."
Apples to apples
Companies disclosing numbers are doing so voluntarily, and the reports lack uniformity that would allow apples-to-apples comparisons between firms, said John Hoeppner, head of U.S. stewardship for Legal and General Investment Management, a U.K.-based firm that manages $1.5 trillion in assets and has started to invest less in companies with few female managers.
More institutional investors are taking a similar stance, driven by a growing body of research linking diversity to corporate profitability. For example, a 2015 study by the consulting giant McKinsey found companies in the top quarter for gender-diverse executive suites were 15% more likely to generate above-average profitability compared with the bottom quartile of companies whose executive teams were predominantly white and male.
"Companies' consideration of diversity & inclusion is not only important on the basis of values; it also has a material impact on their long-term performance," the investment firm Barclays said.
Hoeppner said companies with the best stories to tell might be the ones opting to disclose first. And because of the lack of standardization, they are able to frame their numbers in advantageous ways.
But saying nothing isn't a viable long-term strategy, given that a growing number of entrepreneurial data providers are generating estimates and running algorithms that mine publicly available information, such as LinkedIn profiles.
Allegion Plc, the security-products maker that has its Americas headquarters in Carmel, highlights the stakes in the "risk factors" section of its annual filing.
The firm says it is fully committed to diversity and inclusion but notes that profit could sink if stakeholders conclude otherwise.
"There is an increased focus from our stakeholders on environmental, social and governance … practices and disclosure—and if we fail or are perceived to have failed in any number of ESG factors, such as environmental stewardship, inclusion and diversity, workplace conduct and support for local communities, our reputation or the reputation of our brands may suffer," the filing says.
Charles Elson, a professor of finance at the University of Delaware who specializes in corporate governance, said he is a big advocate for disclosure, but he sees some of the diversity language in new SEC filings as boilerplate.
"It is evolving into a check-the-boxes mentality, which is always a concern," Elson said. "The more routine it becomes, the less pertinent it becomes."
Diversity advocates say the disclosures would have more substance if the SEC begins mandating uniform reports.
So far, the SEC has not shown willingness to go that far. In August, it adopted rules requiring companies to disclose information about their "human capital" but gave them latitude over what to include.
Story continues below graphic
Accountability
Meanwhile, other influential players on Wall Street are starting to use their clout to hold companies more accountable.
For example, Institutional Shareholder Services, whose recommendations on shareholder votes are highly influential, is cracking down on companies with no apparent racially or ethnically diverse board members. The organization announced last fall that, starting in 2022, it would generally recommend against supporting the re-election of the nominating-committee chairman of such firms.
Nasdaq in December proposed rules that require listed companies to provide consistent, transparent diversity statistics for their boards. Firms would have to have at least two diverse directors—including one who is female and one who is a minority—or explain why they don't.
Hoeppner said such efforts buoy his hopes that the diversity push will gain further momentum rather than peter out.
"If Nasdaq diversity requirements go into place, that will force the NYSE to make a move," he said. "If you have both Nasdaq and NYSE, that really creates a global precedent for the U.S. capital markets."
Companies committed to improving diversity have to focus on far more than just recruitment of specific minority employees, said Marshawn Wolley, whose Indianapolis-based Black Onyx Management provides diversity consulting to private companies.
For example, he said, a Black candidate might be reluctant to accept a job or reluctant to stay if he sees no Black employees in senior management. The presence of a Black leader sends a message to the candidate that "I have a fighting chance" to move up, Wolley said.
Companies aiming to make headway on diversity-and-inclusion efforts also must look beyond their workforces. That includes launching initiatives on many fronts, such as expanding opportunities for Black-owned firms to snag contracts or stepping up employee volunteerism at Black-led not-for-profits.
And he said companies can't view minorities as one homogeneous group, because members of the various groups face vastly different challenges, from pay disparities to homeownership rates.
"We are moving away from these aggregate notions like minority," he said. "There are very few contexts where that word makes sense."
Many Hoosier firms say they have developed employee resource groups that recognize those differences and help build community. Lilly, for instance, has 10 such groups for its 35,000-person workforce, including one for people with disabilities and another for LGBTQ individuals.
Lilly said the groups, which have 11,430 members, engage with the company's senior leaders and "offer unique insights and perspectives to improve our business."•
Please enable JavaScript to view this content.