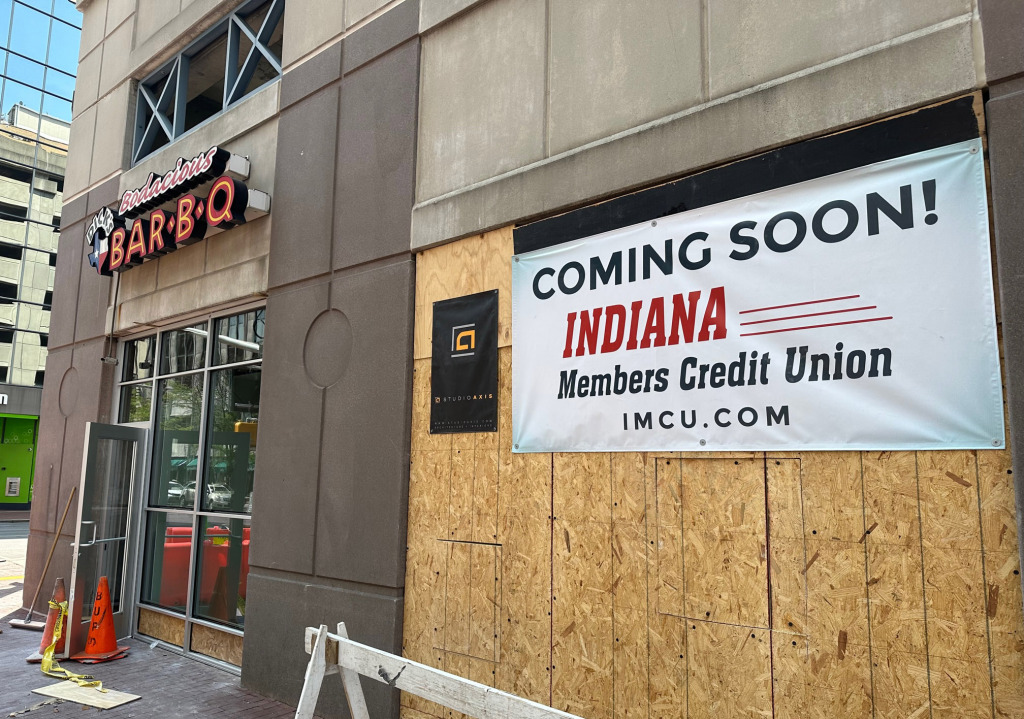 A former downtown restaurant space just off Monument Circle that has been vacant since 2020 will soon find new life as an Indiana Members Credit Union branch.
Workers are remodeling the 2,725-square-foot space at the corner of Pennsylvania and Market streets, and the credit union expects to open for business there by August.
The 50 N. Pennsylvania St. location will serve as Indiana Members Credit Union's new downtown branch after the credit union relocated from its existing downtown branch at 136 N. Delaware St.
"Our lease was up and this was an opportunity to move to a location with higher visibility and more foot traffic that would be even more convenient for our members," credit union CEO John Newett said via email.
The Pennsylvania Street spot has been vacant since Dick's Bodacious Bar-B-Q closed in September 2020 after operating in that location for 15 years. The downtown restaurant was the last of 10 Dick's Bodacious Bar-B-Q locations that had once operated in central Indiana under various owners. The very first Dick's restaurant was opened by Richard Allen in Noblesville in 2001.
The downtown spot is one of two new branches that Indiana Members Credit Union plans to open this summer. The organization is also working to open a 5,005-square-foot location by July at 7040 W. 10th St.
This site is adjacent to its existing branch at 7110 W. 10th St. After the new branch office is complete, Indiana Members Credit Union plans to repurpose the 7110 building for administrative use.
"Building the additional structure allowed us to upgrade the location to our current branch model and limit any disruption to member access at the west-side location," Newett said. "The existing building will be transformed into much needed back-office space to support IMCU's continued growth."
Established in 1956 by employees of Indiana University Medical Center and originally operating as Indiana University Medical Center Federal Credit Union, Indianapolis-based IMCU has grown to be central Indiana's largest credit union.
According to IBJ's 2022 list of largest local credit unions, IMCU topped the list with $2.7 billion in Indianapolis-area assets and $3 billion in assets throughout its operating footprint as of 2021. Indianapolis-based Teachers Credit Union is the state's largest credit union overall, with $4.5 billion in total assets, with $911 million in the Indianapolis area.
Please enable JavaScript to view this content.