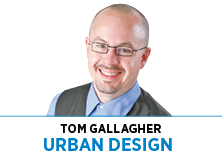 We are at a watershed moment. It is rare to have so many people simultaneously focused on the intricacies of cities—particularly our shared spaces—and how the design of them impacts our daily health and well-being.
While we have been under stay-at-home orders, we have been reminded of the importance of simple things like fresh air and sunlight while experiencing the challenges of enjoying them while physically distancing.
Though it would have sounded like hyperbole just months ago, cities all over the world are opening their streets to priorities other than motorized transportation. Whether it is to provide protected walking and biking travel corridors for essential workers who would otherwise use public transportation or providing room for those who wish to safely use the public space right outside their doors, these cities are taking advantage of the reduced need for cars.
Mayors in some of those cities, seeing additional advantages, like significantly reduced air pollution and traffic crashes, are hoping to make the changes permanent. Maybe one of the most vocal about this, Anne Hidalgo, mayor of Paris, has said, "Pollution is already in itself a health crisis and a danger—and pollution joined up with coronavirus is a particularly dangerous cocktail. So, it's out of the question to think that arriving in the heart of the city by car is any sort of solution, when it could actually aggravate the situation."
A few cities are taking an additional step in their streets and public spaces—one that has more immediate significance for us in Indianapolis. Vilnius, Lithuania, was one of the first to say it would close a number of streets and offer up public squares for use by nearby restaurants and cafes, free of charge, so they might operate at capacities closer to their norm while still maintaining distancing protocols. Now cities as close as Cincinnati are considering similar measures.
These moves are not without significance. It is often noted that restaurants are an important part of a city's vibrancy and economy but, in truth, it goes even deeper. In fact, we might find that what we are craving from their return goes beyond the food.
Places like gyms, barbershops, salons, restaurants and cafes are known as "third places," the most significant settings in our lives beyond work and home. They are places where we are "regulars" and our experiences in them become a part of our identity.
Setha Low, an interdisciplinary scholar who has also taught planning and design at the University of Pennsylvania and Pratt Institute, has found in her more than 30 years of research on urban spaces that third places are key to a thriving society, as they "anchor us to a community where we are recognized and our needs accommodated. Third places are predictable and comfortable"—making them safe spaces from which to "expand our social relationships." They are the primary places where we acquire a connection to our communities and where we viscerally feel the benefits of social cohesion.
Whether we are completely ready or not, with restaurants incrementally reopening to dine-in service, we are at the beginning of one of the first real tests to the cautiously optimistic plans hoping to get us "back on track." In essentially every district where we have restaurants and cafes, there are opportunities to take advantage of the public way for expanded outdoor seating.
What is most encouraging is the relative simplicity and immediacy of this solution—not gleaming new postcard-worthy images of an idealized city but astute, low-cost, tactical maneuvers that address physical, economic, environmental and social concerns simultaneously.
Such solutions also pose the potential of partnerships. Grants like the Art & Transportation Rapid Response funds offered by Smart Growth America encourage artists to team with transportation organizations to create "interventions" that address pandemic-related issues in the public rights-of-way.
Any solution in times like these will require trust but also a willingness to give ourselves and others the permission to try things that might not work the first time. We will need to be both experts and novices, willing to stretch to the ends of our knowledge but stay resilient when we make mistakes.
While it is rare to have so much focus on the intricacies of cities, what is particularly special about this moment is that we have the opportunity to make change for the better at the same time so many people are hungry for it.•
__________
Gallagher is a principal and urban designer with Ratio and a professor-in-practice of urban design at Ball State University. Send correspondence to TGallagher@ratiodesign.com.
Please enable JavaScript to view this content.