The Krouse family hasn't always been heavily into eggs.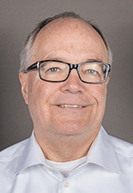 Like many farm families, the focus of their business, now known as MPS Egg Farms, has changed substantially over six generations in the northern Indiana community of North Manchester.
At first, their ventures were fairly unspecialized, with family members trying their hands at everything from farming to ownership of a general store.
"We've had one business or another in North Manchester since 1875, starting with a water-powered grain mill on the Eel River in town," said Sam Krouse, the privately held company's recently minted co-CEO, who shares the title with his brother, Dan. Their father, Bob Krouse, retired from the position a few months ago.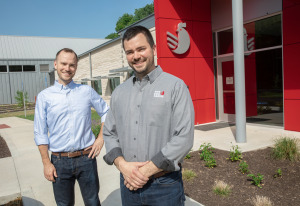 The duo's grandfather got the family into the egg business back in the 1960s, by building some conventional, modestly sized laying houses. Over the decades, this sideline grew to become the family's focus.
Meanwhile, the national egg business consolidated (as did much of the rest of agriculture), morphing from thousands of small operators to a relative handful of very, very large ones—MPS among them.
North Manchester now hosts a massive egg-producing and -processing complex, and the company has five other facilities around the country. MPS employs roughly 600 people and keeps 12.1 million laying hens, which produce 9 million eggs per day for distribution across the United States.
Earlier this year, the operation produced the first carbon-neutral eggs.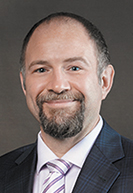 According to the trade site WATT Global Media 2023 survey, MPS is the nation's sixth-largest egg producer (another Indiana company, Rose Acre Farms, is second). Indeed, several firms on WATT's list are either based in the Hoosier state or run extensive operations here.
"We are typically the No. 2 egg-producing state," said Darrin Karcher, associate professor and poultry extension specialist at Purdue University. "We jockey for the second-place position with Ohio. But there's less than a million-bird difference between the two states."
Iowa is No. 1.
Most of the nation's hens, no matter where they reside, are kept in two types of facilities—cage and cage-free. In cage facilities, each hen sits alone in its own enclosure, pecking at a food tray in front of it and laying eggs onto a conveyor belt that whisks them to a processing area.
A relatively recent (but rapidly expanding) format is cage-free facilities, in which hens are allowed to walk around a relatively open indoor environment, and lay their eggs in special nesting areas, where they are once again whisked away via conveyor belt for processing.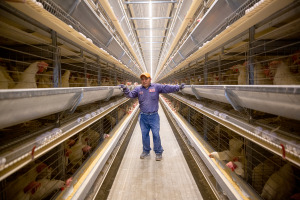 Carbon-neutral niche
MPS recently embarked on a project that sets it apart from many competitors. While most egg producers now sell cage-free and even organic eggs, the Krouses are going them one better by offering, in partnership with Kroger and a Netherlands-based company called Kipster Farms, the first carbon-neutral eggs to the U.S. consumer market.
In case you're wondering, a carbon-neutral egg is achieved not by doing anything to the chickens themselves, but to their feed. The reason states like Indiana, Iowa and Ohio host so many egg farms is because conventional chicken feed (primarily grains such as corn) is available close by and in abundance. But it takes gas-guzzling, CO2-spewing tractors to plant, harvest and truck those grains to the chickens.
"We use what we call an upcycled feed, which is primarily bakery byproducts that can replace the corn in the hens' diet, carrying a much lower carbon intensity," Sam Krouse said. "By doing that, we can reduce the greenhouse gases pretty significantly."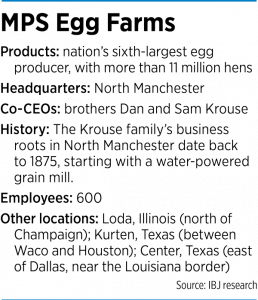 The project here began in 2019, when Cincinnati-based Kroger (one of MPS' largest retail customers) learned of Kipster's carbon-neutral egg production in Europe. Interested in bringing such a product to the U.S., it approached MPS about undertaking the work. MPS built four chicken facilities based on Kipster's designs at its North Manchester facility and this year began offering its carbon-neutral eggs at select Kroger stores under the chain's Simple Truth brand. Ironically, they aren't yet available in Indiana.
The four Kipster hen houses are such an attraction that they actually include a visitor center for people who want tours. Indeed, from the outside they look more like newly built dormitories at a progressive university than animal barns.
"The Kipster team developed the look and function of the houses in the Netherlands over several years," Dan Krouse said. "To put it frankly, they look really cool. They wanted to make these houses aesthetically pleasing so that they would blend into the landscape, and they definitely accomplished that. They don't look like every other chicken house."
Their interiors are equally nontraditional. Naturally illuminated by massive skylights, they offer plenty of opportunities for the hens to stretch their legs and stimulate their tiny brains.
"The environmental sustainability components of it are wonderful, and there are also great animal-welfare components," Bob Krouse said. "The hens can roam around in an indoor environment that we like to call the chicken playground, where they have trees and things to climb on and lots of ways to exhibit their natural behaviors, in ways they can't in some other systems."
Those fancy Kipster henhouses also host rooftop solar panels, further reducing their carbon footprint. However, each one holds "only" about 24,000 to 28,000 hens. This might sound like a lot, but compared with the rest of MPS' teeming flock, it hardly amounts to a rounding error. Which is probably fine. Though a certain segment of the egg-buying public will pay a premium price for carbon-neutral eggs, it's not a huge niche. At least, not so far.
"It represents less than 1% of the total eggs we produce," Krouse said. "But it's an exciting growth opportunity that we hope to expand in the future."
For now, however, the vast majority of MPS' eggs are still produced in either cage or conventional cage-free facilities.
Impact of rising prices
Interestingly, the company's carbon-neutral product has, somewhat counterintuitively, gained a boost of sorts from the recent increase in prices for all eggs.
Fueled by the most severe avian bird flu outbreak on record, which has killed 43 million U.S. laying hens (roughly 12% of the nation's flock), along with supply-chain problems and general inflation, the cost of "regular" eggs has risen to levels comparable to "premium" models such as organic and carbon-neutral. And it also doesn't hurt that, so far, none of MPS' facilities have been struck by avian flu.
"The irony of all this is, if you are an egg producer who did not lose their flock to avian influenza, you made a lot of money last year," said Terrence O'Keefe, editor of Egg Industry, a national trade publication. "They were able to sell their eggs for a lot more than they usually would have."
For their part, the Krouse brothers hope to increase their carbon-free efforts. More chickens, more deluxe chicken houses.
"I know Kroger hopes to expand as well," Sam Krouse said.
In the meantime, the company is exploring another green project—turning the waste generated by its chicken barns into fertilizer.
In concert with a company called Hello Nature (a subsidiary of an Italian specialty fertilizer firm), MPS has formed a partnership called Bionutrients, which is constructing a $50 million plant in Wabash to create specialized natural fertilizers and biostimulants using chicken litter (bird poop and bedding material) as feedstock.
Right now, MPS sells that dried but otherwise unprocessed litter to farmers for fertilizer. But when the new factory is completed later this year, the litter (about 80,000 tons of which are produced annually by their Indiana operations alone) will be mixed with additional agricultural inputs and processed into pellets for field application.
"We're making it easier to use correctly," Sam Krouse said. "Pelletizing chicken manure and blending it with other ingredients makes it easier to get exactly the right nutrients to the right part of the field."•
Please enable JavaScript to view this content.