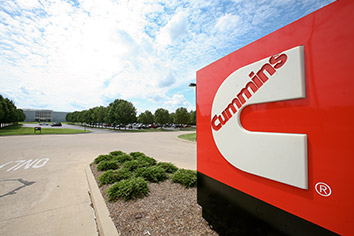 Indiana-based Cummins Inc. has raised its annual revenue guidance based on strong third-quarter sales growth, but the manufacturer also says it is reducing its employee head count because of an expected slowdown ahead.
The manufacturer said Thursday it is offering voluntary retirement and voluntary separation to eligible salaried employees in certain business lines and geographic markets, including the United States.
The Columbus-based company said it hasn't set a number for how many employees it expects will take the offer—employees must apply, and the company's business needs will determine who is accepted, the company said.
During a quarterly earnings call with analysts, CEO Jennifer Rumsey said the planned staff reduction is a response to an expected softening in business conditions.
"We're not seeing any precipitous drop-off, but we think it's wise to take some cost-cutting actions here in [the fourth quarter], and then continue to monitor the situation," Rumsey said. "And if we need to take further action, of course we would continue to do that."
The program opens on Monday, and employees will have until Nov. 26 to apply.
Cummins has 73,600 employees worldwide, including 10,500 in Indiana.
Also during Thursday's call, Cummins reported revenue of $8.4 billion during the third quarter, up 15% from the same period last year. The company attributed the increase to both its August 2022 acquisition of Meritor Inc. and to strong demand across most of its global markets.
Quarterly profit was $656 million, or $4.59 per share, compared with $400 million, or $2.82 per share, a year ago.
As a result of third-quarter performance, Cummins raised its full-year revenue guidance. The company now says it expects 2023 revenue to climb 18% to 21% over 2022. This marks the second time this year Cummins has increased its guidance. The company started the year with guidance of a 12% to 17% revenue increase, and in May raised that guidance to 15% to 20%.
Cummins has not yet offered guidance for 2024.
The company's third-quarter results were stronger than analysts had expected for revenue, but weaker than expected on profit. Analysts had expected Cummins to post revenue of $8.21 billion and a profit of $4.71 per share.
Shares of Cummins were trading at $216.24 per share late Thursday morning, down less than 1% from Wednesday's closing price.
Please enable JavaScript to view this content.