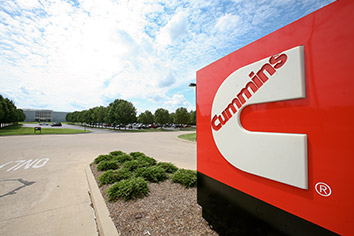 After seeing record first-quarter revenue of $8.5 billion—up 32% from a year ago—manufacturer Cummins Inc. has raised its annual revenue guidance.
In a call with analysts Tuesday morning, Cummins said the year-over-year revenue increase was partly due to its $3.7 billion acquisition of Meritor Inc., which closed in August. The increase was also driven by strong demand for its products across all its key global markets.
Columbus, Indiana-based Cummins is forecasting revenue to be up 15% to 20% year-over-year, compared with its previous guidance of between 12% to 17%.
Also during Tuesday's call, Chief Financial Officer Mark Smith said the company anticipates that it will be required to pay a yet-unknown amount in civil penalties to resolve an ongoing issue with the U.S. Environmental Protection Agency and the California Air Resources Board, or CARB.
The EPA and CARB have been in "ongoing discussions" with Cummins over the company's emissions systems for the pickup truck market, Smith said. Cummins expects that the agencies will propose one or more consent decrees and civil penalties to resolve the matter "in the relatively near future," Smith said.
"We are not able to estimate the amount of these penalties today, but we anticipate that the amount is likely to be material," Smith said.
Cummins reported a first-quarter profit of $790 million, or $5.55 per diluted share, compared with $418 million, or $2.92 per share, during the first quarter of 2022.
Cummins reported profitability in all its business segments with the exception of its Accelera segment, which was rebranded in March and previously was known as the New Power segment. The segment, which includes electric and hydrogen products and was launched several years ago, still represents a tiny portion of Cummins' overall business and has not yet achieved profitability.
But revenue in that segment is growing. CEO Jennifer Rumsey said the company expects full-year Accelera revenues to be between $350 and $400 million, double what they were last year.
Cummins' first-quarter performance topped analysts' expectations. A consensus of analysts had expected the company to post a profit of $4.75 per share and revenue of $8.1 billion.
Shares of Cummins were trading at $228.87 per share late Tuesday morning, down 2.4% from Monday's closing price of $234.58.
Please enable JavaScript to view this content.