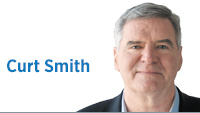 Call me a Hoosier homer, but I'm backing Mike Pence for president in 2024. Some will say it is about time I rejected former President Donald Trump, but my decision is not about clearing my conscience as an evangelical voter. It has everything to do with my views on where the country must head in the future.
As a proud Republican, I backed Trump in 2016 after my preferred candidates dropped out, first U.S. Sen. Marco Rubio of Florida and then U.S. Sen. Ted Cruz of Texas after the decisive Indiana primary. I enthusiastically backed Trump after he picked Pence as his running mate and proposed a policy platform that confirmed his conservative governing bona fides.
The hot mess that is Donald Trump certainly took away from his effectiveness as president, but the policy achievements of the Trump-Pence administration remain stellar. I like my former presidents to be like Ronald Reagan and Jimmy Carter (when he's not talking policy or politics).
On that score, Trump gets a solid B grade as president. If he had tamed his Twitter account and stayed out of the White House briefing room during the COVID updates, he would have earned a solid A.
He fostered a super-strong economy, by which I mean best employment numbers ever at good and growing wages with low inflation. The nation achieved energy independence as an early dividend of his deregulation push. A strong military was made stronger, and those efforts are making the difference today against Russia in its war against Ukraine. He clarified that China is an adversary, not a market to be mastered. Perhaps best of all, he appointed 300 Constitution-following jurists to the federal judiciary, including three U.S. Supreme Court justices.
But he could not accept the loss of November 2020. His actions since then, but especially on Jan. 6, 2021, during the riot at the Capitol, disqualify him from future office. The list goes on and on, including complicating Republican chances in the Georgia special election in 2021 that tipped control of the U.S. Senate, endless lawsuits about long-settled issues (including suing CNN cable news network for defamation) and stashing an astonishing amount of highly classified information at his Mar-a-Lago home and resort.
As someone who has held a top-secret clearance twice in my career, this last one is more than a head scratcher. It defies explanation.
Compare this with Mike Pence. He faithfully served in Congress, as our state governor and then as America's 48th vice president. He honored and fulfilled his oath, which I understand will be a major theme of his forthcoming memoir, "So Help Me God."
He was and is (and so we can likely conclude will be) an honest, articulate, passionate champion of limited government, strong markets, secure borders and effective national security. And he has a wonderful sense of humor, especially about himself.
Some of my evangelical friends, such as Washington Post columnist Mike Gerson, say we must renounce Trump and do penance. I say he was useful for his time, shaking up the Washington, D.C., establishment. Let's move on and do Pence, I say.
The presidency is too important to be subsumed by an aggrieved occupant bent on vindication. Richard Nixon taught us that. And it is clear that if Trump were again president, he would settle old scores before taking on new challenges.
Those challenges are real, such as global insecurity aggravated by Russia's nuclear warfare threats and worldwide economic fragility fueled by COVID, war, recession and more.
We need a president for this new reality who will focus on leadership, not personal ego needs. Trump's time has passed; we need Pence now.•
__________
Smith is chairman of the Indiana Family Institute and author of "Deicide: Why Eliminating The Deity is Destroying America." Send comments to ibjedit@ibj.com.

Click here for more Forefront columns.
Please enable JavaScript to view this content.