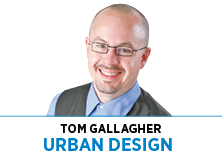 The distinctive geometric grid of streets and avenues that define Washington, D.C., heavily influenced the original plat of Indianapolis.
As we consider our city's future, it may once again be time to look to the nation's capital for inspiration.
In 2017, along with many other American cities seeking sustainability and wellness, Indianapolis committed to achieving carbon neutrality by 2050. The mayors of these cities recognize that the ultimate livability and vitality of their communities are in the balance. They also know that meaningfully getting beyond the rhetoric is a herculean challenge.
Addressing climate mitigation and adaptation, though it is the current acute crisis, is only one of an intertwined network of immense issues that encompass sustainability and resiliency including equity, energy, economy, the built and natural environments, food, health, transportation, water and waste.
Washington has proven to be a trailblazer in this regard. In the same year other cities were announcing their carbon neutrality commitments, Washington was named the first LEED for Cities Platinum-certified city in the world. Measuring not just intent but actual outcomes, across the full array of sustainability issues, this is the highest achievement possible in the Leadership in Energy and Environmental Design rating system, the most widely recognized of its kind.
Automobiles have now outpaced energy production in the creation of greenhouse gas emissions. However, according to Project Drawdown—a research organization that reviews, analyzes, and identifies the most viable global climate solutions—we could eliminate more than five gigatons of carbon emissions globally if just 7% more trips were made by bike or on foot. It is notable, then, that among Washington's accomplishments, "65% of D.C. neighborhoods are walkable and 58% of commuter trips are by bike, walking or public transit," Project Drawdown says.
For Indianapolis, where less than half of a percent of people commute by bike, walkable neighborhoods may be the clearest inroad we could make. Locally, the all-electric Red Line rapid transit is a reasonable start, but more comprehensively creating humane streets makes alternative forms of transport more attractive while simultaneously contributing positively to the economy and a myriad other sustainability issues.
D.C. is also among the forerunners of innovation in sustainable development. Of particular note, it has established a 100-acre "ecodistrict" downtown between the Smithsonian complex on the National Mall and the reviving wharf area in the Washington Channel. One of the few ecodistricts outside of the Pacific Northwest, it will be a renovated and revitalized mixed-use neighborhood that seeks to achieve elevated levels of sustainability by taking advantage of economies and efficiencies of scale that individual buildings alone cannot achieve.
As is the case with the D.C. ecodistrict, a key element is often a shared source for space and water heating referred to as a district system. Project Drawdown lists district heating as the top solution in their Buildings and Cities category, noting significant reductions in energy use, cost and carbon emissions over stand-alone systems.
Here too, we can find an opportunity for Indianapolis. Though few are aware of it today, downtown Indianapolis has the second largest district-steam system in the country, fueled by Citizens Energy Group's Perry K plant downtown that, as of 2015, is no longer coal-fired. This is a "tried and trusted" technology ready made for incubating ecodistricts of our own.
One of the most impressive things Washington has done is create a robust framework for success. First, officials there set high expectations and requirements. Since 2006, they have required that all public and private construction achieve LEED certification. Starting in 2022, the city will require all residential new construction to achieve net-zero energy (produce as much as they consume) and will require the same of commercial new construction in 2026.
This long lead time is indicative of the city's approach, giving the industry time to prepare. At the same time, the city has provided progressive programs and incentives to help achieve the obligations such as its Green Bank that uses the bonding power of the city to secure loans for residents seeking to make sustainability improvements to their homes.
It is noteworthy that holding to these high standards has not diminished development. In fact, Washington is one of the few large cities in the country that has not been losing population over the last five years.
One thing that I know: When we set high expectations and coalesce around a big task, people of Indianapolis get things done. This is a critical moment for our city, more important than hosting a Super Bowl or the Pan Am games.
The Mile Square plan set for us a solid foundation. It's time for us to look again to D.C. for inspiration as we set about the task of creating a prosperous, healthy, safe and sustainable city before 2050.•
__________
Gallagher is a principal and urban designer with Ratio and a professor-in-practice of urban design at Ball State University. Send correspondence to TGallagher@ratiodesign.com.
Please enable JavaScript to view this content.