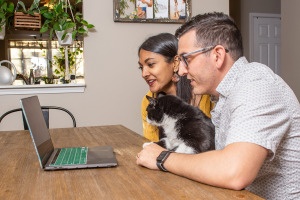 Newlyweds Tyler Schneidt and Shilpa Puri are looking for their first home, and the journey so far has been anything but fun.
Actually, soul crushing might sum it up better.
They've been approved for a mortgage, but in today's red-hot housing market, that's not been enough to do the trick. By the middle of a recent week, they had already been massively outbid on three houses in the Fishers area and beyond.
Perhaps the most dispiriting aspect of all this, Schneidt said, is that it's not like they're trying to lowball anyone. They present strong offers that, if this were 2017, would place them well in the running.
But not in a housing market that has been chugging at full steam since the onset of the pandemic two years ago and shows little sign of slowing up—a market in which houses routinely sell within days and winning offers are above the asking price.
For instance, of the three houses Schneidt and Puri have been denied in recent days, one went on and off the market in less than 24 hours, before they could put together a proper offer. As for the other two, they were drubbed by bidders who laid down $30,000 and $40,000 over the asking prices. All cash, of course.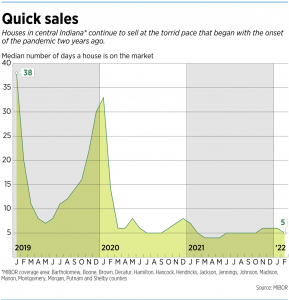 "They waive inspections and that type of stuff," Schneidt said. "That's crazy to me. But I think many of these cash buyers are coming in with an investor's mindset, not that of a homeowner. They already know they're going to put down another $50,000 to $100,000 for upgrades and then flip it. But if you're a family that just needs a home to live in, that keeps us out."
According to Zillow's stats, central Indiana homes typically exit the market after only five days, with the average Indy metro house priced at about $255,000 as of February—up 20.5% from last year. And although home appreciation has slowed slightly in Indianapolis proper, prices are rising faster than the market average in 36 Indy-area municipalities, including North Salem, Whitestown, Anderson and Franklin.
All of which makes it the best of times for sellers, and the worst of times for buyers. That balance of power will persist through spring, and perhaps far beyond. Zillow's forecast calls for 18.6% home-value growth in Indianapolis by next January.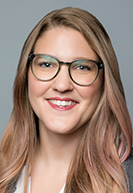 "It's shaping up to be another challenging home shopping season for buyers," said Zillow economist Nicole Bachaud.
She noted that inventory is lower than ever, prices are continuing to grow very quickly, and mortgage rates are no longer near record lows.
"The market forces that have given sellers the upper hand over the past two years or so will be around in full force this year as well," Bachaud said. "Expect to see bidding wars on many homes, especially as the market heats up during the spring and summer shopping season."
Investors all in
That view jibes pretty closely with what Cody Studebaker, branch manager for F.C. Tucker Co. Inc.'s downtown office, is seeing. In fact, the competition for individual properties can be so bruising that he's taken steps to help preserve the psychological well-being of his clients, some of whom have lost out on "dream listings" multiple times.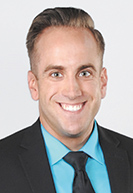 Back in the good old days (pre-2020), it wasn't common practice for agents to brief their clients on how many bids a house received, or to talk about the viability of their own. But things have changed. With the permission of a particular home's owners, some agents have taken the step of telling clients that their particular bid probably isn't going to get the job done.
"At least the buyer can close the door and move on to the next property and not spend all weekend on pins and needles, hoping and praying that they're going to get a property that they have no chance on because somebody else bid $15,000 over the listing price," Studebaker said.
The hot market is also attracting lots of investors who want to buy and then rent these properties, or flip them and sell for a premium. It's a strong sign that there's still plenty of upward potential for Indy-area home prices, Studebaker said.
"They're not just throwing money to throw money," he said. "They believe this investment will pay off in the end. So, even though these prices seem outrageous, educated investors are still saying, 'Hey, it's better than putting our money elsewhere.'"
Those investors are showing their belief in the market's upside by making cash offers for properties, paying tens of thousands of dollars over list, agreeing to pay full price for the property even if the appraisal says that amount isn't justified, or (even more commonly) waiving the inspection.
"When your offer is just one of 24 others, these are the sorts of things you do to make yours stand out," Studebaker said.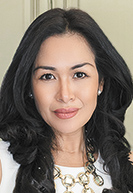 Jennil Salazar, associate broker and responding agent for Compass Inc., typically contends with a more rarified class of buyer, given that her specialization is expensive residential properties. But while the market for big-ticket homes is inevitably smaller, it's still quite hectic.
"Any properties that are listed for $1 million and under are still quick to go," Salazar said. "But we are seeing that properties listed for [$1 million] to $1.5 million tend to sit on the market for at least a week."
Which hardly qualifies as a cooling of the market. Houses in the $1.5 million to more than $2 million range, which last spring might have sold in one to five days, now "languish" for 10 days to perhaps two weeks.
All cash, above appraisal
Interestingly, as Studebaker also noted, many of the rules of the "old" real estate market have vanished—or more accurately, been suspended in light of current circumstances. For instance, it used to be said that sellers should update their homes to make them more desirable. Not anymore. Sure, it's nice to have a contemporary kitchen, but it's not necessary to make the sale. Far from it.
"If you are outdated, it tends to sit for a little bit," Salazar said. "But you will still get it sold in probably 10 to 14 days."
She, like agents selling less-rarified properties, advises buyers to "bridge" any gap between a home's asking price and what it appraises for. And, of course, particularly at this level, cash on the barrelhead beats a mortgage
every time.
"In the $1.5 million-and-above range, those are all typically cash deals," Salazar said. "But for anything that is not cash, we are telling agents and their buyers that they need to cover any appraisal difference. And I've seen them cover up to $100,000."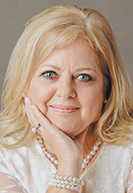 Donna Kreps, president of the residential division of F.C. Tucker, doesn't see the current status quo shifting anytime soon. In fact, she's just now closing on a piece of property that received a staggering 35 offers. It was an unusually large number of suitors, but these days not that unusual.
"It's not uncommon to have five to 15 offers, depending on the price point and where the property is located," Kreps said.
The market is so hot right now that even the mantra of "location, location, location" doesn't seem to carry the weight it once did. Kreps asserts that, just as there's no specific price point that's seeing most of the action, there's also no specific neighborhood or community. Established areas like Broad Ripple and Meridian-Kessler have always done well, and continue to do so. But that's not to say other parts of the metro area aren't also on fire.
"I think the entire Indianapolis area is a hot spot right now," Kreps said. "We have historically been a community that's very affordable, and our affordability still ranks really high compared to nationally. Unlike the coasts, we're actually seeing a growth in homeownership."
Maybe so, but those gains are coming slowly, and are being accomplished against a powerful headwind of competition.
"Homes are continuing to be snatched off the market incredibly quickly as buyers compete for what's available," said Zillow's Bachaud. "Spring will likely bring more inventory to the market, but buyers should prepare for another year of limited options and multiple offers."
No end in sight
Of course, someday the wheel will turn, and a time will come again when housing prices languish and buyers hold the advantage. But that time definitely isn't now. Or next year, for that matter. In theory, the cumulative drag of inflation, climbing mortgage rates and uncertainty caused by everything from supply-chain snafus to war could eat into homebuyers' confidence, diminishing demand. But don't hold your breath.
"Mortgage rates are notoriously hard to predict, but the general consensus is that they'll rise further by the end of the year," Bachaud said. "This will put more pressure on buyers, likely helping to slow price growth. But even with high rates, demand is so far ahead of supply that I don't expect it will have much of an impact on sales volume."
Indeed, Salazar said that, so far, the threat of inflation has had the opposite effect on her high-end clientele.
"At least in my market, it has not affected any of my people," she said. "In fact, it just as probably has driven them to find something right away."
The winners of today's residential bidding wars are typically either investors or older folks using their savings, cash reserves and home equity to put down strong offers—often at the expense of would-be first-time buyers. According to Zillow, the share of those first-timers dropped from 46% of the total real estate market in 2018 to 37% in 2021. Finances and age demographics ensure that this trend will continue—at least for a while.
"Older buyers typically have an advantage in a bidding war because of their lifetime's worth of savings and home equity," Bachaud said.
Sameer and Sobia Khatri are planning to resume their house search this spring after a disappointing experience last summer and fall.
They moved from Seattle to Indianapolis seven months ago, figuring that finding an Indianapolis-area house would be fairly painless. Or at the very least, far less painless than what was happening in the white-hot Seattle residential market, with its through-the-roof prices and cutthroat competition for every listing.
Sobia and her husband, a family medicine physician, quickly learned just how wrong they were.
"Seattle's just crazy, because they have such a limited housing stock there," Sobia said. "But to be honest, I wasn't expecting it to be crazy here, too."
The couple spent last summer searching fruitlessly for a Hoosier home that suited them—about 5,000 to 6,000 square feet, with four or five bedrooms to accommodate their teenage children. And a spacious yard would be nice, perhaps near a park.
But after striking out several times, they instead purchased a smallish town house. It is serving as their temporary home until they can find and successfully purchase what they really want.
"On paper, it seems so simple," Sobia said. "But it's challenging. If we don't find anything, then I don't know what to do. But I'm optimistic."•
Please enable JavaScript to view this content.