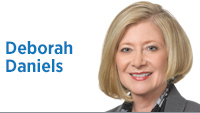 Mikhail Gorbachev, the final president of the Soviet Union, died recently.
In the 1980s, when Gorbachev assumed the presidency, the Union of Soviet Socialist Republics (known as the USSR) was deteriorating after decades of mismanagement and governance by tyranny. Gorbachev was a socialist, and did not embrace American capitalism; however, he engaged in economic restructuring ("perestroika") to make the Soviet Union economically competitive. He introduced the policy of "glasnost" to permit free speech and a free press, and what we now call transparency—sharing with the public the problems the country faced and what he proposed to do about them.
Gorbachev worked with U.S. President Ronald Reagan to limit nuclear arms. When some of the USSR member states, beginning with Poland, rejected traditional Marxist-Leninist governance, he did not employ the military to keep them in the fold. And he certainly never invaded any of them to bring them back.
He had to know he was running a real risk by departing so markedly from Soviet orthodoxy, but he did these IBthings to benefit his country, at peril to his very life.
As the people of the USSR began to reject the totalitarian, repressive society it represented, the old guard attempted a coup to remove Gorbachev from power. He survived it and served until the USSR dissolved in 1991.
Gorbachev was hailed internationally for his role in ending the Cold War and for his efforts to modernize the Soviet Union. But he was despised by the Marxist-Leninist hardliners and, later, by Vladimir Putin, who has made clear his desire to recapture the so-called glory days of the Soviet Union, by force (see Ukraine).
Putin's Russia will not brook opposition. Opponents are "enemies of the state." (Have we heard an American political leader use that term recently? Terrifying.) Alexei Navalny, an opposition leader who ran against Putin, is one of those "enemies." In 2020, Putin's lackeys actually poisoned Navalny, employing the use of a Novichok nerve agent. In Navalny's own words, this was incredibly stupid: Novichok was developed by Soviet and Russian chemists in the official Soviet chemical research agency. Putin did not even try to hide his own government's role in the assassination attempt.
After a lengthy period of rehabilitation in Germany, Navalny returned to Russia, clearly knowing he would face immediate danger. He was arrested at the Moscow airport upon landing and now is serving a lengthy prison sentence on trumped-up charges. He continues to serve as a unifying force for the Russian opposition, though he has come close to death while confined.
These men represent courage in its highest form: putting country over self despite risk to far more than reputation or job security.
Compare them to some of my fellow Republicans. One prominent example is U.S. Rep. Kevin McCarthy, who made clear in the aftermath of Jan. 6 that he believed Donald Trump was directly responsible for encouraging the attack on the Capitol but whose burning desire to be House speaker has led him to join the election deniers and drop his criticism of the attack.
Then there is U.S. Sen. Lindsey Graham, who, despite his previous disdain for Trump, now embraces him and recently warned of "riots in the streets" if Trump is prosecuted for violations of law relating to national security. His words are practically a clarian call for exactly that.
Where is the courage we need among Republicans at a time like this? Who will be this century's Barry Goldwaters or Howard Bakers, standing for country over party—as opposed to Earl "Don't confuse me with the facts" Landgrebe?•
__________
Daniels, an attorney with Krieg DeVault LLP, is a former U.S. attorney, assistant U.S. attorney general, and president of the Sagamore Institute. Send comments to ibjedit@ibj.com.

Click here for more Forefront columns.
Please enable JavaScript to view this content.