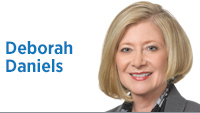 Recently, George Will suggested in The Washington Post that the Constitution should be amended to prevent any person from running for the presidency if he has served as a U.S. senator.
That will never happen. But his point is fair: A person whose public service has been limited to serving as 1/100th of a legislative body is arguably not qualified to be president of the United States.
John F. Kennedy was a U.S. senator when he won the presidency. Books examining the lead-up to the Bay of Pigs invasion and the Cuban missile crisis during his presidency make it clear that his inexperience led to significant missteps that nearly resulted in nuclear war.
While there is much to admire about Harry Truman for having grown in a job he didn't ask for and for which even he thought he was unqualified, multiple biographies reveal that he was indeed woefully unprepared to hold the nation's highest office at a very critical time in our history. He made snap decisions that were poorly thought out and from which he and the nation had to be rescued. And he frequently blurted out ill-considered comments that got him—and the country—into trouble.
In this way, he resembled the current holder of the office, another former senator. Pronouncements carrying no consequence when articulated by a senator with no real power carry far greater significance when uttered by the leader of the free world.
Barack Obama, who spent just two years as a U.S. senator before beginning his campaign for president, apparently thought lofty speeches could substitute for governance. This led to situations such as the infamous "red line" speech warning Syria against the use of chemical weapons; the inference was that the Middle Eastern country would suffer massive reprisal from the United States if it used such weapons. When it did so, exactly nothing happened: The president's threat was hollow. This suggested a weakness that Vladimir Putin has since repeatedly sought to exploit.
Today's Senate is not the great deliberative body of past reputation. As Will points out, many people run for the Senate simply in order to position themselves for the presidency, and they spend their time there posturing rather than actually legislating.
There are a few notable exceptions to this rule, including—thankfully—Indiana Sen. Todd Young. But note that the Congress as a whole seems singularly incapable of even passing appropriations bills—the most basic of tasks. In recent years, the nation has limped along operating on continuing resolutions passed repeatedly at the 11th hour just to keep the government open.
Senators of this ilk fall all over one another to show off by grilling, often in the most rude and offensive manner, the nominees for high office presented for confirmation by the president of the opposing party. Think back to the imperious conduct of Democratic senators, including Cory Booker and Kamala Harris, both of whom were running for president at the time, in questioning former President Trump's nominees.
And look at the shameful conduct of Republican senators, including Ted Cruz and Josh Hawley (for whom Will reserves his harshest criticism), in recent hearings. Their treatment of soon-to-be-Justice Ketanji Brown Jackson at her confirmation hearing was appalling and an embarrassment to the institution of the Senate. And Hawley actually sought to nullify a presidential election from his seat in the Senate.
So maybe George Will is onto something. At a minimum, in order to qualify for the presidency, a candidate should have held at least one position of actual responsibility.•
__________
Daniels, an attorney with Krieg DeVault LLP, is a former U.S. attorney, assistant U.S. attorney general, and president of the Sagamore Institute. Send comments to ibjedit@ibj.com.

Click here for more Forefront columns.
Please enable JavaScript to view this content.