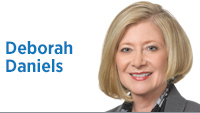 Two tragic and deadly shooting sprees have rekindled the public debate on gun restrictions.
The Gallup organization has conducted polling on gun-purchase and -possession requirements since 1990. That year, violent crime was rising and 78% of all Americans favored more restrictions on gun purchasing and ownership.
As the rate of violent crime decreased, support for such restrictions dropped. After falling to 43% in 2011, support for stricter gun laws spiked in 2012, after the Sandy Hook school shooting, to 58%. After the school shooting in Parkland, Florida, in 2018, support for greater restrictions grew to 67%.
A Politico/Morning Consult poll of voters in 2019, in the wake of mass shootings in El Paso and Dayton, found that 73% of voters supported stricter gun laws. Specifically, the poll found that nearly 70% of all voters and 55% of Republican voters supported a ban on assault weapons. More than 91% of all voters supported background checks for all gun sales. Even then-President Trump admitted support was strong for enhanced background-check laws.
But we Americans seem to have short memories. The Gallup poll in 2020, when no mass shootings had recently occurred, showed support for stricter gun-purchase laws had dropped to 57%—a 14% drop from the Gallup findings of 2018 and, while the populations measured were different, a drastic reduction from the findings of the Politico/Morning Consult poll of voters in 2019.
I'm willing to bet that, if Gallup were to poll the public today, support for both enhanced background-check legislation and an assault-weapons ban would again increase.
It is shameful that it takes more deaths each year to remind us of the depth of the problem we face as a nation.
The University of Washington's Institute for Health Metrics and Evaluation measures gun deaths in the United States versus other countries, and we routinely rank far higher than all other wealthy countries in the number of deaths occurring by gun violence. Some studies suggest that people in the United States are 20 times more likely to be killed by a gun than those in other countries, and that guns now kill more people than traffic accidents in our country.
Unfortunately, our polarized politics make it difficult to come to agreement on solutions.
The use by the left of the term "gun control" conjures up for gun owners the specter of Big Brother. The resistance of the National Rifle Association to virtually any restrictions on gun purchases makes it difficult for those on the right to agree to even the most common-sense precautions.
The current "all or nothing at all" attitude of the left hinders the ability of moderates to accomplish any reforms because some of the left's demands are non-starters even for Democrats like Sen. Joe Manchin.
But there should be reasonable restrictions on which we can agree. One of those should be requiring background checks for all sales made at gun shows. The exceptions to the federal requirement blow a bazooka-sized hole in the rule.
And while a majority of Americans, including Republicans, have supported a ban on military-style assault weapons, even those who do not should be able to agree to a ban on high-capacity magazines. Red-flag laws, while of limited utility, should be broadly supported as they allow at least temporary confiscation of weapons from those suffering from mental illness.
At a minimum, the Indiana General Assembly should not pass a House-originated bill repealing the handgun permit requirement. This is a time for sane reflection, not doubling down.•
__________
Daniels, an attorney with Krieg DeVault LLP, is a former U.S. attorney, assistant U.S. attorney general, and president of the Sagamore Institute. Send comments to ibjedit@ibj.com.

Click here for more Forefront columns.
Please enable JavaScript to view this content.