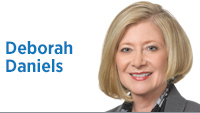 As we all know, the internet is both a blessing and a curse. The curse side is getting more dangerous.
U.S. intelligence reports have established beyond doubt that Russian state actors attempted to interfere in the 2016 presidential election. But the problem goes well beyond attempts to help or harm a particular candidate and whether that effort succeeded in affecting the outcome of the election. Focusing on that question misses the real point.
There is a new generation of cybercriminal seeking to undermine our democratic institutions, destabilize American society and create chaos in our country. Warfare is being perpetrated against our trusted institutions, including our elections, the entire civil and criminal justice systems, a fair press and democracy in general.
Foreign state actors and others, in an attempt to turn us against one another and create mistrust, often start with local and national news reports, then overlay falsehoods and shrill-but-unfounded accusations. They use our own weaknesses and imperfections as a society to create heightened distrust of our democratic institutions.
The difference between sincere protests of bias in the system—which does exist—and the trolls who seek to do us harm is that the sincere protesters want to improve the system. The trolls want to destroy it—and they often persuade honest people to follow their lead.
The "Internet Research Agency," sponsored by the Russian government, is a major actor, and not just with regard to elections; to lend some perspective, it is reported that 9 million tweets came from this site in the 2016 election alone.
The tweets, and posts on other social media, disguise their source with American-sounding names like Texas Lone Star, Tennessee GOP and Patriot Rafael. Playing both sides in attempts to undermine the justice system, the Internet Research Agency claims that it tolerates and covers up crimes committed by immigrants, that it exists to support an institutionally racist and corrupt police state, and that it is a tool of corrupt corporations and the political elite.
The National Center for State Courts and the American Bar Association are so alarmed by this threat that they have launched awareness training for courts throughout the country.
Unfortunately, people are gullible. Research by New York University's Center for Social Media and Political Participation found that the average American has trouble identifying what is real and what is false or misleading. A third of those in their study thought the false news stories they were shown were true and another third weren't sure.
I myself have seen perfectly intelligent friends drawn in by a story they see on the internet that in fact turns out to be false. All it takes is one person to pluck something from Instagram or YouTube and share it with his trusted circle and they all believe it without question.
The study found that gullibility is further affected by political ideology. No matter what their political views, people tend to believe stories that support what they are already prone to believe. And denial from the other side just further convinces them that they are right.
Facebook and other players are now creating rules that ban demonstrably false statements, but that won't begin to solve this problem. We must become more discerning as individuals, and we must be willing to call out falsehoods even when they benefit our side. Especially when they benefit our side.
Trust in our institutions is vital to democracy. We must recognize this enemy and defeat it—while improving those same institutions—in order to preserve the American ideal.•
__________
Daniels, a partner at Krieg DeVault LLP, is a former U.S. attorney, assistant U.S. attorney general, and president of the Sagamore Institute. Send comments to ibjedit@ibj.com.

Click here for more Forefront columns.
Please enable JavaScript to view this content.